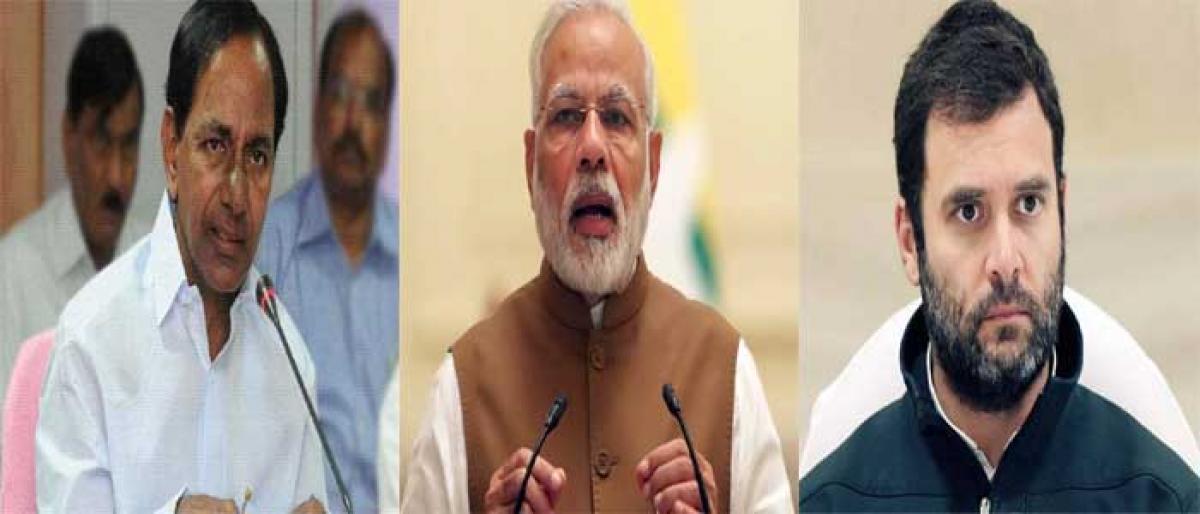 Highlights
Listening to Chief Minister K Chandrashekar, the other day, after his party-'s labour union swept the Singareni polls, was a pleasure. One need not be...
Listening to Chief Minister K Chandrashekar, the other day, after his party's labour union swept the Singareni polls, was a pleasure. One need not be his fan or follower to say this. In these times such as these where conversation and communication are easily misunderstood to be the same, hearing someone making sense is a rarity.
Far too many people believe having the ability to converse is the same as being able to communicate. They believe that telling is equivalent to talking, that sending an e-mail or leaving a voicemail message is better than spending time in two-way discussion.
A software professional once put it thus (I don't remember the name): "'Give and take' conversation only delays the decision-making process. They are firm believers in the principle that he/she who speaks last is right. Effective communication is a sum of several important parts, not simply words spoken or sounds heard."
Communication is the act of thinking about what we wish to say before uttering words. Conversation is an exchange of words, while communication is the transformation of thoughts and words into meaningful action. In order to communicate effectively, we must listen actively. Also we must speak only after considering the ramifications of our words.
This is where our politicians fail to address people's concerns. Taking broad swipes at someone or some party need not necessarily endear one to the people. Take for example, Rahul Gandhi's case. Why, despite his image makeover, is he not able to convince people that he is their right option to lead the nation?
That is because he is not sure of what he is speaking to and whom he is talking to? Whoever his political advisers are, they should understand this art of conversation fully and well. I would have rather Rahul Gandhi speaking in my universities and colleges. The image-makeover that the party put in place should not have been an alien land. If Rahul Gandhi wants to succeed he should address my concerns in my land.
Again, when a speaker is attempting to establish and assign ownership to a shared vision or idea of development while speaking to people, in his bid to woo them over to his side, he should himself be clear about the vision itself in the first place. Instead, a mere claim that he has a plan to unemployment would take him nowhere.
When Narendra Modi, spoke to the people about employment opportunities, he unveiled several plans like 'Make in India', 'Start up India' etc., and through his financial reforms, promised job creations. People believed in him that it would be so. It is a different issue now that the projected 30 per cent boost to the job opportunities never came due to the effects of demonetisation and improper GST rollout.
The first two years were expected to create at least 20 million jobs but it has fallen below expectations. Still, Narendra Modi could do a course correction, as he wishes to do, and save the day for the party. Basic criticism, so far, against him, is mainly about his silence on the actions of the fringe elements of Hindutva (which again is not always true) and the larger picture of the economy has not been so negative as to impact BJP's chances in 2019.
However, this alone is not going to rout the BJP in the elections. Far from it, several factors like the disunity in the Opposition and powerful regional parties who are not yet ready to do business with Rahul Gandhi and the trepidation of the party veterans over the leadership change and generation gap come into the picture. Voters do observe all these things.
Rahul might have regained his image somewhat by his recent US tour, still, he is at the baseline. His social media campaigners might have scored a few hits sometimes and perhaps are in a better position to take on the BJP campaigns in this medium, yet, this segment alone is not going to help one defeat the BJP at the hustings.
Here is the difference between success and defeat: A leader should intentionally follow through to make sure expectations are met and objectives are accomplished. Covering up mistakes is a strict no-no in politics. There should be no attempt to rescue or save someone from mistakes or other such serious charges. Mistakes should be learning experiences, not death sentences. That is why it is wisely said that there are no murders in politics but only suicides.
Arvind Kerjiwal who nurtured mega dreams of leading the country risked his very career in the past and the future of the party by ignoring his constituency completely and getting into the "tu tu main main race". When wisdom dawned on him, he undertook a door-to-door campaign seeking pardon from the people and promised to stick to his manifesto. Bawana by election results spoke well about him soon.
Of course, KCR has not lost any election so far. Yet, he is not committing the common mistakes. When there is praise due to someone, he is public about it and when it comes to criticism, it is always in private (intra party). (Ask his MLAs' and MPs', they will vouch for him).
KCR understands that people seek to know the means but prefer delivery at the end. Conversationalists, it is said, enter the debate with ears wide open clearly identifying and discussing the meaning. As effective communicators, Modi and KCR plan their outcome before speaking, listening to others, considering responses and then working toward a mutually satisfactory actionable result.
Effective communication is more than talking. It is transforming words into actions through carefully directed compromise that produces "win-win" situations rather than creating and fostering a "win-lose" mentality. When wishing to share experiences, thoughts, feelings or dreams — converse.
We should all strive to be better conversationalists but making a conscious effort to communicate more effectively can help to change the world.
Skills of the likes of Modi and KCR shall be tested soon as the country slowly gears into an election mode. These are the two leaders who understand well both the aspects of communication – output and intake.
The first one, output, involves speaking, involving problems of rhetoric, composition, logical presentation, coherence, definition of terms, knowledge of the subject and the audience and so on as noted semanticists put.
Leaders fail to impress their audience with their speeches only when most of their preoccupation with communication is directed towards the improvement of the output without keeping the audience in mind.
It does not avail the speakers to have spoken well if we as listeners fail to understand or go away believing them to have said things they did not say it at all. It is important to know your audience before you speak. Anxiety and fear lead to low self-worth among people and such people would love to hear others talking about them and addressing their concerns.
This is a real challenge for someone like Rahul Gandhi. That connect makes all the difference to the chances of a party or an individual winning an election. When Rahul Gandhi speaks, it sounds as though he is speaking about his anxiety and his fears and is seeking the audience's support. That is a real tragedy.
Public posturing apart, the Congress leadership is a worried lot now-a-days as it braces to its stint under the presidentship of the young scion of Nehru-Gandhi family because of this factor.
Subscribed Failed...
Subscribed Successfully...