An emperor with no empire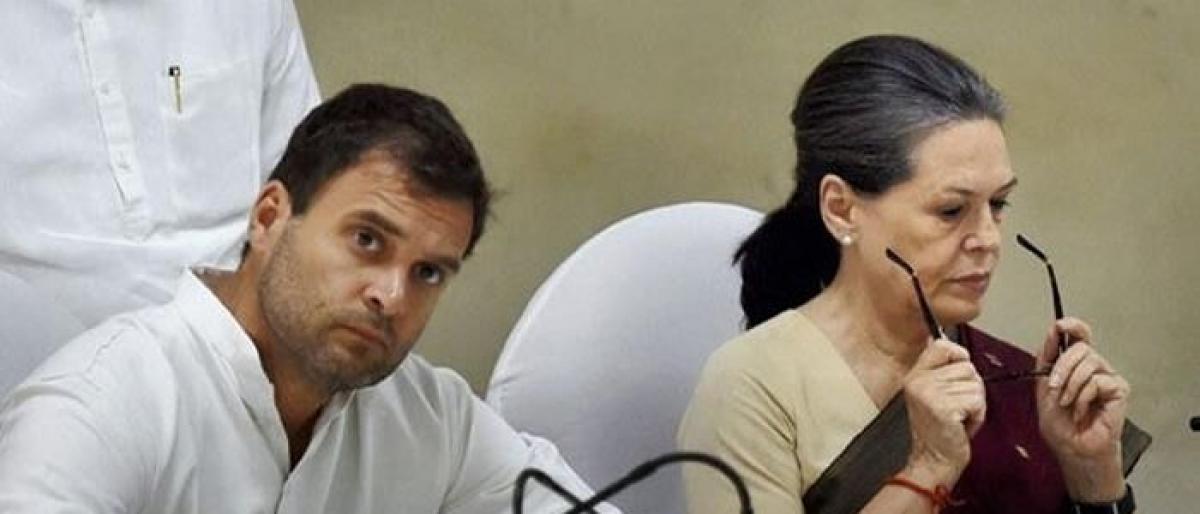 Highlights
Prince Charles is 69 years and still a prince in waiting. God only knows when he will be a king. Queen Elizabeth II at 91 is still not ready to...
Prince Charles is 69 years and still a prince in waiting. God only knows when he will be a king. Queen Elizabeth II at 91 is still not ready to declare Prince Charles as the King of United Kingdom. It establishes that power is thicker than blood. However, Queen Sonia Gandhi is all set to declare Prince Rahul Gandhi as the Emperor of Congress Party. It's quite early in comparison to the fiasco in United Kingdom. It must be lack of power and no hope of gaining it in the near future, which drove Sonia Gandhi towards this bold decision. One wonders, if it's a game of thrones.
Rahul Gandhi is an emperor without an empire. He is the heir apparent for the sixth generation of Nehru family. Nehru family controls Indian National Congress, the proclaimed grand old party of India, since independence. However, things have radically changed in the last five years for this party; it hit a dead end and started falling off the cliff. The fall was steep, painful & historic. From 218 seats in the 2009 general elections, the Congress-led UPA fell to a dismal 44 seats in 2014, with a seat share of mere 8.1% depriving it even of the status of primary opposition party. This fall was unprecedented and historic.
Even after the infamous post emergency election in 1977, Congress party won 189 seats. The only saving grace in 2014 elections being the Queen and Prince could win at least their own seats in Uttar Pradesh, while Indira Gandhi lost her seat too in the fall of 1977. Congress rose after 1977 without a strong national alternate party. It also had the advantage of a second-generation heir by then. However, this fall seems abysmal as those two options for resurrection are gone with the time.
Rahul Gandhi's coronation brings no great joy, either to Sonia Gandhi who is handing over the presidency, or to the Congress party as there's nothing new underway. There are no great surprises expected from Rahul Gandhi who has been in action for 12 years. The timing of the event highlights the plight of Congress party in contemporary Indian politics. Congress is at its worst performance at all polls with an exception of Punjab.
It so far has lost over 27 elections with Rahul Gandhi as vice president and as the face of the party. Even Punjab win looks more like a handout by BJP strategically to contain AAP rise in that state, than an earned victory. Rahul Gandhi shows all signs of a reluctant leader and one who doesn't have real conviction to lead a massive party structure, which is crumbling under its own weight.
In my strategic assessment, Congress party is heading towards a natural extinction phase. It's not unusual. It happens to many organisations, especially to those who run on family owned and managed legacy models. Every successive generation dilutes the spirit of the founder, passion of the front-runners, strength of execution and conviction of the grand vision of the earlier generations. Bereft of these competencies, the organisation becomes a body of cronies and sycophants, who would live off the sinking fortunes of the organization.
Ideology, enthusiasm, conviction, strength and leadership become misnomers. This is what's happening at Indian National Congress and Rahul Gandhi couldn't fix it for the last 5 years as number two, I strongly believe that he wouldn't be able to fix it being number one either.
To turn around a dynastic organisation such as Congress and to rebuild it requires a renewed grand vision; it requires a transformed ideology and, above all, strong leadership at the top, which can transform that vision and drive it through the organisation for implementation internally before it can impact the external ecosystem. Neither Rahul Gandhi nor the existing pack of leaders in the party has necessary competence or conviction required to transform this failing organization. Instead they are highly capable of catalyzing the fall further.
Watching and analyzing the Gujarat election campaign led by Rahul Gandhi and his team from close quarters, I have realised how easy they have made it for BJP led by Narendra Modi and Amit Shah to ensure total decimation of Congress party in that state. They have catalysed the speed of their demise in Gujarat with antics which divided their own vote banks; with constant self-goals they successfully shifted any meager opposition or anti-incumbency vote back to BJP.
There is a rude shock in store for Rahul Gandhi just few days after his coronation. When the counting begins on December 18th, the Congress fall in Gujarat this time around might be as steep as it was in 2014 general elections. There is a huge possibility of Congress getting marginalised to single digit seats for the first time ever in Gujarat. Such a devastating outcome will be a death-knell, not just for Rahul Gandhi leadership as a new President, but also for the entire party across the nation, which is holding on to this election outcome as the last hope to get out of Intensive Care Unit [ICU], the party currently is in for over half a decade.
Rahul Gandhi possibly understands that UPA which once had over 29 parties in alliance is already a deserted ship with hardly two or three unrecognised parties in it. Congress Party next electoral fight will be for sheer survival and not for any major gains across the nation. Indian voter no more associates Congress with competence to govern a state, leave alone a nation. Successive electoral outcomes clearly point in that direction.
Historic re-election in Gujarat for a record breaking 5th time by BJP will consolidate this notion on Congress further across the nation. Congress led by Rahul Gandhi might have to piggy back on smaller regional satraps, only if anyone is still left by NDA by then. Congress will have to fight the strongest and the largest national party, a mammoth BJP, in the next general elections. They seem to have no army nor the ammunition for the war ahead.
Rahul Gandhi's empire is shrinking by the day. Congress has governments only in Karnataka, Punjab, Himachal Pradesh, Meghalaya and Mizoram. If they lose Himachal on December 18th, they will end up losing Karnataka too in February 2018. Going by PM Narendra Modi's grand reform agenda of 'simultaneous elections', there's a huge possibility of general elections in mid 2018, which can rip Congress of the rest of the states leaving just Punjab. At best in 2019, Rahul Gandhi might just have Punjab and nothing else.
Subscribed Failed...
Subscribed Successfully...