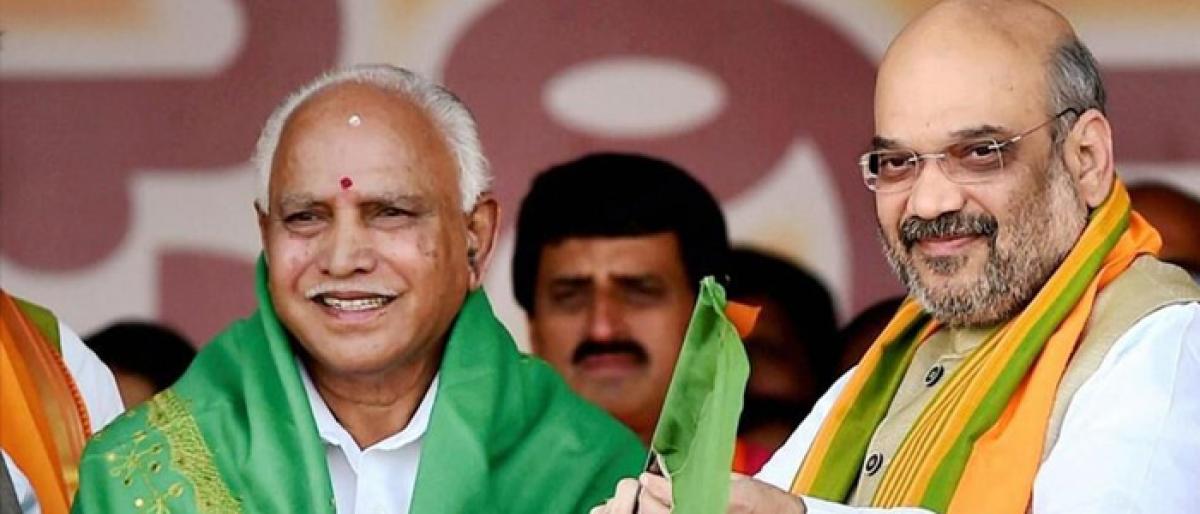 Highlights
BJP is the largest single party in Karnataka all over again with 104 seats, which is clearly a historic political milestone. It's a throwback from...
BJP is the largest single party in Karnataka all over again with 104 seats, which is clearly a historic political milestone. It's a throwback from 2004 assembly elections, when BJP for the first time rose as a single largest party with 79 seats, but could not form the government as Congress with 65 & JDU with 58 formed a backdoor alliance to grab power, which eventually collapsed mid-term.
BJP got 110 seats as the single largest party once again, short of a couple of seats for simple majority in 2008; however, this time around, it could form the government. Looks like Karnataka election outcomes and power play has come a full circle in 2018 assembly elections.
BJP has risen in south earlier in Karnataka on its own and through its alliance partner in undivided Andhra Pradesh since 1980s; however, the nefarious and clandestine regional political parties in South consistently try to portray South India as an untraversable fortress which BJP cannot enter. Regional parties surviving purely on regional sentiment and divisive agenda are shaken to the core, with the re-entry of BJP into south through its familiar gateway Karnataka.
The degree of fear in the regional parties of south is visible and understandable. However, the methods they have adopted to contain and stall the rise of BJP in Karnataka is juvenile and downright funny. The league of regional parties from south have attempted every dirty trick in their books, starting from funding the campaign of Congress party, their own adversary in their respective states, to peddling lies and arousing regional sentiment in pockets of their own regional population. However, nothing seems to have worked for them. All the hue and cry of BJP forming the government without a simple majority despite being the single largest party is being propagated through a few party-controlled media houses as the first-ever political event in the timeline of 70 years of this democracy.
Many angry and depressed communists masked as political analysts, news commentators and TV anchors are shouting at their peak strength on how unethical the entire process of forming the government by BJP in Karnataka. They are not even waiting for the Supreme Court to deliver its order, through media trials they have already sentenced and hanged BJP as a convict. Such is the haste of few shallow desperados.
What's happening in Karnataka has happened multiple times across the timeline of Indian democracy, it will also happen in the future. Multi-party democracies by nature have potency for grouping and regrouping, defections and divisions. As long as they are not illegal and unconstitutional, all is fair in politics, love and war.
Ethics in contemporary politics is a funny word like statistics. It can be used very conveniently by anyone to suit their needs. There is no political party in this country, which has such high ethical standing to question other's ethical standards. So naked is everyone. The noise and cacophony in most of the TV programmes for a few days has neither credibility nor sincerity, its mere political rhetoric, posturing and grand-standing.
Like the toughest timber grows against roughest winds, BJP has evolved to be the toughest and the largest party to reckon with after a very rough weather against it for over three decades. BJP all throughout had a governance agenda to transform this nation to better common people's lives. It has a strong reform agenda to ensure this nation and its people deserve the very best, unlike what they have got used to under the long and disempowering rule of Congress party. For ensuring the above agenda to be put to action with its strong leadership at the helm of the central government and every state government for exemplary performance, BJP will do everything it takes to attain power under the constitutional and legal framework of this nation.
BJP rises in South all over again; it has risen all across the nation like a saffron tide from the aspirations of Indians. It seems to have a purpose beyond an individual, beyond the party or even beyond regional agendas. Inclusive & sustainable developments of every Indian & Nation First are the only drivers for all the passion it has, to attain power across the nation.
BJP today is in 23 states, it seems to have clear plans and ambition to acquire the rest of the 6 states at the next electoral opportunity. Congress has done irreparable disservice to this nation not just through its colossal misgovernance, but through propagating a dynastic political model, which has institutionalized corruption, division and unaccountability as acceptable norms in Indian political ecosystem. The core of Indian politics has been poisoned & contaminated by Congress party's greedy family politics for the last 70 years. Almost every regional party across this nation is a replica & micro-model of the dynastic & corrupt model of the Congress party.
For the mammoth mess Congress & its clones have created in India, BJP seems to be the only solution. On the other hand, BJP in its 37 years of inception has been a party with real and qualified difference. Every state ruled by BJP presents a viable & a sustainable model for development, good and transparent governance professionally, without any family intervention or nepotism. BJP has successfully proposed to this nation, a model of professional governance. It has a proven track record of the same in the states it is ruling for multiple terms. The contrasting models of Congress & BJP have been identified by voters in the recent past.
Karnataka voters have chosen wisely to dislodge Congress party & hand over the reins of their state to BJP, though it fell short by few seats. The mandate & the mood of the voters are crystal clear. If BJP doesn't rise to the occasion to form the government, prove its majority through means acceptable under law, provide stable government for 5 years and deliver the electoral promises, it would let down the precious mandate and render itself in-efficient. That seems to be the singular reason for BJP to do whatever it takes under the constitutional norms to go ahead and form the government in Karnataka.
It's a certainty that voters of all other South Indian states will follow suit and choose BJP for governing their states to ensure that they experience the professional governance which is being delivered duly in all other BJP-ruled states across the nation. Electoral aspirations of Indians are steadily transforming into a homogenous pattern of choosing a clean, accountable and professional political model, and BJP seem to be delivering it.
Subscribed Failed...
Subscribed Successfully...