Rahul's dubious political hug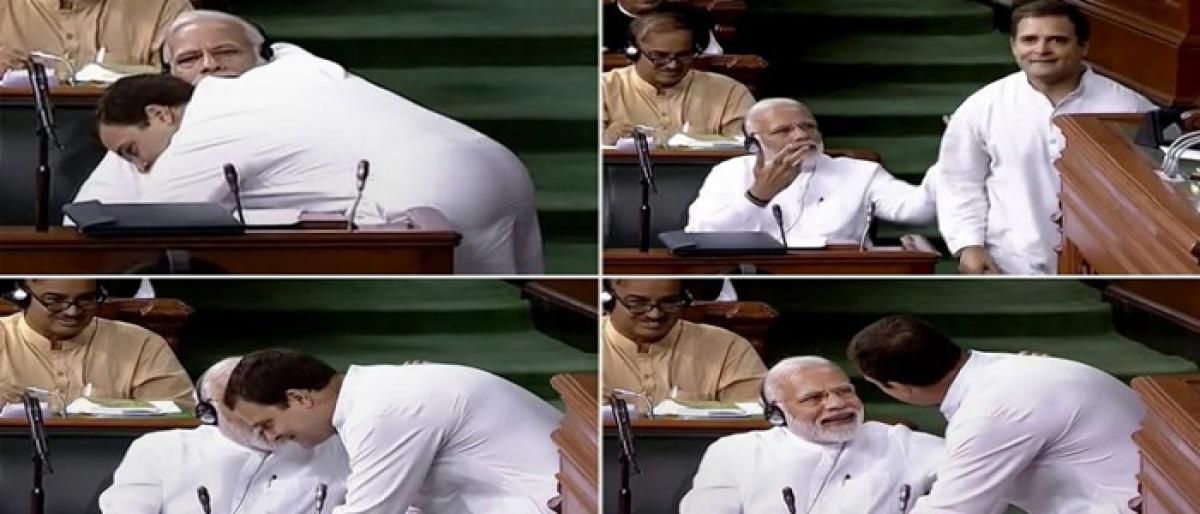 Highlights
Regular hugs hardly make national headlines, but Rahul Gandhis trespassed, unexpected and a dubious hug to Prime Minister Modi in the packed hall of...
Regular hugs hardly make national headlines, but Rahul Gandhi's trespassed, unexpected and a dubious hug to Prime Minister Modi in the packed hall of Lok Sabha certainly made big headlines. In fact, after very long, the Congress party president got some first page space in print media.
Recently, a journalist friend enlightened me on the art of 'news value' assessment. He said, "If a dog bites a man, it's no news. However, if a man bites a dog, it certainly has great news value." Such was the headline-grabbing tactic of Rahul Gandhi. Such was the radical plot at the parliament by Rahul Gandhi, while a very serious no-confidence motion was underway.
The hug was dubious, as it was neither genuine nor sincere. It was a false political hug. Congress party leaders should celebrate the radical 'change' Rahul as the new president of the party has brought in with this feat. I don't think people of this nation would.
Was PM Modi surprised? Yes, of course, who wouldn't? Who would expect an opposition leader, who's making scathing and baseless corruption allegations on his government for over 30 minutes at the top of his voice, would cross the aisle and hug him to express his love? It's not just surprising but bizarre to see the duality of the new Congress party president.
To further expose the political bankruptcy of the primary opposition party of India and its leadership, this dubious feat occurs in the most critical session of the parliament, when a no-confidence motion is underway.
For millions who wrote off Rahul Gandhi as a reluctant novice, it was a shocker of a visual and it had just an entertainment value. Many didn't even understand what had actually happened in the floor of the apex law-making body of India, while those who did, enjoyed the spectacle in a state of dismay.
For any serious political analyst, the entire episode exposes the abyss that the Congress party is in today, under the leadership of Rahul Gandhi. The current political discourse has been reduced to a comical parody with these antics, while the parliamentary process and business is supposed to be a serious affair of governance and opposition-led democratic assertion.
Congress is the primary opposition party of India. That's a huge responsibility in any democracy, more so in the largest democracy of the world. Having ruled this nation for around 60 years out of 70 since independence, Congress has learnt and displayed zero democratic values. In fact, it has ruined the very fabric of democracy to perpetuate its dynastic politics.
Rahul Gandhi's forceful hug on the floor of the parliament is a cheap political trick, which can add only a nuisance value to its party and nothing more. It has lowered the dignity of the parliament and violated the decorum of role of the Prime Minister. By intruding into the personal space of Prime Minister and forcefully hugging him, Rahul Gandhi has shown utter disregard for house rules, conventions and traditions of the Parliament.
Unfortunately, there's no dearth of cheerleaders for even these undignified acts. There are many folks who are celebrating Rahul's antic as some great accomplishment on social and mainstream media. For many, it's the sheer joy of an underdog scoring a goal, even if it's unbecoming of his position. For the electronic media, it's a 'Good TV'; some were playing it all day.
Rahul Gandhi seems to have hit a dead end already as the president of his party. His aggressive and theatrical new track establishes clearly that Congress and the entire opposition has nothing substantive to fight BJP and PM Modi with, in the next election. It seems, what's left for them is the 'Reality TV' innuendos to get more eye balls and media space.
Rahul Gandhi's serious but unsubstantiated allegations on the Defence Minister, the empty outrage and histrionics on the floor of the house were simply pre-scripted action takes. His abrupt and unnatural action sequence ending with a premeditated hug to PM Modi has exposed the emptiness of the wild allegations he and his party have made thus far.
Indian voters have to see through these low-level jhumlas by Congress party, as they are bound to increase as the elections draw closer.
While Rahul Gandhi seems to have recently got a director, action coach, script writer and a producer, these C-grade movie scripts, ill-timed scenes and unnatural action will certainly lead to disastrous flops for Congress party, going ahead.
Subscribed Failed...
Subscribed Successfully...