Gratitude Programme by Smt. Eswaramma School Children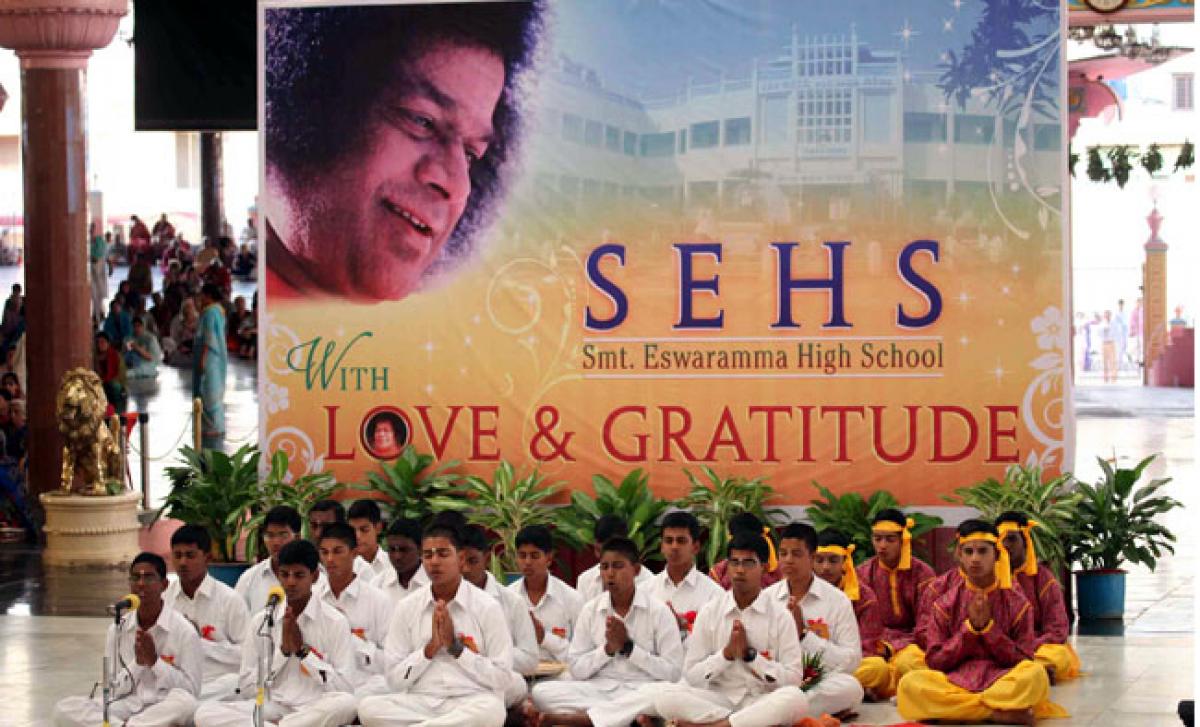 Highlights
How grateful are the bunch of students… how grateful is the hamlet of Puttaparthi and her inhabitants… it was this
Prasanthi Nilayam: How grateful are the bunch of students… how grateful is the hamlet of Puttaparthi and her inhabitants… it was this immeasurable feeling of Love & Gratitude that out poured from the collective hearts of the first batch of 10th Standard at Smt. Easwaramma English Medium High School today, when they offered their gratitude programme this evening here, in Prasanthi Nilayam. This is the third gratitude offering on the trot in three days, after the higher secondary wing of students, both boys and girls from Prasanthi Nilayam had their dues in last two days.

This Institution comes with the rare distinction of being named after holy Mother Easwaramma, who championed the cause of Puttaparthi decades ago. And to the venerable Amma's credit and her never-ending loyalty for Puttaparthi, this School is meant exclusively for the children of Puttaparthi and surrounding villages. The Institution that was erstwhile Easwaramma Telugu Medium School was converted into a modern CBSE syllabus English Medium School at Bhagawan's personal behest, in the year 2010. The first batch started on 10th June 2010.

This evening, beginning distinctly with Vedic invocation, the programme evolved into a "Heart-Feeler" filled with reminiscences, commentary, group songs, etc. by the boys and girls wings. Adding luster to the evening they had a brief dance session also, depiction of talent galore at the School.

Sure, SEHS, will go a long way in fulfilling the blessed Mother's dream into a reality, making Puttaparthi 'Sai-Sufficient'.

The children received appreciative applause from the evening assembly, for every single offering placed at His Lotus Feet.

23 boys and 25 girls are writing CBSE 10th class exams this year.

Bhajans continued and the session closed with Mangala Arathi at 1810 hrs.