India-Pakistan game that ended in a bowl-out 9 years ago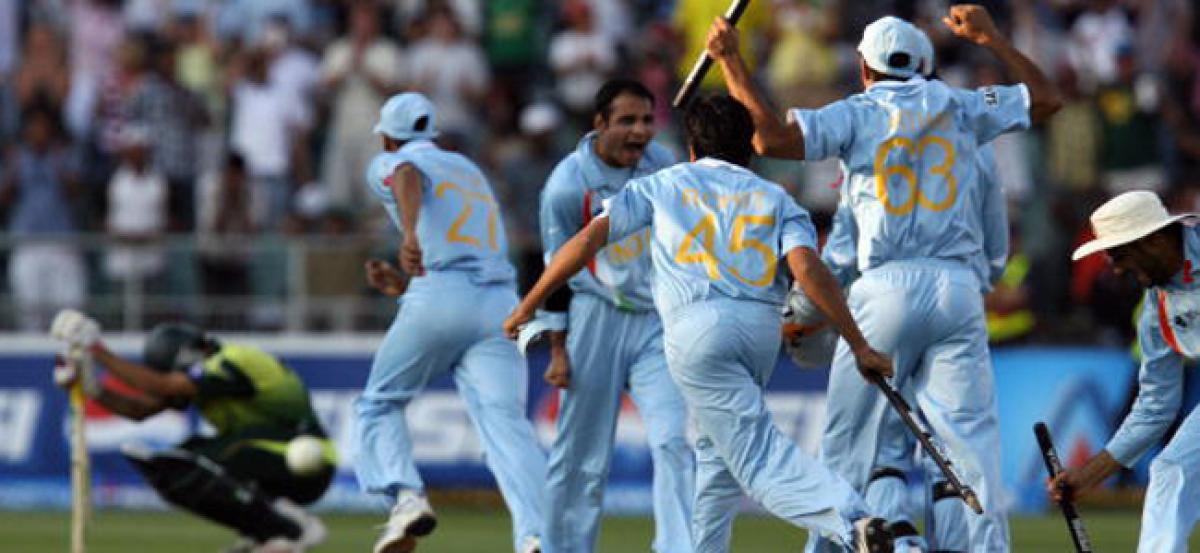 Highlights
When India and Pakistan square off against each other, it makes for a pretty interesting rivalry. Both on and off the field, the tension always seems palpable. But the unbeaten run of India against their neighbor in Cricket World Cup is undoubtedly a record that India would love to keep. When for the first time ever in T20 Cricket history, both the teams played each other at Kingsmead in Durban in
When India and Pakistan square off against each other, it makes for a pretty interesting rivalry. Both on and off the field, the tension always seems palpable. But the unbeaten run of India against their neighbor in Cricket World Cup is undoubtedly a record that India would love to keep.
When for the first time ever in T20 Cricket history, both the teams played each other at Kingsmead in Durban in the 2007 ICC T20 World Cup, it turned out to be another fairytale of a finish.
It was a game that had all the ingredients of a thriller. After the initial heroics of Mohammad Asif with the ball, Robin Uthappa resurrected the innings with a well-compiled half century. MS Dhoni and Irfan Pathan complemented his effort lower down the order, and India was at 141/9 in 20 overs.
Comeback man Irfan showed tremendous resilience and accounted for Shoaib Malik and Younis Khan in the middle overs. Needing 12 runs from the last over, Pakistan was all set to take the honors. The game eventually came down to one of one in the last ball.
Misbah-ul-Haq failed to take a single and was run out by Yuvraj Singh. The match was tied.
Then, it was decided that the result will be decided via bowl-out. Shoaib Malik won the toss and asked India to try the luck of hitting the furniture. And Sehwag hit that!
Arafat came in for Pakistan, Full toss and miss. India was 1-0 up.
Dhoni chose Utthapa then to hit the stumps for the second ball. He did that, and Umar Gul missed for Pakistan.
Bhaji came in and rooted the stumps. India was 3-0 now. And the BOOM-BOOM Afridi had to hit the stumps to keep his team in contention. He missed and India became the winner in the first T20 match between both the nations.
It was the first match for MS Dhoni as the captain of Team India. The match will also be remembered as the perfect start that India wanted for its journey just after the 2007 World Cup debacle. More than that, it was a match to show the World what value and competitiveness that T20 cricket could provide. It was a match where neither gave an inch to the other.
Nine years have gone by. Cricket has seen many transformations. With the advent of club cricket like IPL, cricket has seen a new dawn. But on the pages of history, this first T20 game will always be remembered as a special game.
Credits: sportscafe.in