Day 2 : 21st Federation Cup Sr. Athletics Championships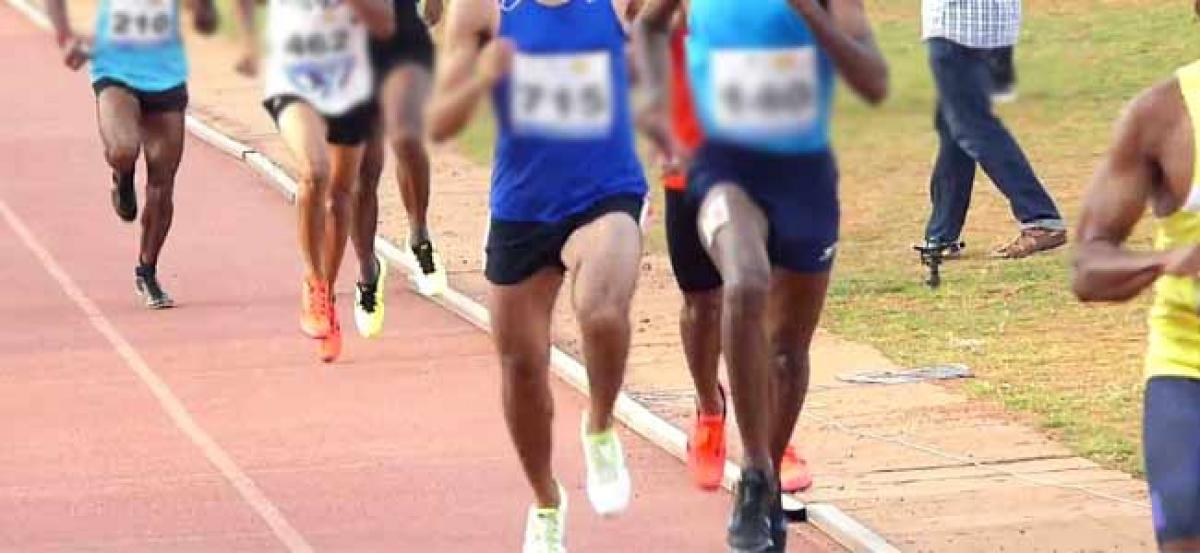 Highlights
Day 2 of the 21st Federation Cup brought with it the promise of some more riveting action. For the local Athletics faithful, who had turned up in numbers, at Patiala's Netaji Subhash National Institute of Sports, there was lots of track and field excitement
Day 2 of the 21st Federation Cup brought with it the promise of some more riveting action. For the local Athletics faithful, who had turned up in numbers, at Patiala's Netaji Subhash National Institute of Sports, there was lots of track and field excitement to look forward to again, With some of India's brightest stars aiming to seal their spots in the Asian Athletics Championships, it was time to strike while the iron, much like the weather, was blazing hot.
The man often touted as India's fastest was made to sweat in the Men's 200 metres Final. In the end, though, Odisha's Amiya Kumar Mallick emerged triumphant. With his place in the Asian Athletics Championships within sniffing distance, he was the winner here, but just by the proverbial nose.
BITE
This is how things stood at the end of that contest. Sanjeet, representing Haryana, and Vamsi Praveen, wearing Andhra Pradesh colours, did their states proud, coming in second and third, respectively.
GFX
The women's 200 metres Final was a treat for the gods. The much-hyped face-off between the two Odisha delegates Srabani Nanda and Dutee Chand went neck and neck till the end, and were eventually separated by just 0.03 seconds. History repeated itself, as Nanda won again in this competition. Her prize was the much-coveted Asian Athletics Championship berth.
BITE
So heartbreak once again for Dutee… She was left gutted, having competed in this category for a while now without much joy. But she will return to action on Day 4, to compete in 100M category. Karnataka's Jyoti HM came in one place behind her in third, tripping the clock at 24.37 seconds.
GFX
In the Men's Javelin Throw, all eyes were on India's brightest young athlete and a star for the future – Haryana's Neeraj Chopra. And he didn't disappoint the folks in the galleries, setting a new Meet Record of 85.63 metres. Adding to the joy of the crowd, meanwhile, was the performance of Davinder Singh Kang, who threw it 83.82 metres from the line. Getting within touching distance of Chopra was in itself a big achievement for Davinder, even as the gold medalist looked to set his sights higher.
BITE
So this is how things stood overall, in that discipline. In many ways, it was the blue ribbon event of the evening, and it saw Abhishek Singh and other Uttar Pradesh representatives performing quite well too.
GFX
Staying with field action, local lads Tajinder Pal Singh and Jasdeep Singh Dhillon made it a Punjab one-two in the Shot Put event. Tejinder was understandably elated after achieving his primary objective, which was to qualify for the Asian Athletics Championship.
BITE
A case of so near, yet so far there for Jasdeep and Om Prakash Singh Karhana, who failed to qualify for the big-ticket event. But they'll take a lot of heart from their performance here, which should teach them a lot about competing at the highest level.
GFX
So that was that, as far as all the mesmerizing Round 2 action was concerned. Records were broken, drama was witnessed and there were plenty of tears all around – some of joy, but most of disappointment. It has been an unbelievably fascinating competition so far, and here's hoping this happy trend continues, as we look forward to Round 3 with bated breath now.
For Snippets
20Km Race Walk Womens
In Women's 20 KM walk category, Karamjit Kaur from Punjab cleared the finishing line in a little over the 1 hour 40 min's mark, ahead of her contenders. Like her sister, Khushbir Kaur, who is the current National Record holder, she too aims to accomplish laurels in the realm of competitive sports. With this win, she secured her maiden Gold Medal in this category.
800m Mens
In 800M Men's Category, Amoj Jacob from Delhi, emerged victorious, as he finished ahead of Jinson Johnson from Kerala and Vishwambhar Kolekar from Karnataka. Arriving fresh into the Senior Category, this is Amoj's first Gold Medal. Prior to this, his exceptional performance in the Junior category has been rewarding.
800m Womens
In 800M Women's category, Archana Adhav, hailing from Maharashtra, won the gold medal. She defeated Lili Das by a slender margin, pushing her to the second place. Coming from a humble background, she had delivered consistently well in the Junior category. This performance will certainly put her in the same league as the big guns of her category.
Fed Cup_Day 2_English from anirudh singhal on Vimeo.
Further I am also forwarding the embedded code of 3 snippets. 20Km race walk women
Snipets_20k walk from anirudh singhal on Vimeo.
800m womens
Snipets_800m Womens from anirudh singhal on Vimeo.
800m mens
Snipets_800m Mens from anirudh singhal on Vimeo.
Subscribed Failed...
Subscribed Successfully...