Asian Games debacle worst moment of my kabaddi career: Indian captain Ajay Thakur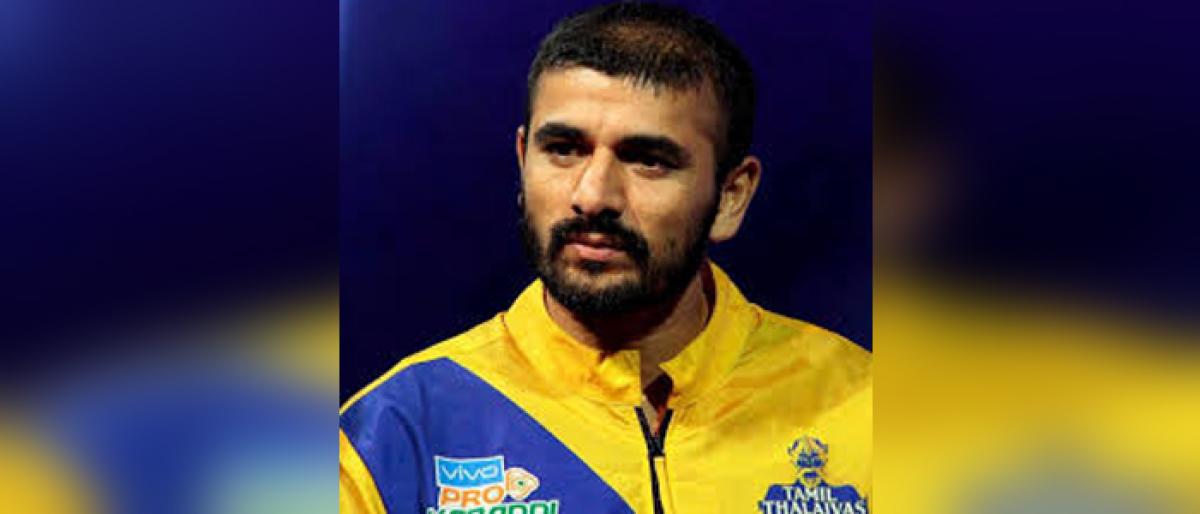 Highlights
In August, the Indian kabaddi team, for the first time since 1990, failed to secure the gold at the Asian Games, which captain Ajay Thakur described as the worst moment of his career
Pune:In August, the Indian kabaddi team, for the first time since 1990, failed to secure the gold at the Asian Games, which captain Ajay Thakur described as the "worst moment" of his career.

In what could be called the biggest upset of the 2018 Asian Games in Indonesia, India had suffered a 18-27 defeat against Iran and had to return with a bronze.

Talking to IANS, Thakur dwelt on the heartbreaking loss and the reasons behind the team's failure.

"Losing at the Asian Games was the worst moment of my career as it was under my captaincy. Kabaddi has completely been an Indian game and if such mishappenings take place, it hurts," Thakur admitted.

"But today, this game (kabaddi) is not just confined to India. So many countries are playing it and and that too, very well. So, now it is not so easy to go and get a medal. The quality of competition is getting better day by day," explained Thakur.

"The game has expanded and today the whole world watches it, as it carries name and fame like other games," Thakur said, adding: "No doubt, we feel bad for the loss, but it is good for the growth of the game."

Digging deeper into the reasons for the defeat, the 32-year-old Indian captain said: "We made some minor mistakes and even I was injured. Also, when we went there (Jakarta), I acknowledged that the mat was not good, beside being very old."

"India's strength lies in raiding and the mat was not suitable for it. As a result, our raiders failed to click," Thakur added.

He also praised the professional-level kabaddi league -- Pro Kabaddi League (PKL) -- for helping in the expansion of the game, beside giving players recognition.

"I started playing in 2007 -- and since then I have featured in many international competitions. However, no one recognised us. People hardly knew me even in my hometown (Nalagarh, Himachal Pradesh)," explained Thakur, who is PKL outfit Tamil Thalaiva's skipper.

"I had to tell everyone that I am an international-level player," Thakur added.

"Today, things have changed as I no more introduce myself to anyone. They (people) know me and it is all because of this (PKL) league. If kabaddi has reached such a height, credit goes to this league," he opined.

Thakur also expressed his eagerness to see kabaddi as an Olympic discipline and said: "I definitely want to see this game in the Olympics."

"I respect every game; however, kabaddi requires immense fitness. It revolves all around fitness as it is a contact sport and chances of injury are higher in comparison to other sports," he pointed out.

"I hope to see it (kabaddi) there (Olympics) in the coming years," Thakur added.

Thakur also spoke about the Tamil Thalaivas' below-par show in year's edition of the PKL.

"We have several good players in our squad with high levels of maturity. Maybe it was our over-confidence which let us down. We made many moves in a hurry, which affected us," he said.

Speaking on his reunion with ace all-rounder Manjeet Chillar in the Thalaiva camp, Thakur said: "It has been a very lucky pairing for us. In four PKL seasons when we were together, our team always made it to the play-offs and, so, our pairing became very popular among fans."

"I hope this pairing once again gets going," he said.

Defining his national captaincy as a "matter of pride", Thakur said: "Whenever anyone starts playing, he dreams of representing the nation -- it was the same for me."

"It feels great to not only feature in the national team but to also lead it. It has been a matter of pride for me," he concluded.