CEAT, Rohit Sharma continue partnership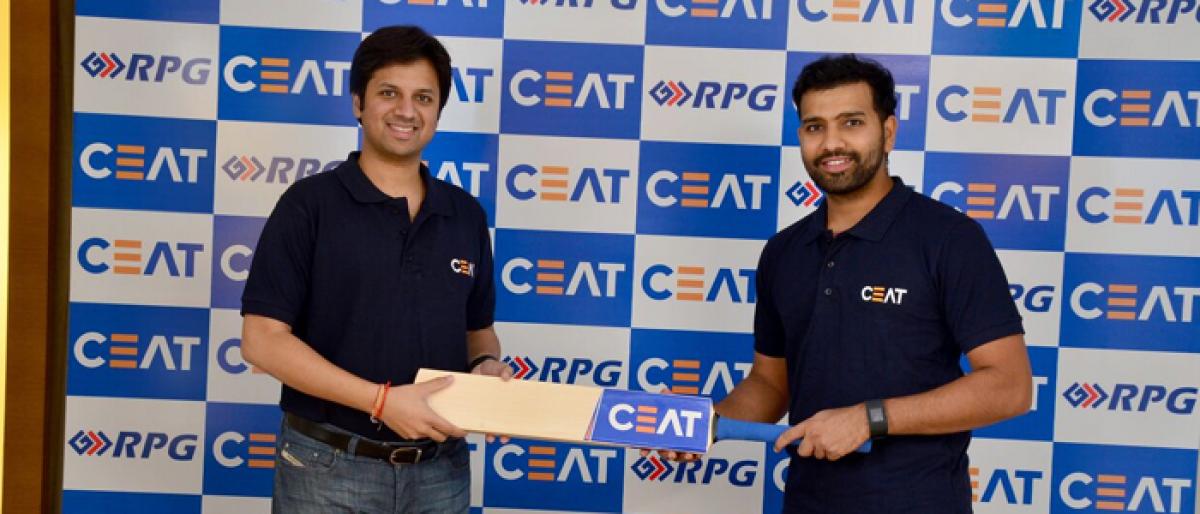 Highlights
CEAT Ltd renewed its association with one of worlds most swashbuckling batsmen Rohit Sharma for a period of 3 years on Wednesday Rohit Sharma is the first player in the history of cricket to score three doublehundreds in ODIs, an accolade that stands out among many others bagged in his career The graceful player will continue playing with a bat that prominently displays the CEAT insignia, in
​Mumbai: CEAT Ltd renewed its association with one of world's most swashbuckling batsmen; Rohit Sharma for a period of 3 years on Wednesday. Rohit Sharma is the first player in the history of cricket to score three double-hundreds in ODIs, an accolade that stands out among many others bagged in his career. The graceful player will continue playing with a bat that prominently displays the CEAT insignia, in all formats of the game.
Currently part of the Indian cricket squad, Rohit has been a consistent performer across all the formats of the game. Rohit was given the opportunity to captain the Indian Cricket team for the first time when the Sri Lankan cricket team toured India in 2017. Since being given that opportunity, he has proven to be an exceptional captain as he won that series, the tri- nation Nidahas trophy and the recently concluded Asia Cup.
Rohit's batting and captaincy was also pivotal in leading Mumbai Indians to victory in the 2013, 2015 and 2017 editions of the IPL. He recently broke Sachin Tendulkar's record as he became the first batsman with six 150-plus scores in ODI's. Over the years, Rohit has truly become one of the world's best as he continues to play crucial knocks for club and country and continues to smash records.
Commenting on the partnership, Anant Goenka, Managing Director, CEAT Limited said, "We are proud to extend our relationship with Rohit Sharma who has been a stand out performer across all formats of cricket. Rohit is not only an extremely talented batsman, but also a great leader and an inspiration to young aspiring cricketers. Our association with Rohit has been extremely fruitful for the brand CEAT and we are extremely happy with this long term association."
On his renewed association, Rohit Sharma said, "I am really happy to be continuing this association with CEAT. I am extremely grateful for their backing and they have been a great support to me. These last 3 years have been very memorable and productive for me personally. I am looking forward to continuing this association with this prestigious company for many more years to come."
CEAT has its roots gripped with cricket, including its partnership with IPL for the Strategic Time Out segment and the CEAT Cricket Ratings that recognizes and rewards the exceptional performances of players on the international stage. Rohit is joined by Ajinkya Rahane, Ishan Kishan, Shubman Gill & Harmanpreet Kaur as cricketers who currently have bat endorsement deals with CEAT.