Pro Kabaddi 2018: Manjeet Chhillar, Amit Hooda star as Tamil Thalaivas beat UP Yoddha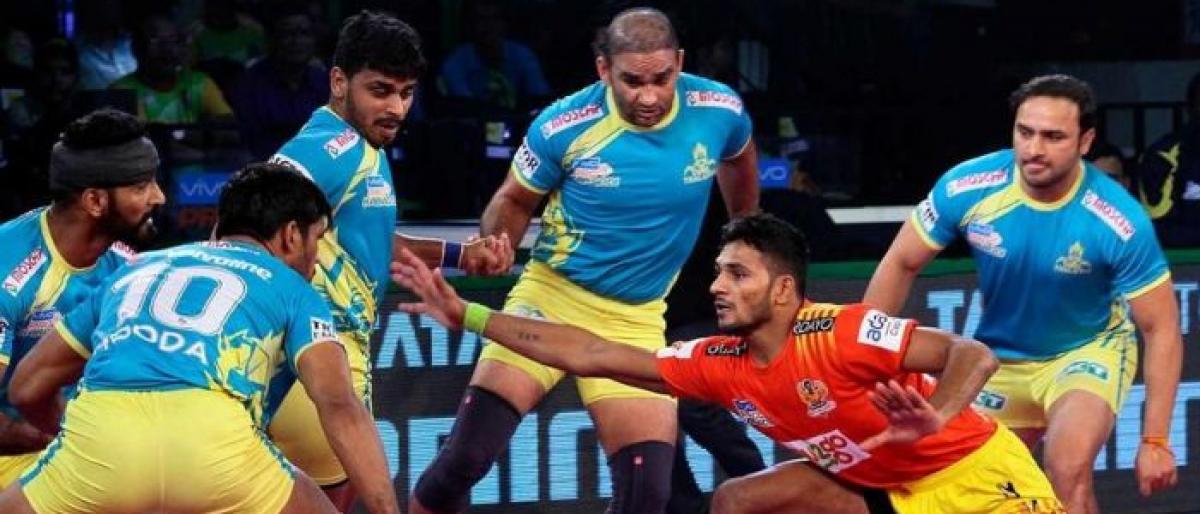 Highlights
Tamil Thalaivas defeated UP Yoddha 4624 to end their losing streak in the Vivo Pro Kabaddi League Season VI here on Friday Manjeet Chhillar and Amit Hooda caused great difficulties for UP Yoddha as they secured eight and six tackle points respectively
Greater Noida:Tamil Thalaivas defeated UP Yoddha 46-24 to end their losing streak in the Vivo Pro Kabaddi League Season VI here on Friday. Manjeet Chhillar and Amit Hooda caused great difficulties for UP Yoddha as they secured eight and six tackle points respectively.
Sukesh Hegde did the damage in the first half especially with his amazing 15th minute raid to inflict an all out. Ajay Thakur then took the mantle from Sukesh in the second half to increase the damage. Prashant Kumar Rai was the only UP raider who caused some difficulties for Tamil Thalaivas. UP Yoddha entered this match with an unbeaten streak of three games while Tamil Thalaivas were coming from a loss against Gujarat Fortunegiants.
It looked like UP Yoddha were under pressure at the start of their home leg as they were three points down by the third minute as the score was 1-4 in favour of Tamil Thalaivas.
They did get a super tackle on Jasvir Singh in the third minute when Narender got a strong ankle hold on him which reduced the gap to 3-4. UP continued to have a dismal show as they were all out in the sixth minute to make it 4-10 in favour of Tamil Thalaivas.
The game slowed down slightly only to make jaws ajar in the 15th minute when Sukesh got Rishank Devadiga, Narender and Jeeva Kumar out in his fluid movements and inflict another all out on UP Yoddha to make it a 14 point lead.
The half ended with Tamil Thalaivas dominating UP Yoddha by 26-11. UP Yoddha needed a miraculous effort to come back from such a miserable first half and they did try but were matched every time by Tamil Thalaivas.
Tamil Thalaivas continued to increase the lead to 14-28 in the 26th minute as Amit Hooda stopped Prashant Kumar Rai from running away with a strong double ankle hold.
Sukesh started to have a contrasting second half as he didn't get any raid points for the half.
Amit Hooda was the most disciplined player for Tamil Thalaivas as he got ushered to the bench for the first time in the match in the 37th minute by substitute Md Masud Karim to make it 21-35.
Ajay was getting Narender out from a touch point but got Jeeva Kumar as well while Jeeva was trying to get out of his way in the 38th minute do-or-die raid.
Tamil Thalaivas inflicted another all out on UP Yoddha in the 39th minute when Amit got an ankle hold on Prashant Kumar Rai to make it 23-43.