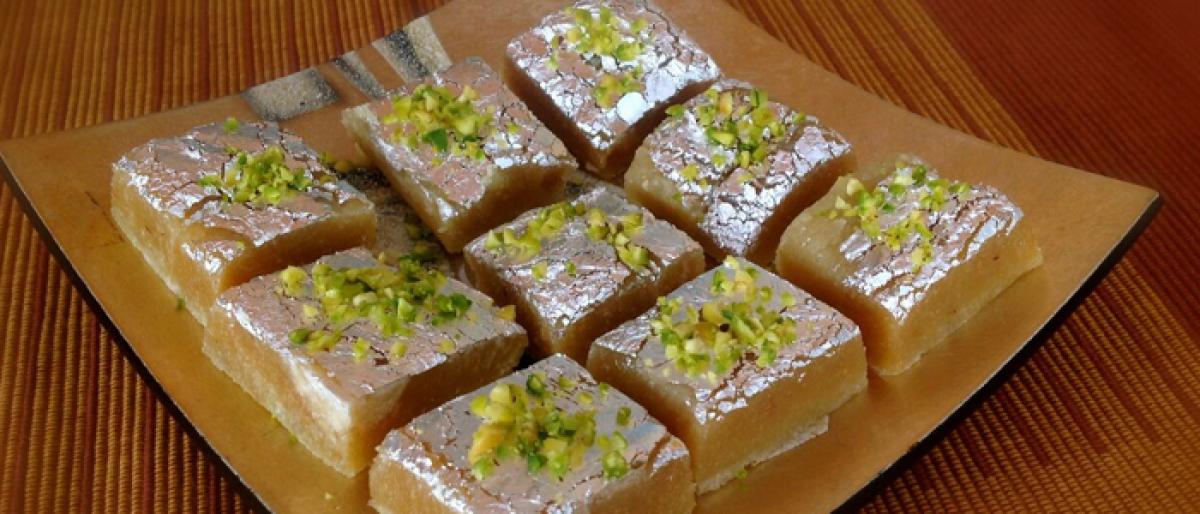 Highlights
This Sankranti give a twist to your dessert menu
This Sankranti give a twist to your dessert menu
Almond Laddu
A very healthy and simple recipe. Soak half kg almonds overnight in normal temperature water and peel them in the morning. Then in food processor put peeled almonds and pre ground 3 cups sugar, 4 tbsp rose water, 2 tbsp cinnamon powder, 3 tbsp almond extract and keep the processor on for 10-12 minutes on 3-3 minutes intervals. Than take out the dough and made laddus and top them with pistachios. Add sugar according to taste.
Khoya Barfi
Ingredients:
Khoya/ mawa 250 gms.
sugar 300 gms.
elaichi powder 1/2 tsp
few strands of saffron (optional)
maida 1 tbsp
chopped nuts for garnishing
Method:
Put khoya, sugar, maida and continuously stir on the medium heat until the mixture thickens and leaves the surface.
Add cardamoms powder and saffron (dissolved saffron in 1 tsp of milk)
stir and transfer the batter in a greased, sprinkle chopped nuts, let it set for few minutes, cut them into desired shaped pieces.
Semolina Coconut Laddus
Ingredients:
1 cup semolina
1 cup powdered sugar
1/2 cup dessicated coconut
1 teaspoon cardamon powder
6 tablespoons ( 1/2 Cup ) ghee
3 tablespoons broken cashew nuts
Semolina Coconut Laddus
2 tablespoons raisins
1/2 cup milk
Method:
Heat 2 tablespoon ghee over a medium heat and roast cashew nuts till they begin to change color.
Add raisins (they will turn plump in 30 seconds) then add all the semolina, mix and add 1 tablespoon ghee. Cook for 5 minutes stirring constantly.
Add coconut and sugar along with 1 tablespoon ghee. Cook for a minute. Add rest of the ghee, stir for a minute then place the mixture to cool on an open plate.
When cool, add 1 tablespoon milk to a small portion of this mixture.
Scoop 2 tablespoons of this wet mixture and shape into a ball. Allow laddus to rest and firm up - 30 minutes or so, and then store in an airtight container.
Stuffed Bread Malpua
Ingredients:
For the Malpua
Bread - 6 slices
Coconut - 1/2 cup approx, grated (plus a little for garnish)
Milk - 1/4 cup (adjust as needed)
Cashews - a handful
Raisins - a handful
Ghee - for frying
For the syrup: s Sugar - 1 cup
Water - 1/2 cup
Cardamom pods - 2
Saffron - a few strands
Method:
Prepare the syrup by heating a deep-bottomed vessel with water.
Add the sugar, saffron and cardamom.
Let it come to a rolling boil, and simmer until the syrup comes down to a one-string consistency. Keep aside.
Crush the bread into a fine powder-like consistency
To the powdered bread, add the milk, 1 tbsp at a time, until you're able to knead the bread into a pliable dough. Once the bread has been kneaded into a smooth, soft dough, cover with a damp cloth and keep aside.
Pluck out lemon-sized balls from the dough, and make smooth dough balls of each. Press the dough with your palms (you may roll it out too), into a flat circle.
Place a spoonful of grated coconut, and a couple of raisins and cashews in the middle. Bring the edges of the circle together and join the ends, smoothing it out with some milk if needed. Repeat process with the remaining bread dough until you have tikki-shaped 'malpuas'.
When the bread tikkis are done, heat a pan with ghee. Fry the malpuas on low flame, giving each side 2 mins approx, until they turn golden brown.
Immediately remove, and dunk into the sugar syrup.
Repeat process until all the malpuas have been dunked into syrup.
Serve hot or cold, with a sprinkling of some freshly grated coconut on top.

Subscribed Failed...
Subscribed Successfully...