Your guide to beautiful game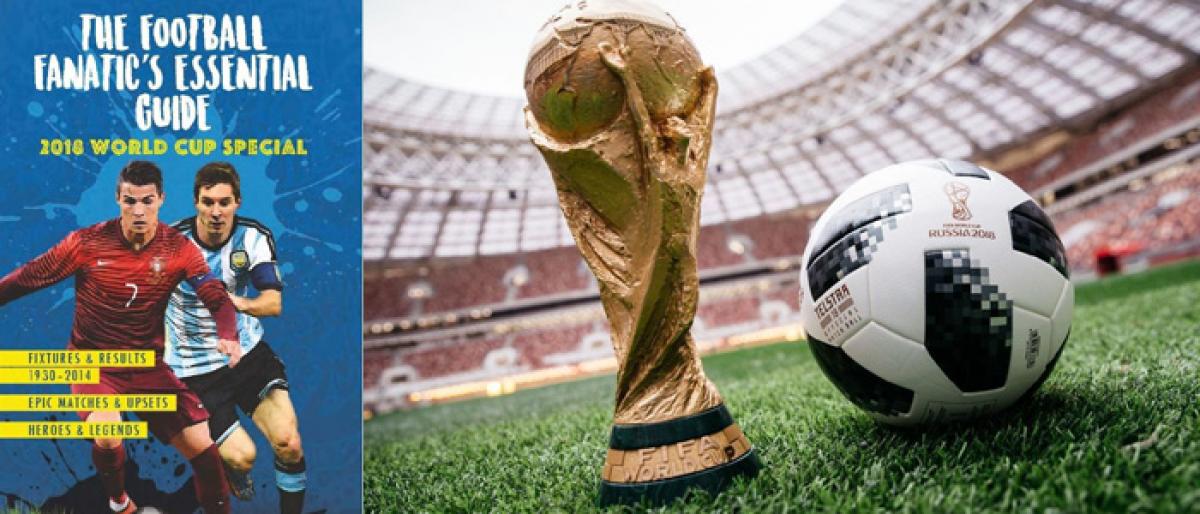 Highlights
He is the ultimate authority on football. He talks sense and is passionately sensible and pragmatic in his jottings. A die-hard sports fan, whose...
Novy Kapadia's new book is jam-packed with fascinating facts on international matches and players since the tournament began. This essential handbook is the perfect volume for every football-crazy fan
He is the ultimate authority on football. He talks sense and is passionately sensible and pragmatic in his jottings. A die-hard sports fan, whose craze for football is more than that of any obsessive teenager or budding player, and whose energy levels are extraordinarily high despite age catching up with him, which when combined make Novy Kapadia someone uniquely special.
For one who learnt the basics of the world's most popular sport, while accompanying his father as a school-goer, and one who retired as an English professor at Delhi University's SGTB Khalsa College, Novy, at first look, does not give the impression of being a sports fan or commentator as he still bears the aura of a teacher!
However, on meeting and interacting with him, one would be left wonderstruck at his erudition and the subject knowledge that he has mastered over the past five decades, during which period he earned respect and reverence as a writer, journalist, an unbiased commentator, a critic, who justifies his point of view with a telling authority, and an author, who recreates the magic of the best of yesteryear players with his sublime writings.
With the 24th edition of FIFA World Cup all set to begin in Moscow on June 14, he is the Indian expert who is most sought after by studios, channels and media publications. After all, his articulate writings, sound arguments and pearls of wisdom sell like no other when the world is caught in football frenzy.
It is a measure of the man's passionate involvement with the beautiful sport that, for all his other engagements, he still manages to write books with nonchalant consistency. What's more, each is timed to perfection.
If his magnum opus 'Barefoot to Boots: The Many Lives of Indian Football' commemorated the Under-17 World Cup that India hosted last year, the earlier one 'The Football Fanatic's Essential Guide to the FIFA World Cup' was unveiled ahead of the mega event's Rio edition in 2014.
Right now, he has enriched the fans and draws their imagination like only he is capable of with his latest, 'The Football Fanatic's Essential Guide, 2018 World Cup special'.
This 252-page handbook is a ready-reckoner that captures the essence of the sport with the magical moments from the earliest editions down to what to expect in Russia, in less than four days from now.
In keeping with his image and sharing of resources, the book is not a mere compilation of facts and figures or a guide that keeps the uninitiated attuned to the changing dynamics of the exciting sport. In fact, it goes a step yonder as it makes for a compelling read for even those who are oblivious of the ABCs of the game.
Apart from being a statistician's delight, the contents are action-packed, a la a cliff-hanger of a match. For one who has not seen the matches that were played before he was even born, Novy captures those stellar moments and describes them as would one who was actually at the stadium.
A good thing about the book is that it is interspersed with anecdotes and quotes that make for a welcome read as also add zest to the observations he makes. The flamboyance of the players is matched by his flair for using words that best describe situations.
As one flips through the pages, one finds that is both sorrow and delight in his expressions. His criticisms of the All India Football Federation (AIFF) are profound and touching.
The anguish is evident when he describes about how the ego-ridden Federation officials in their no-holds-barred battle for one-upmanship messed up a golden opportunity of India making the World Cup debut in 1950 when Brazil hosted the event.
For one who has been vocal about his take on the Federation, the incident exposes the frailty of the self-obsessed gentlemen running the sport in the country. What is even more condemnable is that this trait seems to be running in the veins of every administrator who took over the reign thereafter. The sorry tale continues to destroy the sport's growth.
As one looks backs and reads through his 'exposure' of the 1950 debacle, one gets irked because around that time, India boasted of its finest talent, which is evidenced by the impressive showings in Olympics during what is still hailed as Indian football's golden age.
But then leaving aside the behaviour of AIFF personnel, the book brings forth some trivia that is amusingly readable. It is made livelier when Novy makes his own possible predictions about the ensuing extravaganza.
Shocking it might sound to the die-hard Lionel Messi and Cristiano Ronaldo fans but Novy contends that barring a miracle or two, neither Argentina nor Portugal can hope to hold aloft the prized trophy in Moscow on July 15!
He bets big on France, which, according to him, has the bearings of a true champion given its all-round talent that is set to peak at the most opportune time in FIFA's showpiece.
Interestingly, the teacher in this former English professor comes to the fore in the concluding part. Like how one finds short questions in textbooks at the end of chapters, this book also has a quiz to test the football IQ levels of the reader! It might sound fascinating but it is true, particularly with his explanation 'this is to help the youth brush up their knowledge'.
'The Football Fanatic's Essential Guide, 2018 World Cup special' is yet another Novy Kapadia special that one can cherish and read even after the 2018 World Cup is done and dusted into history and no matter which team triumphs!
Subscribed Failed...
Subscribed Successfully...