Laxman rules out tie up with TRS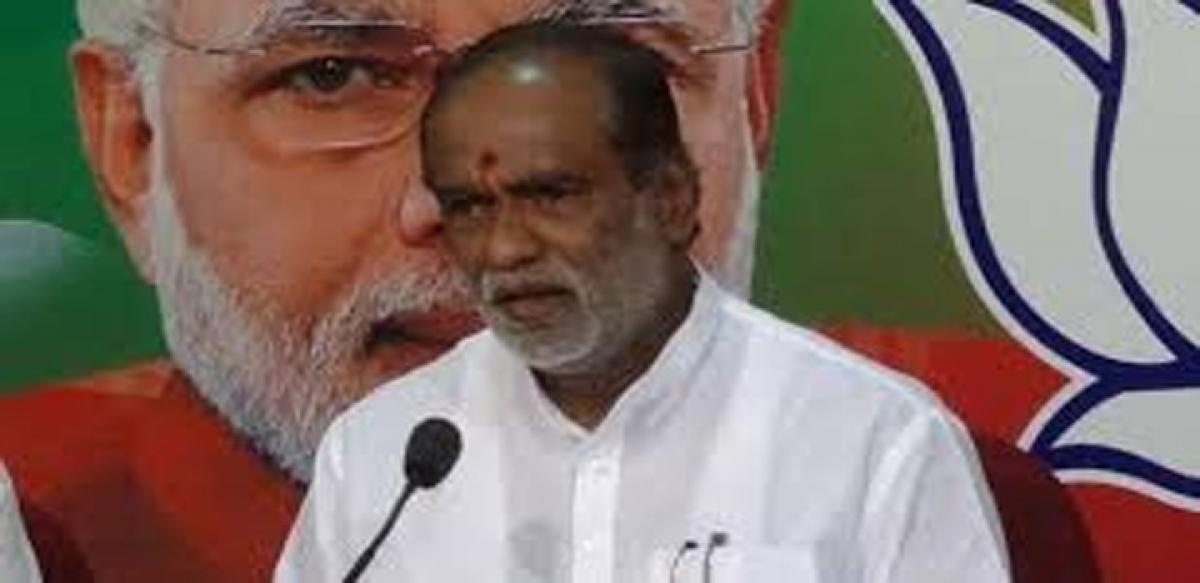 Highlights
The Telangana unit of the BJP has ruled out any possibility of having alliance with the TRS in the state. In an exclusive interview to The Hans India, newly-appointed state president Dr K Laxman said the BJP has a major role to play in Telangana as the main opposition Congress has lost the confidence of the people.  The BJP was silent so far as expecting the TRS government to do something for the
Hyderabad: The Telangana unit of the BJP has ruled out any possibility of having alliance with the TRS in the state. In an exclusive interview to The Hans India, newly-appointed state president Dr K Laxman said the BJP has a major role to play in Telangana as the main opposition Congress has lost the confidence of the people. The BJP was silent so far as expecting the TRS government to do something for the development of the new state.
"There is no question of aligning with the TRS. If the TRS fulfills the assurances given to the people, the BJP will welcome it. If they fail, we will definitely expose them," said Laxman, adding that the BJP follows the principle of "Sabka Saath Sabka Vikas," as directed by Prime Minister Narendra Modi.
At the same time, Laxman said, the BJP will make all-out efforts to emerge as a strong alternative to the TRS and will not hesitate to launch an agitation against the failures of the state government. When asked how he proposes to give a fillip to the party in the new state, Laxman said that efforts would be made to ensure that the state BJP grows stronger from booth level. The party will be with the people and if the TRS fails to live up to the expectations, the people will certainly look forward towards the BJP, he said.
Laxman said in the past whenever the Congress became weak in the state, regional parties used emerge stronger. But this time, the BJP will be the main political force in Telangana. He said the BJP is a party with principles and the workers are the strength of the party.
He lashed out at the ruling party for making the local elections a costly affair. "BJP is a party with a difference. A party like ours cannot afford to spend that much. The ruling party misused power in all the recent elections and it wants to see no opposition party in the state," said Laxman.
The BJP leader said the party had not yet taken any decision on the issue of continuing or severing its ties with the TDP in the state. The issue will have to be discussed at the Central level, he said. Laxman said that he would take all the party leaders, including Nagam Janardhan Reddy and T Raja Singh, along with him in his efforts to make the party a strong force before 2019 elections. He said he would emphasize on the leaders spending at least two days in the villages to strengthen the party in rural areas.