2BHK units ready in Erravalli, Narsannapet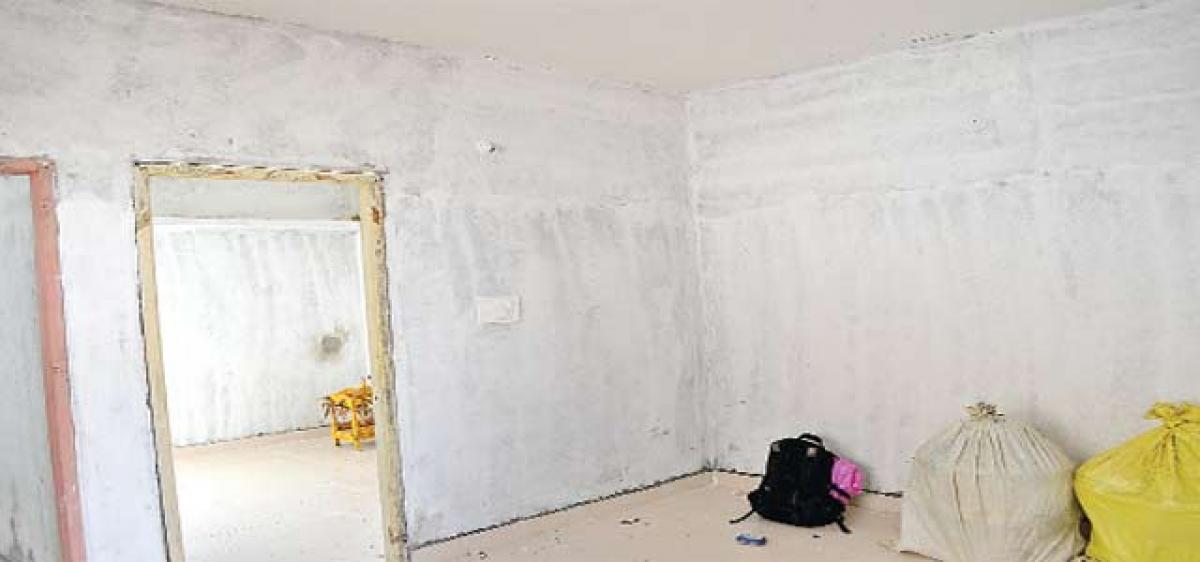 Highlights
An inviting row of houses now stands in place of thatched and planked houses made of mud in the hamlet that was previously called 'Dalitwada' or 'Velivada', heralding a fine example of community housing.   
​Gajwel: An inviting row of houses now stands in place of thatched and planked houses made of mud in the hamlet that was previously called 'Dalitwada' or 'Velivada', heralding a fine example of community housing.
A beautiful park is coming up at the place where once kids used to play by the side of a leaking drain. The park will have a kids' play area with seesaw, iron maze and other equipment. The pits being dug there to plant saplings presage the verdure in store for adults who love to breathe fresh air under cool shades.
The long wait is over. What had started off as an effort to transform two villages adopted by Chief Minister K Chandrashekar Rao is going to become a reality on Friday, with KCR himself participating in the mass house warming ceremony to be conducted by about 600 families which would be moving into their double bedroom houses built by the State government under a nationally watched scheme.
Although there is still some work left to be done with regard to laying of roads, giving drinking water tap connections, fitting lights and fans in the 2BHK houses and giving finishing touch to the rooms and bathrooms, much of the work is almost complete and just right enough for the villagers of Erravalli and Narsannapet to move in on Friday.
About 25 per cent of the work remains to be done, but the need of the hour is to get the villagers to move in due to the chilly weather and the long wait they have endured for almost two years now --the work started in February 2015.
The State government fixed 7.53 am on Friday as the auspicious time for the house warming ceremony, considering that Ayutha Chandi Yagam was held in Erravalli last year around that time.
"Friday is good for gruha pravesham and 7.53 am is auspicious as it falls on chita nakshatram and dhanur lagnam. If the ceremony is not done before December 28, then we would have to wait until January 28 as it will be paushya masam during which time this ceremony can't be held," said Seenu Gopal Sharma, the purohit who is overseeing the holy ceremony in which KCR would take part.
Around 600 Veda pandits from Gajwel, Siddipet and Rangareddy district have been invited to perform house warming ceremonies in all the 600 houses simultaneously, while KCR would be performing the ceremony at a massive function hall built in Erravalli, which can accommodate at least 2,000 guests in the main auditorium and another 2,000 guests within the periphery of the function hall. District Collector P Venkatrama Reddy would be inaugurating the godown in the village.
Vigneshwara puja, Punahavachanamu, Vaastu puja, Satyanarayanaswamy vratam and other holy ceremonies are expected to be performed in the presence of the Chief Minister at the function hall on Friday.
Around 4,500 saplings of champaka, mahagony, kadamba, neem, tabobia, pecomia urgentia, china badam and silver oak are being given to each household by the Forest Department, while coconut, lime, guava, rose and few more flowering plants are being given by the Horticulture Department. The saplings will be planted by the residents themselves on Friday.
District Collector Venkatrama Reddy visited Narsannapet village on Friday and reviewed the works. He also gave the Mission Bhageeratha officials a dressing down and asked them to be present in the village upon completion of the works assigned to them.
Speaking to The Hans India, he pointed out that it could not have been possible without the cooperation of the villagers, the district administration and the agencies which didn't take profitability as an issue while building houses on such a large scale.
For, it was the first relocation and reconstruction of two villages done on a massive scale not seen anywhere else in India till now.
"I feel like God has made the Chief Minister give me such a great opportunity to help 600 families. I am one of the very few IAS officers to get such a prestigious chance," he said.
Conceding that land pooling was quite a challenge, he said that patience had helped him to overcome difficulties. In fact, he had developed intimacy with the villagers because of their understanding and patience. He made it clear that only those who didn't have a house deserved to be beneficiaries of 2BHK housing scheme.
He said that the two villages would be declared cashless soon and that two buffaloes and 10 poultry birds would be given to each household as soon as the residents moved in. Pending electricity, sewage and water supply works would be completed by Thursday, he said.
Interested in blogging for thehansindia.com? We will be happy to have you on board as a blogger.