Howzat! Mohammed Azharuddin's poll decision stings Anjan Kumar Yadav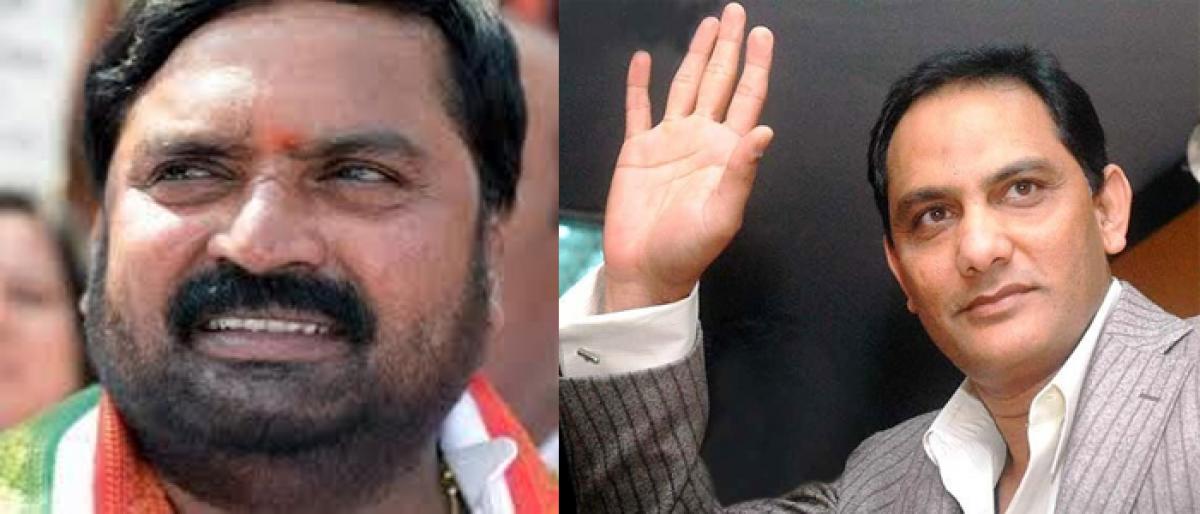 Highlights
Former Indian cricket captain and Congress leader Mohammed Azharuddins plan to contest from Secunderabad Lok Sabha created political turmoil in the party on Monday
​Hyderabad: Former Indian cricket captain and Congress leader Mohammed Azharuddin's plan to contest from Secunderabad Lok Sabha created political turmoil in the party on Monday.
Revolting against the Congress leader, Greater Hyderabad Congress wing president Anjan Kumar Yadav declared that he would not give up the seat in the next elections. Yadav was elected as MP from Secunderabad for two consecutive terms in 2004 and 2009. However, he lost in 2014 elections.
At the meeting of party's Greater Hyderabad unit at Gandhi Bhavan, attended by TPCC president N Uttam Kumar Reddy and others, the supporters of Yadav shouted slogans against cricketer- turned-politician and threatened the party of dire consequences if their leader was not given party ticket in the next elections. It may recalled that Azharuddin made a statement on Sunday that he wanted to fight the poll battle from Secunderabad considering it's his home town.
When the meeting was going on, presided over by AICC Secretary NS Bose Raju, a group of Yadav supporters barged into the hall and disrupted the meeting.
They demanded the party high command to declare Yadav as Congress candidate. Unheeded to the request from another senior leader S Satyanarayana to maintain silence, Yadav supporters demanded to field Azharuddin from Hyderabad Lok Sabha seat. Incensed, senior leader VH Hanumantha Rao left the meeting in a huff.
Speaking to newsmen, Yadav said he would support Azharuddin if the latter contest from Hyderabad. He decided to test the waters again from Secunderabad as he developed strong cadre in the Lok Sabha segment, the Greater Hyderabad Congress president