Minister promises more funds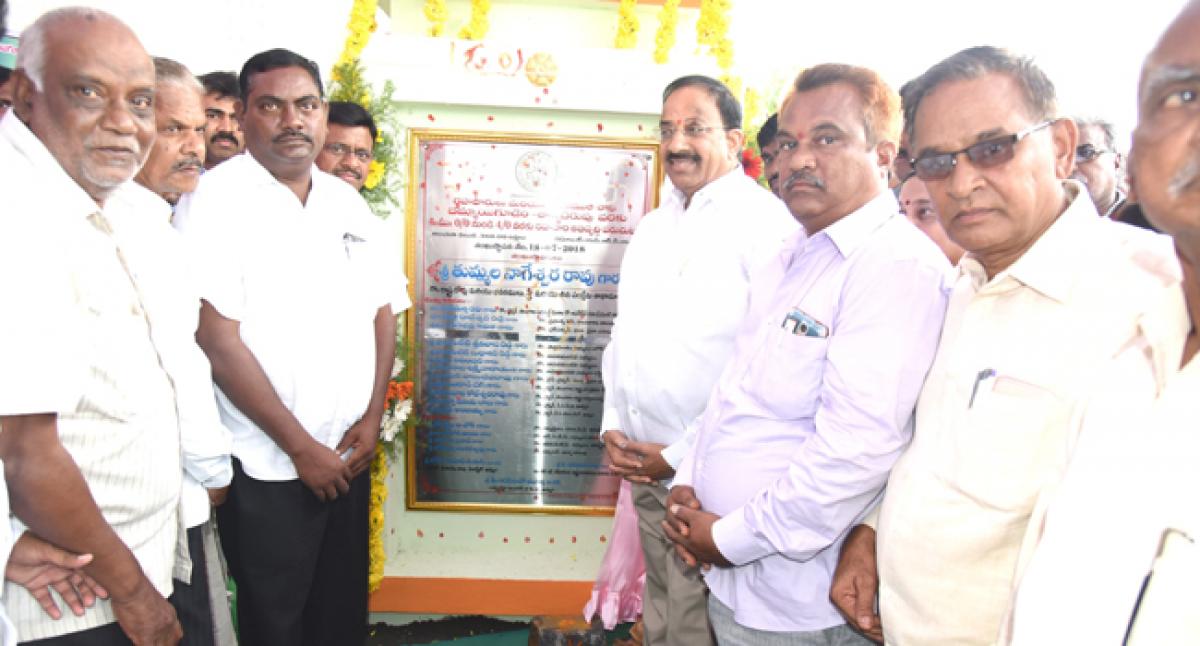 Highlights
Minister for Roads and Buildigns Tummala Nageswara Rao on Wednesday assured the people the government would release more funds for development of Thirumalayapalem mandal
Khammam: Minister for Roads and Buildigns Tummala Nageswara Rao on Wednesday assured the people the government would release more funds for development of Thirumalayapalem mandal.
The Minister was participating in various development activities and laid foundation for the construction of Scheduled Castes community building in Thettalapadu village at a cost of Rs 7.5 lakh and for laying roads from Dummaigudem to Thallacheruvu village and from Thirumalayapalem to Pocharam villages at a cost of Rs 18.60 crore here in the Thirumalayapalem mandal of Khammam District.
Speaking on the occasion, Nageswara Rao said once Thirumalayapalem mandal came to be known as drought prone mandal due to negligence of previous governments. But after formation the Telangana State, the TRS government launched several development activities in the Thirumalayapalem mandal.
With the projects like Mission Bhagiratha and Mission Kakatiya helped farmers in the Thirumalayapalem mandal and the farm sector was progressing, he added.
Bhakta Ramadasu and Sita Rama Projects were taken up to develop the entire Palair constituency by supplying water for irrigation and drinking purposes. Initiative was also taken for laying of roads along with implementing many welfare schemes in the constituency for all-round development of the Palair constituency, said the Minister.
The Minister directed the Tahsildars to identify land for construction of double bedroom houses and exhorted villagers to keep the surroundings clean and neat for preventing the spread of communicable disease.
MLC Balasani Lakshminarayana, ZP Chairperson Gadepalli Kavitha, State Seed Development Corporation Chairman Budan Baig, DCCB Chairman Muvva Vijay Babu, ATMA Committee Chairman M Mallareddy, MPP K Ashok, FCC Mandal president Madhu, ZP Chief Executive Officer M Nagesh, ZPTCs and MPTCs and Sarpanchs were present at the programme.