Governor E S L Narasimhan hosts customary At Home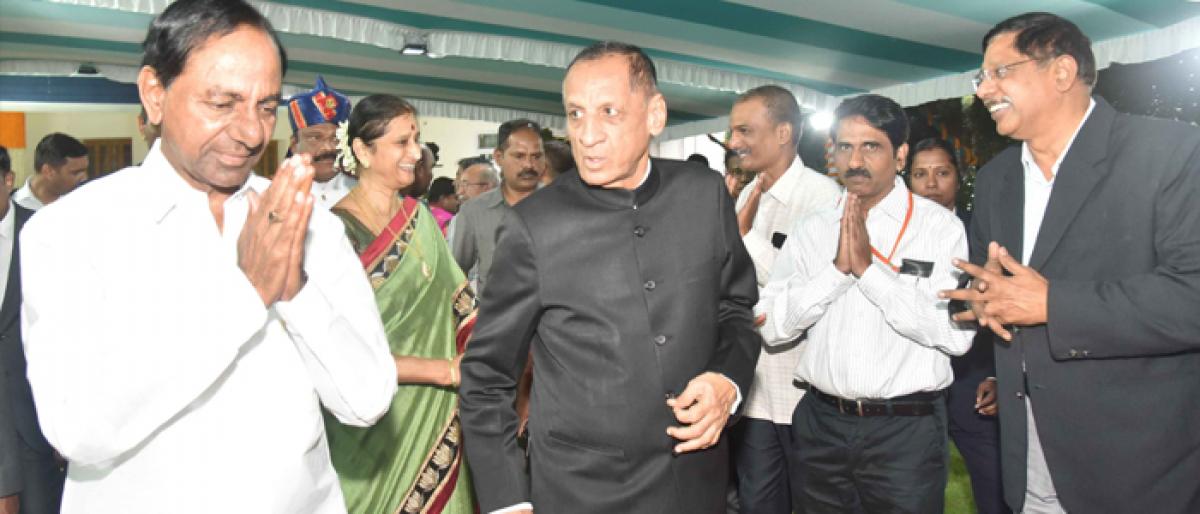 Highlights
Telangana Chief Minister K Chandrashekar Rao, Andhra Pradesh Deputy Chief Minister N Chinarajappa, Chief Justice of Andhra Pradesh and Telangana High Court T B Radhakrishnan, Leader of Opposition K Jana Reddy and others attended the customary At Home hosted by Governor E S L Narasimhan on the occasion of 72nd Independence Day at Raj Bhavan on Wednesday
​Hyderabad: Telangana Chief Minister K Chandrashekar Rao, Andhra Pradesh Deputy Chief Minister N Chinarajappa, Chief Justice of Andhra Pradesh and Telangana High Court T B Radhakrishnan, Leader of Opposition K Jana Reddy and others attended the customary At Home hosted by Governor E S L Narasimhan on the occasion of 72nd Independence Day at Raj Bhavan on Wednesday.
All the major political party leaders were present in the customary At Home by the Governor. The Telangana Legislative Assembly Speaker S Madhusudhana Chary, Legislative Council Chairman K Swamy Goud were also present in the reception. Former Union Ministers Y S Chaudhary, Bandaru Dattatreya, Telangana Rashtra Samithi leaders and MPs K Keshav Rao, D Srinivas, B Vinod, Ch Malla Reddy and others were also present. D Srinivas and Keshav Rao were seen talking. The TRS leaders from Nizamabad had demanded suspension of D Srinivas from the party.
The Telangana Pradesh Congress Committee chief N Uttam Kumar Reddy, Telangana Bharatiya Janata Party Chief K Laxman, CPI Secretary Chada Venkat Reddy, MLAs Ch Ramachandra Reddy, NVSS Prabhakar, badminton star Pullela Gopichand and others were also seen.
Apart from the political party leaders, the others who attended the reception include senior IAS and IPS officers, defence officials, sports personalities and others were seen in the reception. Andhra Pradesh Chief Minister N Chandrababu Naidu, Jana Sena Party president Pawan Kalyan did not attend the reception.