Leaders descend on Husnabad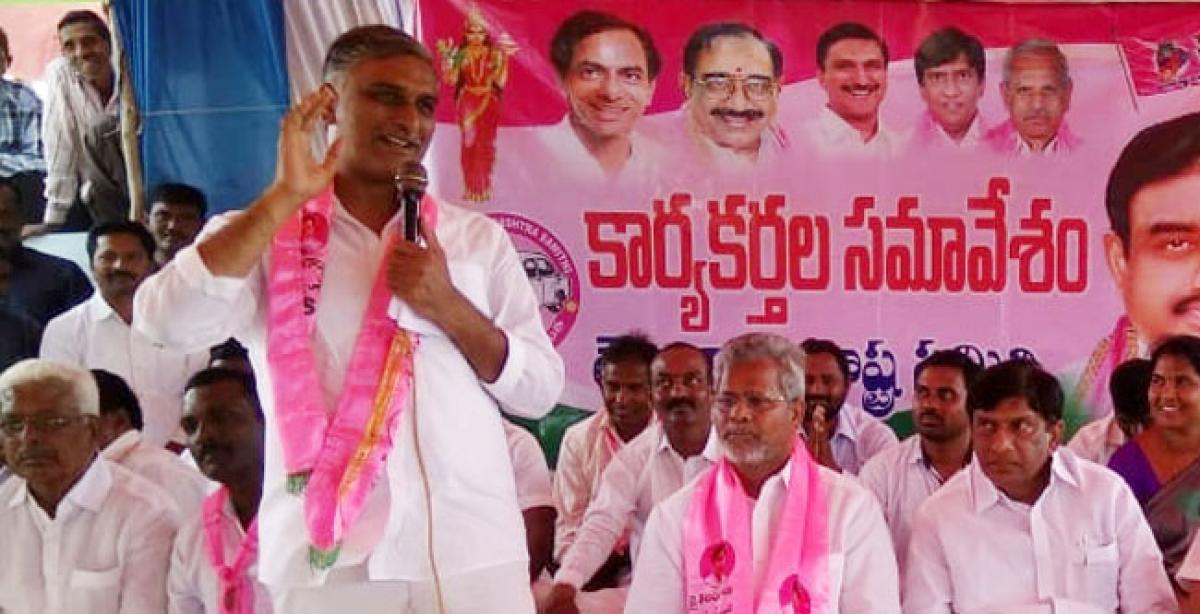 Highlights
With the Chief Minister K Chandrasekhar Rao opting to begin his election rally on September 7, all the MLAs, MLCs and MPs of the region descended on Husnabad to make it a huge success and set the tone for a high decibel campaigning It is believed that KCR is likely to dissolve the Assembly on Thursday and go for early polls
Husnabad: With the Chief Minister K Chandrasekhar Rao opting to begin his election rally on September 7, all the MLAs, MLCs and MPs of the region descended on Husnabad to make it a huge success and set the tone for a high decibel campaigning. It is believed that KCR is likely to dissolve the Assembly on Thursday and go for early polls.
Although they were given a short notice to arrange the public meeting, named as Praja Ashirvada Sabha, they are leaving no stone unturned for its success. In a fast-paced development, they picked the spot for public meeting and helipad near the bus depot, besides completing formalities such as permissions from police.
It did not take a long for the Ministers T Harish Rao and Eatala Rajender to mobilise the second rung leaders of the party and brief their role to make the meeting a success. By Wednesday morning, all the TRS leaders and workers got down to business.
While Eatala Rajender and ZP chairperson Tula Uma held a meeting with the party cadres at Saidapur, Karimnagar MLA Gangula Kamalakar and Mayor Sardar Ravinder Singh alerted partymen at Chiguru Mamidi mandal.
MPs B Vinod Kumar and Captain V Laxmikantha Rao also swung into action to mobiles crowds. Although the party set a target of mobilising around 65,000 people, it is learnt that leaders are looking at a target of not less than 1 lakh.
Husnabad MLA Vodithala Sathish Kumar, who took the meeting as a challenge, making every effort to make it a big occasion as it likely to set the tone for entire election rallies, numbering around 100 in 50 days.
The leaders said that KCR believes that Karimnagar district is his lucky mascot as all his efforts so far have yielded good results, including recent Rythu Bandhu scheme. It ls also said that September 7 being Sravana Sukravaram (Friday) is believed to be auspicious hence, KCR chose to launch his poll campaign.The other story that is doing rounds is that based on some belief, KCR opted Husnabad for his first rally.