BJP to go it alone in Telangana Assembly polls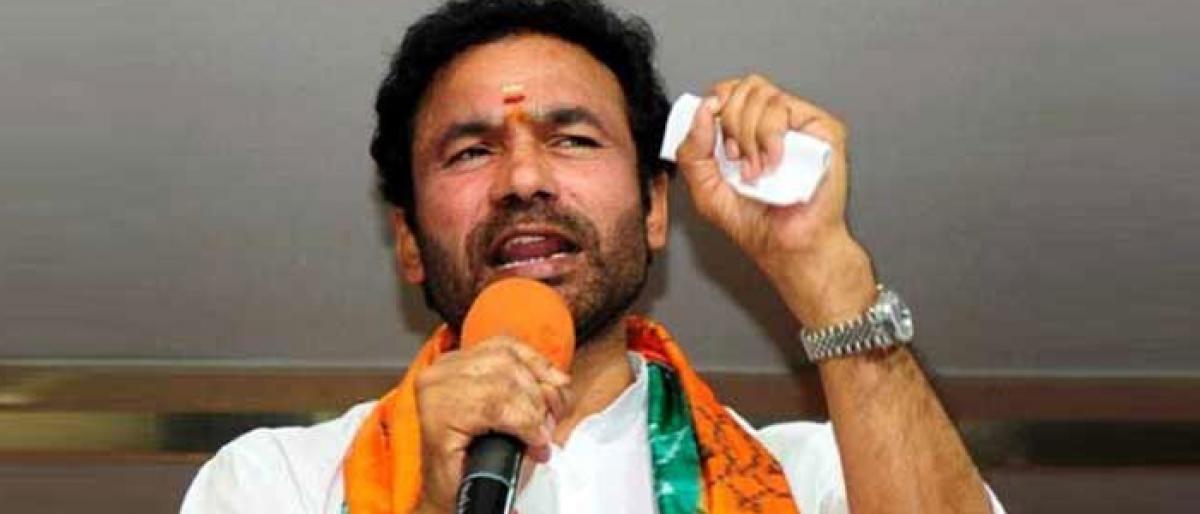 Highlights
Telangana BJP has declared that the party will go it alone and field candidates in all the 119 Assembly constituencies in the ensuing Assembly elections
​Hyderabad: Telangana BJP has declared that the party will go it alone and field candidates in all the 119 Assembly constituencies in the ensuing Assembly elections.
Announcing this at a press conference in Delhi on Saturday, BJP State President K Laxman and former BJP MLA G Kishan Reddy said the BJP President Amit Shah, while addressing the national executive meeting on Saturday, asked the party cadre to gear up for the Assembly elections in five poll-bound States.
Laxman said the party President in a specific reference to the ensuing Assembly elections in Telangana said the BJP is all prepared and he will kick-start the poll campaign at a public meeting at Palamuru on September 15.
The BJP leader said Amit Shah will have a separate meeting with the State party leaders to discuss the political stratagem of the party for the elections and he will be addressing 50 public meetings in Telangana State during the campaign, he added.
Laxman said Chief Minister K Chandrashekar Rao had dissolved the State Assembly and announced the list of 105 party candidates for the elections. But, the list reflected that the TRS has neglected SCs, BCs and women, and it is the habit of KCR to use and throw people, just like Telangana Jana Samithi (TJS) president Prof Kodandaram. Terming non-representation of women in KCR Cabinet is a pointer to the attitude of that party towards women, Laxman said the students, farmers, youth have been revolting against the TRS rules in the State and unemployment has increased in the last four years.
Claiming that the TRS-AIMIM alliance will give dividends to the BJP in the ensuing elections, he said several TRS leaders have been approaching the party national leadership to join the party. However, the party will give opportunities to those who had made sacrifices in the separate Telangana movement and those who agreed to the policies and programmes of the party.
Former BJP MLA G Kishan Reddy termed the TDP joining hands with the Congress as an unholy alliance. The alliance with the Congress meant that the TDP founder and former Chief Minister NT Rama Rao's goal of launching a party against the Congress and its policies was lost. Stating that AP Chief Minister N Chandrababu Naidu is using the party for his own interests, Kishan Reddy said the people would not forgive his politics to promote his self-interest.
Similarly, Telugu people have also not forgotten how the Congress had contrived to dislodge NTR. The people will teach a lesson to both the parties in the ensuing elections, he said. Kishan Reddy appealed to the people, leaders and cadre who hold the ideals of NTR dearer to defeat the unholy alliance of the TDP-Congress in the forthcoming State elections.