Chemical firms continue to release wastes into nalas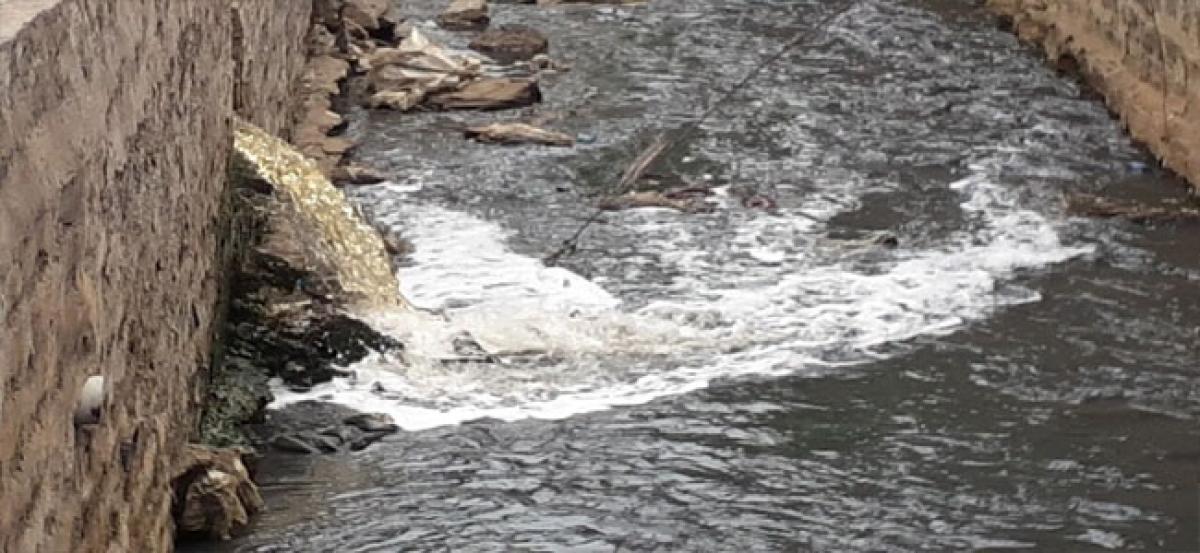 Highlights
With the chemical companies indiscriminately releasing their wastes into the main nalas the Pollution Control Board PCB officials seem to be mere spectators, although three months back they did create a commotion about illegal dumping by a firm
Jeedimetla: With the chemical companies 'indiscriminately' releasing their wastes into the main nalas the Pollution Control Board (PCB) officials seem to be mere spectators, although three months back they did create a commotion about illegal dumping by a firm. Now strangely the PCB staff seems to be adopting an indifferent attitude towards complaints. They appear to be in deep slumber with the companies operating unauthorised godowns in SV Cooperative Society.
Even the orders of former Minister K Tarakarama Rao to take strong action against storage of illegal chemicals, after holding a review meeting on the dumping of wastes by the companies, have been ignored. Inaction of the board staff to act is being attributed to officials allegedly receiving huge amounts as bribes and joining hands with the 'chemical mafia'. Rather surprisingly K P Vivekanand, the ruling party MLA till recently, did not bother to look into the plight of the colonies located near chemical companies.
A visit to the Jeedimetla industrial area reveals how far officials have become subservient to the interests of chemical companies. Four months back 'Athulitha' chemical company was shut down for releasing wastes for years into nalas, instead of putting up a treatment plant spending lakhs. Its power supply was disconnected. But it resumed production a month back (as photographs show), with officials giving lame excuses that the PCB had given conditional approval, while giving information to the media. This is being viewed as an instance of officialdom succumbing to the temptation of allurements.
Such companies are able to save lakhs by dumping their wastes in nalas. In the process they are polluting groundwater and affecting the health of residents. Their management s is allegedly able to effectively silence people's representatives by offering them posts in unions. Hence, no political leader dares to enter the Jeedimetla industrial estate although people of Subashnagar, Ramireddynagar, Gampalabasti, TSIIC Colony, Aparupa Colony, Shapurnagar continue to suffer.
When The Hans India took the issue to the notice of the PCB, Environmental Engineer and Medchal District Regional Officer Kumar Pathak, he merely said the staff has been sent to the spots and that action would follow if dumping of chemical wastes was found to be correct!.