Konda couple spits fire on KCR, his govt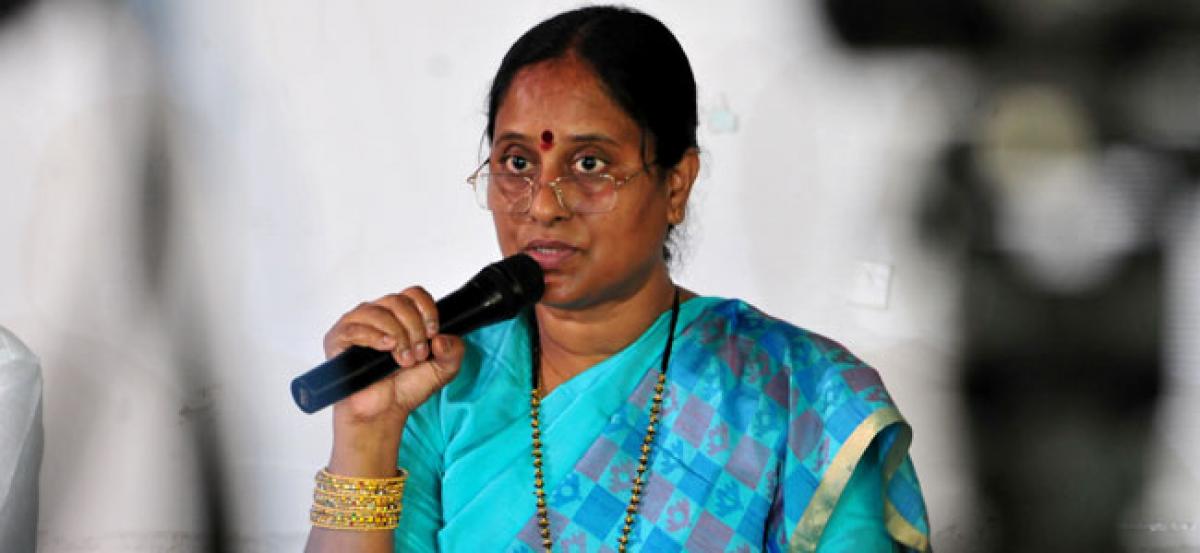 Highlights
Konda Surekha, who came out in the open two weeks ago attacking the TRS for not naming her in partys first list with 105 candidates, upped the ante on Tuesday In a noholdsbarred attack on the TRS chief, the Warangal leader and her MLC husband Konda Murali faulted K Chandrashekar Raos rule during the last four years alleging that corruption ruled the roost with only Kalvakuntla family reaping
Hyderabad: Konda Surekha, who came out in the open two weeks ago attacking the TRS for not naming her in party's first list with 105 candidates, upped the ante on Tuesday. In a no-holds-barred attack on the TRS chief, the Warangal leader and her MLC husband Konda Murali faulted K Chandrashekar Rao's rule during the last four years alleging that corruption ruled the roost with only Kalvakuntla family reaping benefits.
The Konda couple stated that they waited for more than 10 days expecting answers from the TRS leadership for questions they raised, but were disappointed with party not bothering to respond. Hence, they launched a scathing attack on the government through an open letter. Konda Surekha said the early elections decision was only due to fear of defeat as anti-incumbency was on the rise against the government.
She said that all sections are seething with anger to defeat the TRS in the forthcoming elections and KTR, who announced political retirement, should be prepared to keep his word. She termed the four-year TRS governance as Tughlaq rule. "Administration was confined to Pragati Bhavan and the farm house with the CM avoiding Secretariat.
"Even elected representatives were not given CM appointments when asked reflecting sad state of affairs. The common man was never given the opportunity to meet the CM directly," she said.
Surekha also faulted conducting of Pragati Nivedana Sabha because of which crores of rupees went down the drain. Lakhs of people who came to the meeting suffered due to lack of proper food and water, she said, adding that KCR did not announce any sops and even did not make a mention of martyrs in the meeting. Konda Surekha felt her family was sidelined because they were from Harish Rao group.
She sought to know what the government did for the families of martyrs and students who participated in the statehood movement. Many are still making rounds of courts to get relief from agitation-related cases, she pointed out. "KTR has been saying recently that action would be taken against those who defy party discipline.
But those who spoke in unparliamentary language in the past against the TRS leadership have now joined party and became ministers. Errabelli Dayakar Rao, who slammed the TRS party and its governance many a time was invited into the party to suppress us," she said The Konda couple said that they have been approached by nearly 15 parties, including Shiva Sena, Mayawati's Bahujan Samaj Party, Sharad Pawar's NCP (Nationalist Congress Party) for contesting on their symbol. Surekha said that CM post was also offered, but they did not take any decision so far.
Konda Murali said that they led their life with political respect not bowing down to anyone in the past and even in future. A decision on future course of action would be taken in coming days, he said.