Congress ticket norm puts leaders in a fix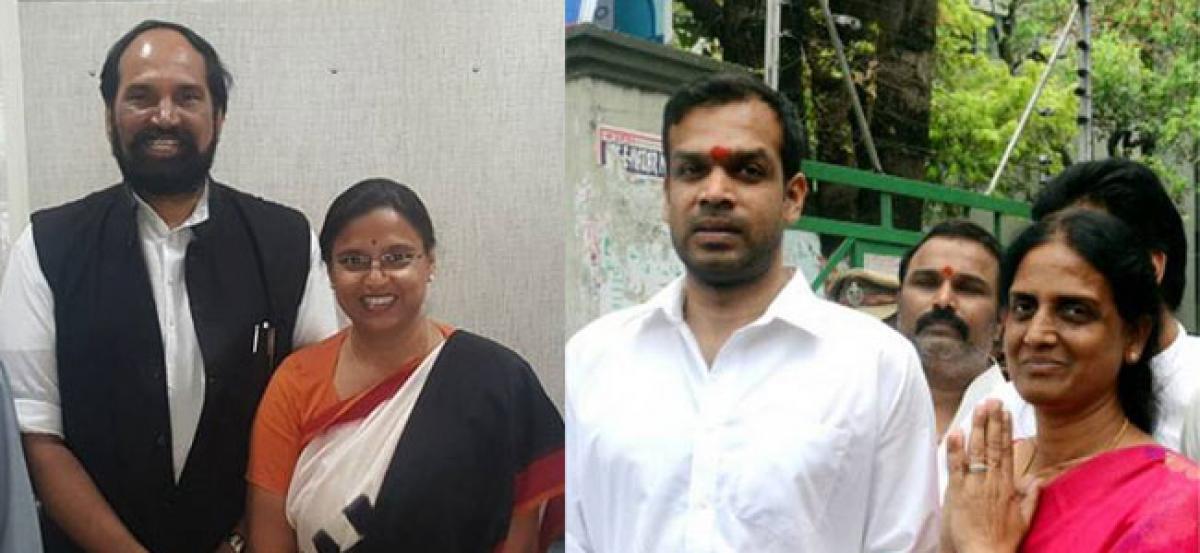 Highlights
As many as eleven leaders of Congress who want to see their family members in the Assembly along with them may face disappointment with the one family one ticket norm of the All India Congress Committee in the next elections
Hyderabad: As many as eleven leaders of Congress who want to see their family members in the Assembly along with them may face disappointment with the one -family -one -ticket norm of the All India Congress Committee in the next elections.
Party leaders K Jana Reddy, Damodara Raja Narasimha, Sabitha Indra Reddy, Ponnala Laxmaiah, DK Aruna, J Geetha Reddy, Bhatti Vikramarka, DK Aruna, G Venkata Ramana Reddy, Anjan Kumar Yadav and Uttam Kumar Reddy may have to face the disappointment.
According to party leaders these senior leaders want that their family members be given tickets on behalf of the party to contest in the next elections. They have already made their intentions clear and sought the clearance from the PCC and high command.
Former leader of CLP in Assembly K Jana Reddy wants ticket to his son Raghuvir Reddy from Miryalaguda constituency. Sabitha Reddy is interested to field his son Karthik Reddy from Rajendranagar. Ponnala Laxmaiah wants ticket to his son or daughter-in-law from Warangal district.
In the same way, DK Aruna wants to see her daughter as MLA from Mahbubnagar constituency, Bhatti Vikramarka seeking ticket to his wife from Khammam district. Venkata Ramana Reddy is urging party nomination for his wife from old Warangal district. Anjan Kumar Yadav has been seeking tickets to him and to his son from Secunderabad and Musheerabad constituencies.
PCC president Uttam Kumar Reddy and his wife N Padmavathi Reddy have represented Huzur Nagar and Kodada constituencies and seeking another term. Damodara Raja Narasimha is hoping to field his wife from old Medak district. Geetha Reddy wants to field her daughter from Hyderabad or from old Medak district.
However, party leaders are expressing doubts over the granting of ticket to their kin by the high command. After Rahul Gandhi has taken over as president of the party, the AICC has decided not to field age-old leaders and not to give tickets to more than one from a family.
A senior leader of the party said that the AICC has decided to refuse tickets to family members of a party nominee to give opportunity to other leaders. If one or two families walk away with more tickets the emerging leaders may feel frustrated.
The leader said that unfortunately this time the number of Congress political families seeking tickets to their family members is much higher. In each erstwhile district at least one family is seeking more than one ticket. This would discourage other leaders who have been working for the party for few decades.
However, the senior leaders are not relenting and continuing their efforts to secure tickets to their family members. Recently Jana Reddy visited Delhi and asked AICC leaders to exempt his son from the One -Family -One -Ticket rule.