IT sleuths grill Revanth's kin, aides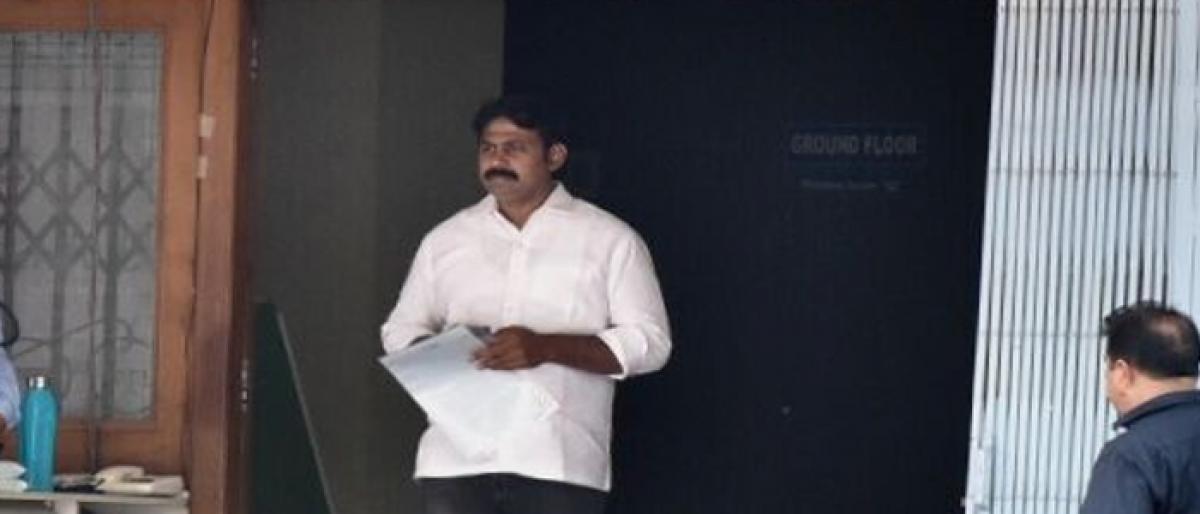 Highlights
The Income Tax officials on Monday quizzed TPCC Working President A Revanth Reddys brother Kondal Reddy in disproportionate assets case and R Udaya Simha and pastor Sebastian in cash for vote case
​Hyderabad: The Income Tax officials on Monday quizzed TPCC Working President A Revanth Reddy's brother Kondal Reddy in disproportionate assets case and R Udaya Simha and pastor Sebastian in 'cash for vote case.'
As per the notices issued to them earlier by the IT officials, the three reached the Income Tax office at Aayakar Bhavan in Basheer Bagh on Monday and attended the enquiry on the third floor. Revanth Reddy's father-in-law Padmanabha Reddy also attended the enquiry.
At 10:30 am, R Udaya Simha reached the office. According to IT sources, IT officials questioned him about Rs 50 lakh which was given to nominated MLA Stephenson in 2015. They posed several questions to him including where the amount came from, whose account it was drawn, who gave the amount, was the amount drawn from Sri Sai Mourya Estates Private Limited company, was it legal money or illegal money, documents proof to show the transaction and etc. He was grilled for two-hours till 12:30 pm. Udaya Simha asked for some more time to give clarifications and he was asked to attend another enquiry on October 3.
Later, at 11:30 am Revanth Reddy's brother Kondal Reddy reached the IT office. According to sources, IT officials asked him about his assets and properties, about the Bhupal Infrastructure company's financial transactions, investments made into his companies by different persons, Revanth's investments in the company etc. and sought clarity on his disproportionate assets. The officials grilled him for four-and-a-half-hours. Later, told him to attend for further enquiry on October 3.
Sebastian came to IT office at 12:15 pm and an in-depth enquiry was conducted wherein the officials sought clarity on many issues pertaining to Rs 50 lakh which was caught in 2015.
Congress leader Revanth Reddy's father-in-law Padmanabha Reddy also attended the enquiry. While speaking to the media at Aayakar Bhavan, Padmanabha Reddy said that he was sought clarifications on Revanth Reddy's assets and 'cash for vote case.'
He said that he informed the IT officials that he did not know anything about his assets and cash for vote case. The IT officials issued new notices to him to get clarifications for new questions and asked him to answer them before October 20.
Subscribed Failed...
Subscribed Successfully...