BJP lists a slew of sops to woo voters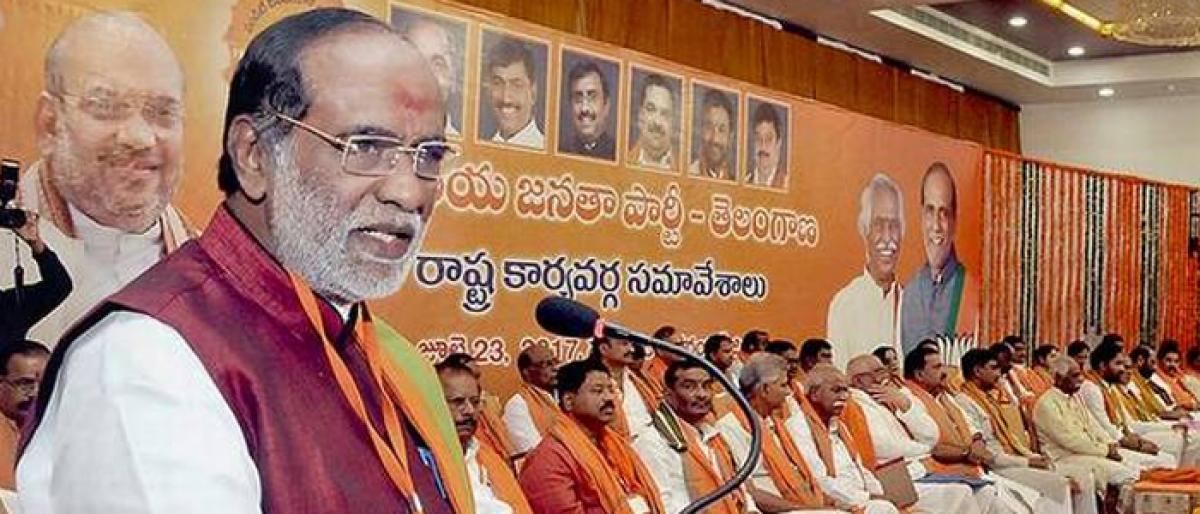 Highlights
Telangana BJPs proposed electoral promise to implement the House Rental Financial Assistance Scheme HRFAS is to cost an annual outlay of around Rs 1,800 crore According to party sources, the party has made all necessary math before making the proposal public, and implementation of HRFAS is well within the financial resources of the State budget
​Hyderabad: Telangana BJP's proposed electoral promise to implement the House Rental Financial Assistance Scheme (HRFAS) is to cost an annual outlay of around Rs 1,800 crore. According to party sources, the party has made all necessary math before making the proposal public, and implementation of HRFAS is well within the financial resources of the State budget.
Speaking to The Hans India, a senior party leader said, "As of now, about 3.5 lakh applications under the Prime Minister Awas Yojana (PMAY) have been pending with the Municipal Administration and Urban Development department and the Greater Hyderabad Municipal Corporation (GHMC). Of these, the Centre had already sanctioned 2 lakh housing units till date under the PMAY."
Under the HRFAS, the maximum financial assistance for each beneficiary is Rs 5,000. However, in the case of villages, it might be lesser. Accordingly, even if we take the maximum limit announced, the State government will have to allocate around Rs 150 crore to meet the expenditure for HRFAS, he added.
Explaining the logic behind the scheme, another leader said that the party's line of thinking was clear that it wanted to implement a housing scheme in which the double bedroom housing will continue. In addition to it, PMAY will also be implemented.
For this, the State has to contribute 40 per cent of the total cost of the project to the Central-sponsored scheme under the PMAY. The initial expenditure has to be incurred over and above the funds that the State will have to meet in implementing the double bedroom housing and the PMAY. But, the expenditure incurred on the HRFAS would reduce with the faster implementation of the housing scheme, he said.
That apart, the party is also mulling to address such issues as part of its Peoples Manifesto to attract the young voters to the party. The new policies which will be announced will address substantive issues related to the youth and students of Telangana, in addition to the distribution of laptops to the graduate students and to notify recruitment within three months of coming to power, he said.
Apart from a drastic reduction in the water tax, providing several kinds of reliefs to the private educational institutions, microprocessing units, small and medium scale industries, the party is mulling to announce a single time farm loan waiver to the tune of Rs 2 lakh. This is, in addition, to provide free bore wells to the farmers.
Keeping an eye on nearly 30 lakh potential voters' base of parents, the party has announced to appoint a Fee Regulation Committee (FRC) and to rationalise the school fee in private schools. Also, by providing health cards to nearly 6 lakh school teachers and other teaching staff in the private educational institutions, the party hopes would give it an edge over its competitors in the ensuing Assembly elections.