Congress fears defeat: KTR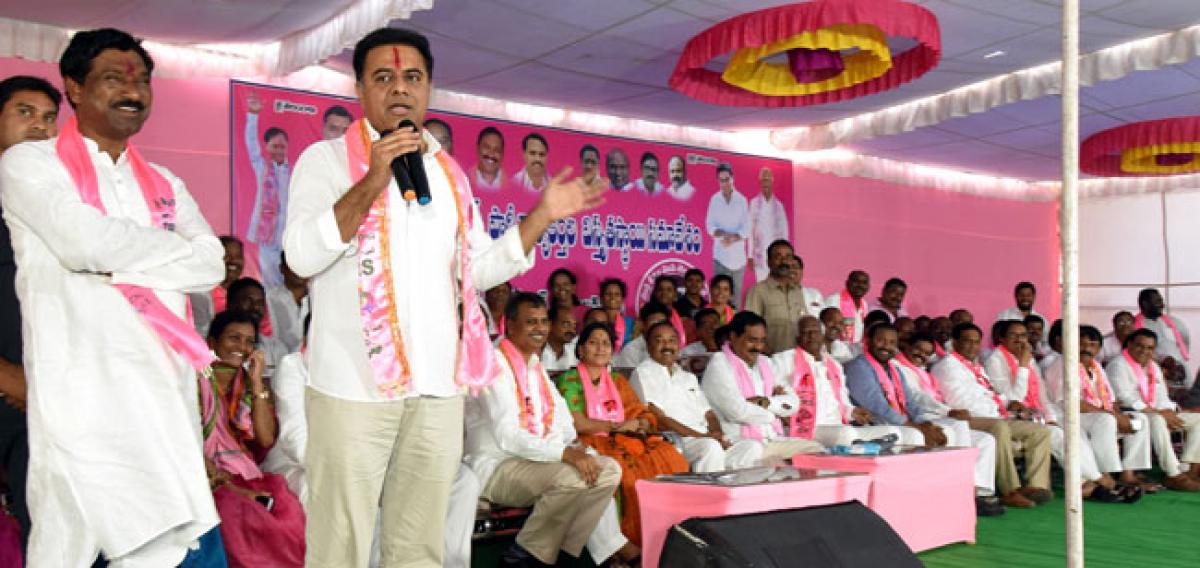 Highlights
Even before Telangana goes to polls on December 7 and counting on 11, the Opposition parties, especially the Congress have begun searching for reasons for their debacle, MAUD Minister KT Rama Rao said Addressing party cadres here on Tuesday, he alleged that Congress leaders, who are envy of TRS popularity, have always tried to hamper the development in the State
Station Ghanpur: Even before Telangana goes to polls on December 7 and counting on 11, the Opposition parties, especially the Congress have begun searching for reasons for their debacle, MA&UD Minister KT Rama Rao said. Addressing party cadres here on Tuesday, he alleged that Congress leaders, who are envy of TRS popularity, have always tried to hamper the development in the State.
"Since K Chandrashekar Rao became the Chief Minister, he has been trying to achieve all-round development of the State. KCR appealed to Opposition parties to support his government beyond politics to take Telangana on top of the development chart in the country. However, the Congress continued its tirade against the TRS government and filed no less 200 cases to obstruct the Kaleshwaram and other irrigation projects," KTR alleged.
Despite the Opposition parties' non-cooperation, KCR has a dream to turn Telangana into a haven for agriculture by providing irrigation facility to one crore acres. Such was his commitment, he said. He criticised the Congress and Telugu Desam for the backwardness of Telangana during their regimes.
Vexed with the Congress' interference with the development, the TRS chief K Chandrashekar Rao has decided to go for early polls, KTR said. The Congress, which claimed that TRS government had lost people's support, now fears to face the elections, he said.
"The Congress instead of seeking people's mandate is questioning the TRS government why it had gone for early polls. The Congress leaders also allege that there are discrepancies in the voter list. These all show that Congress is accepting its defeat even before the polling on December 7 and counting on 11," KTR said.
He listed out the TRS government's welfare schemes such as Rythu Bandhu, pensions, Kalyana Lakshmi etc, appealing to people to repose their faith in KCR. Earlier, Kadiyam Srihari also came down heavily on Congress. "The Congress, which has no guts to face TRS Bahubali KCR, allied with the Telugu Desam," he said.
TPCC President N Uttam Kumar Reddy and Telangana Jana Samithi chief Prof Kodandaram need to answer to people why they had joined hands with the TDP. "Kodandaram once termed TDP as Telangana Drohula Party," Kadiyam recalled.
Earlier, the TRS cadres welcomed KTR in a huge rally in which MPs Pasunuri Dayakar, Banda Prakash, Whip Palla Rajeshwar Reddy, Warangal Mayor N Narender, KUDA chairman Marri Yadava Reddy, Aroori Ramesh and Errabelli Dayakar Rao were among others present.