BJP top leaders to pep up election campaign in Telangana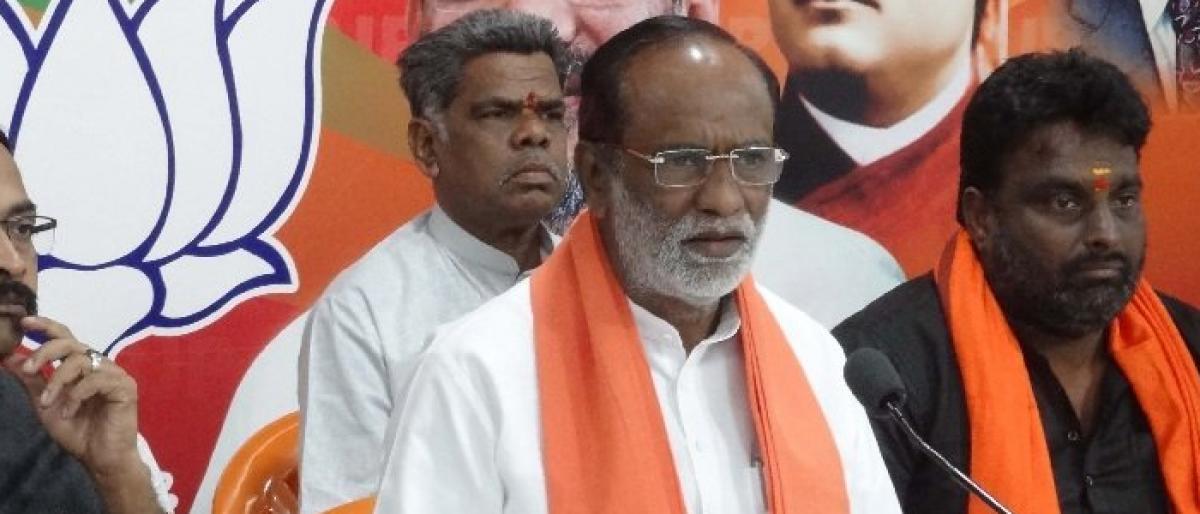 Highlights
Prime Minister Narendra Modi will be addressing four public meetings as part of the partys election campaign for the ensuing Telangana State Assembly elections Addressing media here on Saturday, Bharatiya Janata Party BJP State unit president Dr K Laxman said that Modi will address two public meetings on December 3 and two more election meetings on December 5 to give a fillip to the party elec
​Hyderabad: Prime Minister Narendra Modi will be addressing four public meetings as part of the party's election campaign for the ensuing Telangana State Assembly elections. Addressing media here on Saturday, Bharatiya Janata Party (BJP) State unit president Dr K Laxman said that Modi will address two public meetings on December 3 and two more election meetings on December 5 to give a fillip to the party election campaign in the State.
Further, the party chief Amit Shah will be arriving in the State on November 25 for a three-day visit and will also be addressing public meetings, he added. That apart, Uttar Pradesh Chief Minister Yogi Adityanath, Maharashtra Chief Minister Devendra Fadnavis and other Union Ministers and party senior leaders will be taking part in various public meetings to give a boost to the party electioneering, he said.
Claiming that the party has been attracting leaders from different sections of people across the State, Laxman said people are fed up with the TRS, the Congress and the TDP. In particular, the slanging match between the Congress and the TRS accusing each other playing dynastic politics is like the pot calling the kettle black.
"Chief Minister K Chandrashekar Rao wanted to make his son as the next Chief Minister and the Congress party wanted to make its party chief Rahul Gandhi as the Prime Minister, taking forward the dynastic politics followed by that party since the time of former Prime Minister Jawaharlal Nehru," he said.
On top of it, both the parties are challenging each other to observe 'Sanyasa' if they would not come to power in the ensuing Assembly elections. The BJP State chief had appealed the people to vote for BJP and ensure the Congress and the TRS take Sanyasa from politics.
Giving reasons for the need to defeat both the party's, Laxman said that people had witnessed how the Jala Yagnam during the Congress rule turned into a Dhana Yagnam. Besides, the unbridled corruption in the Indiramma Housing Scheme (IHS) during the Congress regime and untold hardships experienced by the farmers in Telangana shows that the grand old party bothers only about how to come to power but not people's welfare and development of the State.
Similarly, the TRS has five members from the same family and is talking about the dynastic politics and pointing fingers at the Congress. "People voted the TRS to power believing the electoral promises of KCR. But, once in power the TRS too walked the Congress ways, by filling the coffers of the contractors in the name of redesigning the irrigation projects," he said.
It was against this backdrop that the party has been increasing its popularity among the people of the State and appealed to them to vote for the party to bring in a corrupt free government that works for people's welfare and State's development.