Kodanda questions KCR's contribution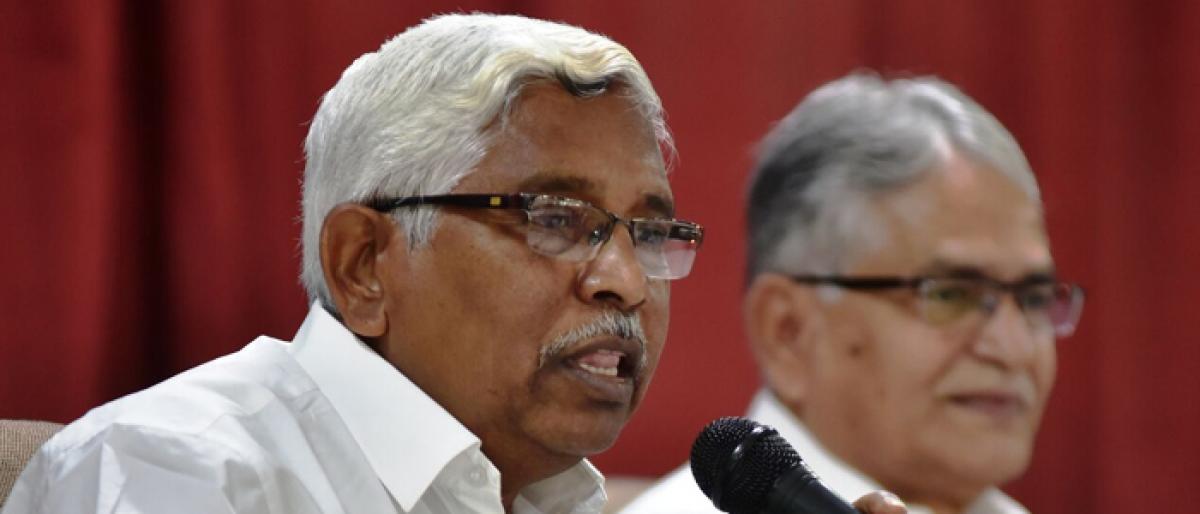 Highlights
TJS chief Prof M Kodandaram was highly critical of the fourandahalf year rule of K Chandrashekar Rao as the first Chief Minister of Telangana He said TRS chief had no vision and action plan as his focus was on minting money through contracts and projects
Hyderabad: TJS chief Prof M Kodandaram was highly critical of the four-and-a-half year rule of K Chandrashekar Rao as the first Chief Minister of Telangana. He said TRS chief had no vision and action plan as his focus was on minting money through contracts and projects.
Participating in a Meet-the-Press programme held at Basheerbagh Press Club on Monday, Kodandaram wanted to know what KCR did for the State to expect a victory for his party in upcoming elections. Much to the surprise of everyone involved in statehood movement, what we saw in last four years was a family-centric rule.
"One can understand how sad the state of affairs were when you talk about irrigation projects. It is not the engineers who have re-designed the projects, but vested interests, including contractors to reap benefits," Kodandaram said.
He alleged that with the ill-gotten money from projects, the ruling party, which earlier bought MLAs is now trying to influence political system also. Kodandaram said that main focus of people's front was to end the autocratic rule of K Chandrashekar Rao. Replying to a question whether TJS's identity was at stake as Congress had tried to belittle its position and strength in public, Kodandaram clarified that TJS's identify was not lost and they are committed to implementation of the common agenda.
TJS chief said that Rahul Gandhi himself had agreed for common agenda along lines of common minimum programme worked out by alliance parties during UPA-1 regime. Kodandaram exuded confidence of People Front getting support and acceptance of public in upcoming elections.