Karimnagar will be made water junction: KCR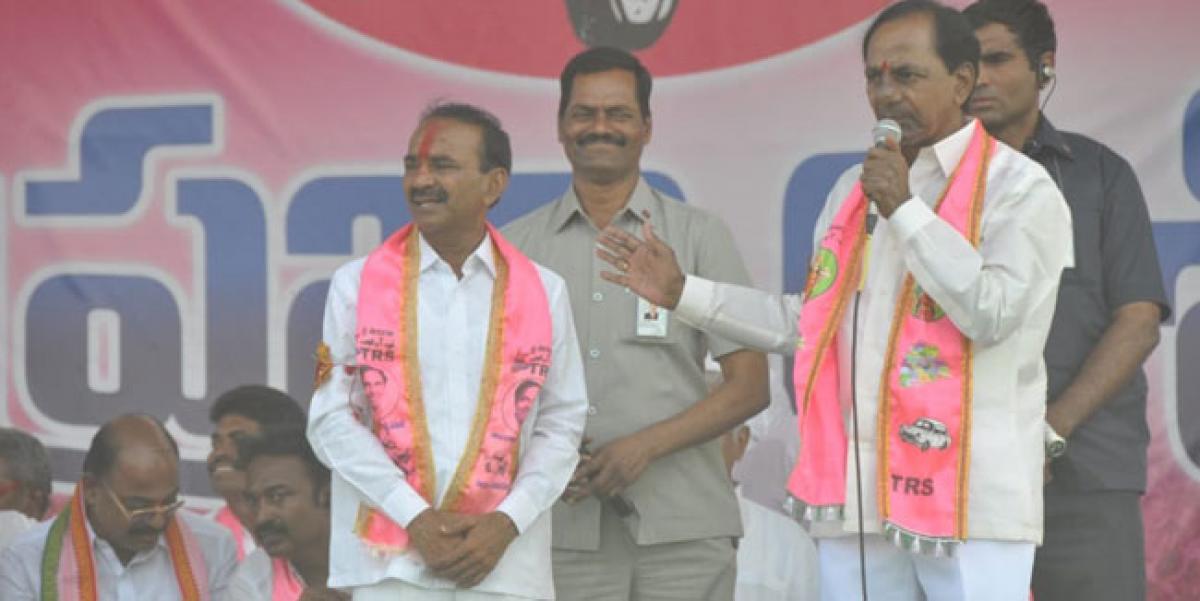 Highlights
Karimnagar will be made a water junction in the coming days along with supplying water for second crop also, assured caretaker Chief Minister K Chandrashekar Rao
Huzurabad: Karimnagar will be made a water junction in the coming days along with supplying water for second crop also, assured caretaker Chief Minister K Chandrashekar Rao.
He attended the Praja Ashirvada Sabha at Indira Nagar in Huzurbad on Tuesday, in which thousands of people attended and made a big success.
Addressing the massive gathering, KCR said that the credit of construction of check dams on war footage goes to caretaker Finance Minister Eatala Rajendar.
Stating that Rajendar is his right hand, the TRS chief said that Eatala will never go back in serving people and always strives hard for their wellbeing. He asked the people to give a thumping majority to Rajendar with more than one lakh votes.
Even though Telangana State is just four years old, it is giving highest salaries to Anganwadi workers, Asha workers, contract and outsourcing employees including home guards.
Telangana is the only State which is supplying 24 hours uninterrupted power. In Telangana power supply will never stop until and unless Congress wins accidentally, he stated.
70 per cent of population in the State is dependent on agriculture. Kaleswaram project will be completed in June next year and Karimnagar district will become a water junction and there will be no water problem in future, KCR assured.
Pension of Rs 3,016 will be given to unemployed youth and disabled persons along with providing minimum support price for food grains.
The caretaker Chief Miniter lauded Eatala Rajendar as a very hardworking person, who became a great leader and representative for backward class.
He transformed Huzurabad constituency a well-developed area and would continue his good work, if people vote for him and give him a victory, he added. "As per the reports I received, Eatala is going to get 80 per cent of votes in Huzurabad constituency. The people of Huzurabad constituency must give more than one lakh majority in the coming up elections," KCR said. Rajya Sabha Member Captain Lakshmikantha Rao and Keshava Rao accompanied Chandrashekar Rao.