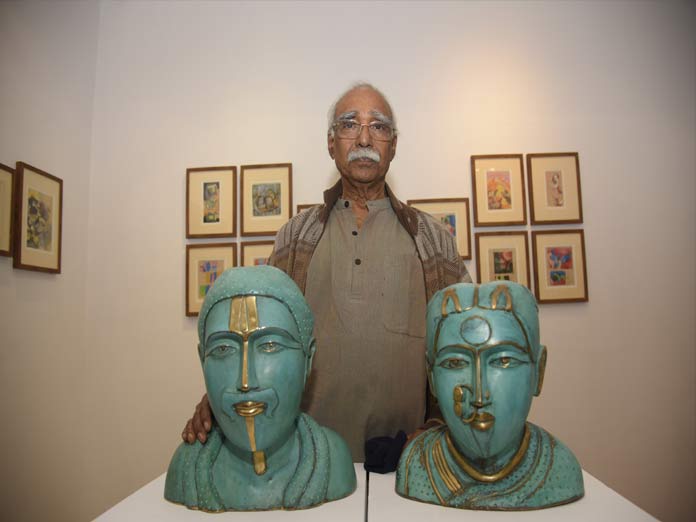 Highlights
After the great success at India Art Fair, New Delhi 2019 Kalakriti Art Gallery announced the preview of the exclusive early series of works by Hyderabadbased artist, Thota Vaikuntam, showcasing the range of collective drawings and charcoals from circa 198186 and sculpture cast at Bronze Age Sculpture Casting Foundry, London which is the new addition to his collection
After the great success at India Art Fair, New Delhi 2019 Kalakriti Art Gallery announced the preview of the exclusive early series of works by Hyderabad-based artist, Thota Vaikuntam, showcasing the range of collective drawings and charcoals from circa 1981-86 and sculpture cast at Bronze Age Sculpture Casting Foundry, London which is the new addition to his collection.
He was happy that he displayed his work in New Delhi, but he says, "I couldn't go because I am sensitive to cold. My intention was to showcase my works. I felt good when I heard that many artists attended the Art Fair to see my work."
Vaikuntam's art has a sense of strength to it, a power that emanates from the paint or charcoal that he applies to the surface, from his controlled lines, and from the fine strokes that he executes. The senior artist feels that in his days, artists would draw portrait for living. He says, "In our generation we had to do odd works to earn a living. Now, it has changed a lot. Education has developed. Change is good and we should accept it. We should keep on working. Change is natural and constant thing in the world. Now there's increase in demand for art. The paintings are being exhibited in five-star hotels and coffee shops."
Artist Thota Vaikuntam's work are always clad in brilliantly hued garments crafted on to local tradition through his choice of subject and costume. His early series of works depicts everyone and everything from the village – farmers, devadasis, utensils, pots, measuring scales and doors. "My paintings capture simple lifestyle of villagers like the paddy fields, toddy pots on shoulders of men, the household chores and temple rituals. I have been painting since my childhood," Vaikuntam shares.
The series reflects the various shades and ethos of rural India and is a revelation of the inspiration that he draws from life around him and the inspiration continued, as the art evolved. From still-life, charcoal drawing, portraiture to his abstract painting and sculptures portray his journey as an artist. He has recently added sculptures to his body of work. "I am not a sculptor by profession, but I direct and advise the artists to create my ideas."
He adds, "I won't be experimenting nor doing anything innovative. I will be doing the same work in a different manner."
About art in Telangana Vaikuntam says, "Hyderabad has become centre for many things. We have good artists and galleries. I feel that hard work will always reaps the fruits. We have art lovers in Telangana; people are showing interest in art."
Subscribed Failed...
Subscribed Successfully...