Class 10 student displays innovative farm machine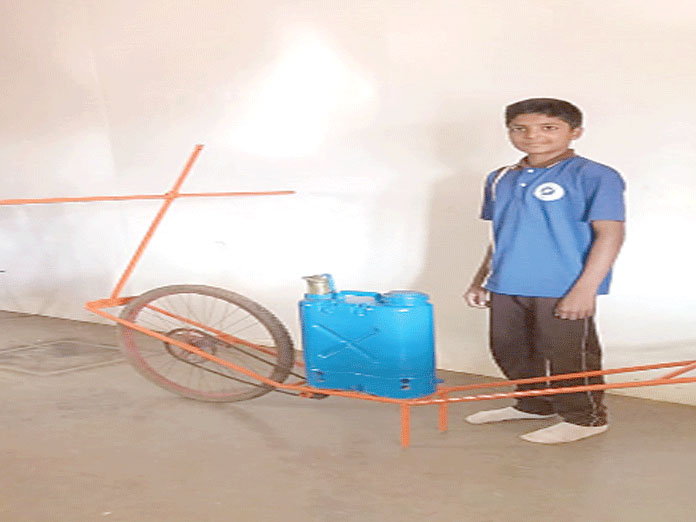 Highlights
P Saivardhan, a tenthclass student of Adarsha Vidaylayam, has been selected for national level Inspire competitions The Central government had launched Inspire programme to bring out the latent talent in students Students from various districts participated in the event that was organised in Warangal
Zaheerabad: P Saivardhan, a tenth-class student of Adarsha Vidaylayam, has been selected for national level Inspire competitions. The Central government had launched 'Inspire' programme to bring out the latent talent in students. Students from various districts participated in the event that was organised in Warangal.
Saivardan, who was selected for the national level competition, exhibited the will spraying pump, which is intended to benefit the farmers.
Mechanism ofWill spraying pump is used to kill the pests of crop. This machine can work without supply of power and fuel. Farmers can spray their desired pesticides using cycle wheel. Farmers need not carry the pesticides box on his back like traditional methods; he can attach the box to cycle wheel and spray effortlessly.
Materials needed to develop this machine are cycle wheel, cycle chain, metal pipes, pesticide box, small privil, large privil, nozzles, and Nylon pipe.
Saivardhan said that his father's hardships made him work on this project. He wanted to develop equipment for pesticides spraying since childhood. He stated that school principal Sangameshwar helped a lot in developing this
project.