Nowhera planning to flee India, allege victims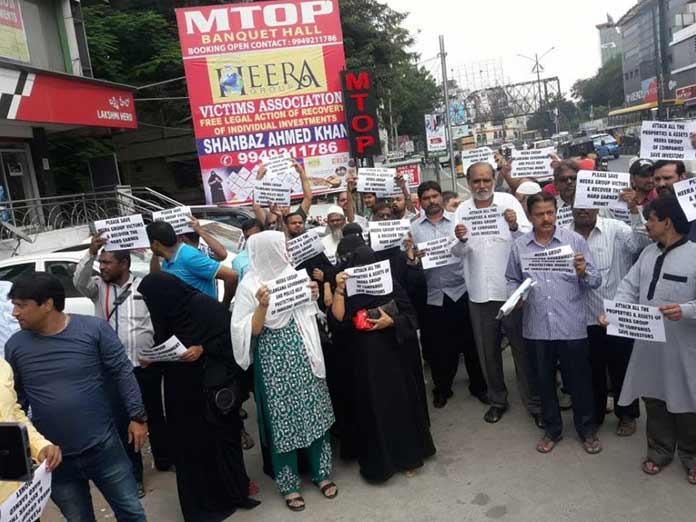 Highlights
The Heera Group Victims Association has claimed that Heera group chairman, Nowhera Shaikh was planning to run away from India
Hyderabad: The Heera Group Victims Association has claimed that Heera group chairman, Nowhera Shaikh was planning to run away from India.
In a letter addressed to Abhishek Goel, Joint Director Enforcement Department, Shahbaz Ahmed Khan, the whistle-blower and Victims Association's president held that Nowhera, accused of cheating depositors in the name of Ponzi scheme started selling her properties and was planning to run away from India. "Huge transactions were made to several companies out of India. Now she is trying to sell her benami properties such as several shops in Afia plaza in Masab Tank, which was already given position to others," he claimed.
Shahbaz, who has been running a campaign against the model of business adopted by Heera Group, explained that she registered several benami companies in Dubai and England whose names were also submitted to Enforcement Department. "As our talks held in a meeting at ED office last week, I got all the details and am herewith submitting details of Heera group of companies and CEO Nowhera Shaikh, her family, marketing executives (ME), Direct Sales Agents (DSA) and Benami," he noted.
According to president of Victims Association, she started her business in Hyderabad and purchased a property in Afia Plaza - Masab Tank from a known Kalimullah Siddiqui who runs gold business in the name of impresse Jewelers. Kalimullah Siddiqui, Shakir, Sheema, Rana and Nowhera sheikh started collecting money from the public in the name of Heera Investments. "They cheated Indian Overseas bank and Corporation Bank and mortgaged the property in Afia Plaza Masab Tank. Later, differences arose between them and Nowhera removed all the partners and she and her family was introduced to Mumbai-based Supreme Court lawyer Vineet Danda and Salim Ansari. Later, Salim Ansari's daughter married to Nowhere Sheikh's son. He further informed that several Islamic clerics namely Arshad Basher Madani Ansari is main Rabbani, Sanaullah Madani, Jalaluddin Qasmi, Aqil , Shehnaz, Kallur, Shabana promoted Heera Group of companies in the name of religion. Later, Arshad Basheer Madani ran way to Canada after Nowhera Sheikh was arrested. Reportedly, there is involvement of Dubai and Pakistani mafia in this scam. "Links have been established with Pakistani National and famous cleric Tausif ur Rahman, who resides in Saudi Arabia and was arrested there in January 2017 in connection with international terrorist organization ISIS," he added.