Woman advocate services under-utilised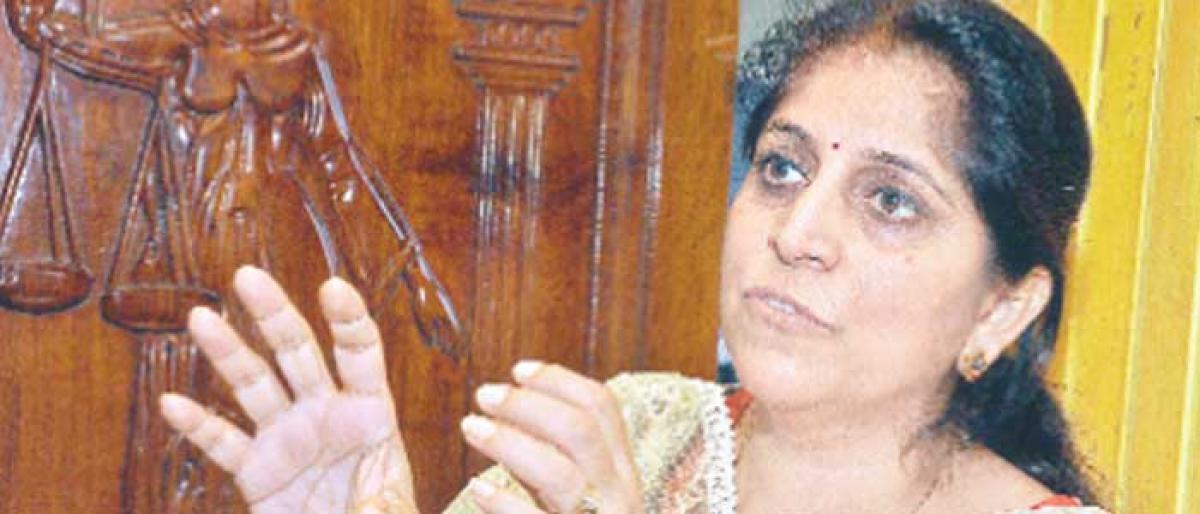 Highlights
An educated woman should be treated as an asset to the society and her services should be utilised in full for the development of the society as a whole, says Neeru Mishra, an advocate of Hyderabad High Court of Judicature
An educated woman should be treated as an asset to the society and her services should be utilised in full for the development of the society as a whole, says Neeru Mishra, an advocate of Hyderabad High Court of Judicature, who has recently shifted her base to Vijayawada in preparation of base for her future practice in the AP High Court in view of its forthcoming shift to the capital city of Amaravati.
If that educated woman is an advocate she would be more useful for the underprivileged of the society, says Neeru. Born in Jammu into a family with judicial background, naturally, she was interested in joining the legal profession. Her father was the District and Sessions Judge and the mother, a housewife. She started her career practicing in the Jammu and Kashmir High Court.
After her marriage with an Indian Services officer, she shifted to Hyderabad and started practicing at Hyderabad High Court of Judicature. Along with her husband she went to Canada. But as is her wont, she found herself an international project 'United Ways' on community development and leadership.
During her nearly half decade-long stay at Toronto, she worked with the underprivileged women of Indian subcontinent including Pakistan, Nepal, Sri Lanka, Bangladesh and others to make them empowered. Elaborating her work during her stay in Toronto, Neeru said that the local administration has divided the city into 36 neighbourhoods and prepared plans for the development of the underprivileged. She worked on various projects to make them employable by training them with necessary skills.
Commenting on the state of women advocates - Sadly, in India one needs the support of a politician or some godfather even to get standing counsel post instead of considering their experience and talent, she says. The State bifurcation had also played havoc with the careers of a number of women in various professions, she recalls.
Despite her working for the development of the underprivileged in the foreign countries, her services are not well utilised and her experience in society development is wasted in our country, she points out.
Referring to the glaring discrimination of women in Jammu and Kashmir, Neeru says that if a Kashmiri woman marries a man outside of the State, her husband or even children would not inherit the status of Kashmir. However, if a Kashmiri man marries any woman their children would inherit the Kashmiri status. "This is nothing but gross injustice," she avers.
By:M V Syam Sundar