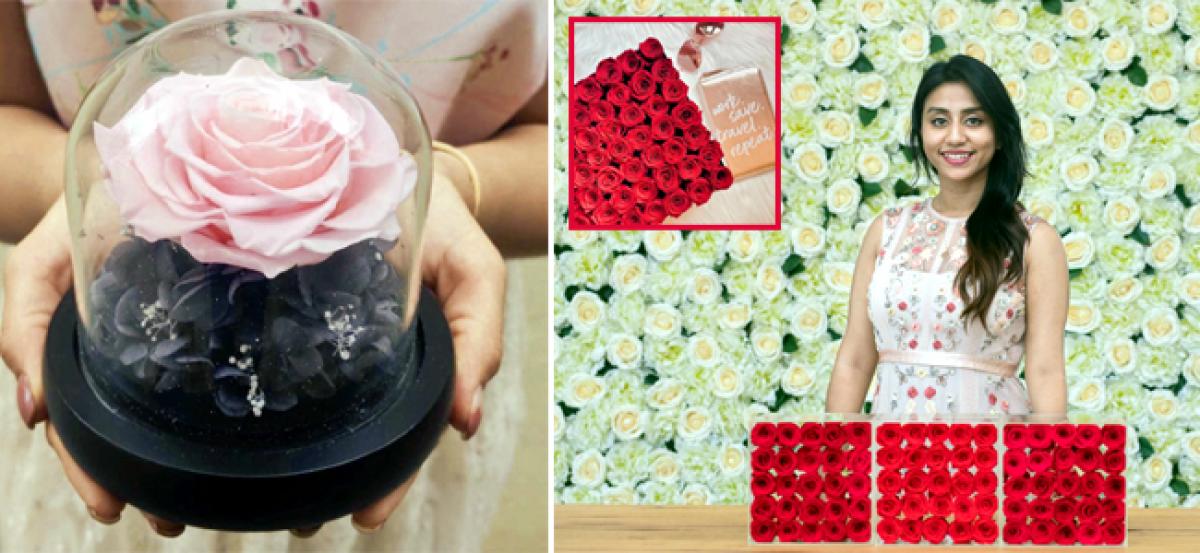 Highlights
Greek philosopher Plato said Necessity is the mother of all inventions and certainly need does give birth to innovation And this has been the driving factor for the 25yearold youngster, Chitra Das, to start the oneofitskind concept of preserving flora
Champs Fleur, by young entrepreneur Chitra Das, is the only brand that makes preserved roses in India with a huge amount of colour variants
Greek philosopher Plato said 'Necessity is the mother of all inventions' and certainly need does give birth to innovation. And this has been the driving factor for the 25-year-old youngster, Chitra Das, to start the one-of-its-kind concept of preserving flora.
Chitra, who was born in Australia has now settled in Hyderabad, says that living alone, flowers were the only solace in a packed schedule that involved work, chores, and sleep. Stemming from this love of roses and feelings of compassion, Chitra Das set out to preserve these evanescent flowers. Eventually, after a number of failed attempts, she cleverly struck gold with the current four-step preservation technique. It allowed her to forever freeze in time the pure beauty of this enduring symbol of love, appreciation, and beauty. And this gave her idea to preserve flowers and start her venture Champs Fleur started in February 2018. The roses in various colour palettes can last for a year. A commerce graduate from the University of Sydney, Chitra is planning to open her first store in Hyderabad by August end.
"When I was working as VP in marketing communication at Ramoji Film City in Hyderabad, the project shifted to Mumbai and I too relocated to the city and it all started here when the flowers I ordered used wither as I had long working hours. I started to research on the idea of how to preserve the flowers."
"I tried different techniques and that's how the concept came into life. I wanted to customise different aspects of the arrangements. In the beginning, it was really disappointing as I did not get the desired results and then I started telling myself that this is going to work. I was determined that I would not step back and think about it as a stepping stone to success and that's how I was able to start Champs Fleur.
Chitra informed that they have 15 to 18 arrangement patterns of flowers, which can be customised. She also said that mixing up colours and making preserved flowers was a tough task to do. "I started mixing basic colours and then soon started getting different shades. Sometimes the shape did not work the way we pictured it. So we would start to re-create them over and over again. Right now we have different ideas that we would I to explore, we started with roses soon we would start off with carnations and different variations of roses. Within six months we have worked out good and we have different variations coming up soon."
"At the moment we are concentrating on India and we are also trying to take this in other neighbouring countries. In terms of expanding our product range, we are working on it with the concept of home decors. In the four months of us operating, we started with me and another person and now we are around eight to 12 people and we have been doing well financially as well. We are looking forward to customising our products. We will be soon opening stores in New Delhi and Mumbai."