A woman who chose to sail with shipping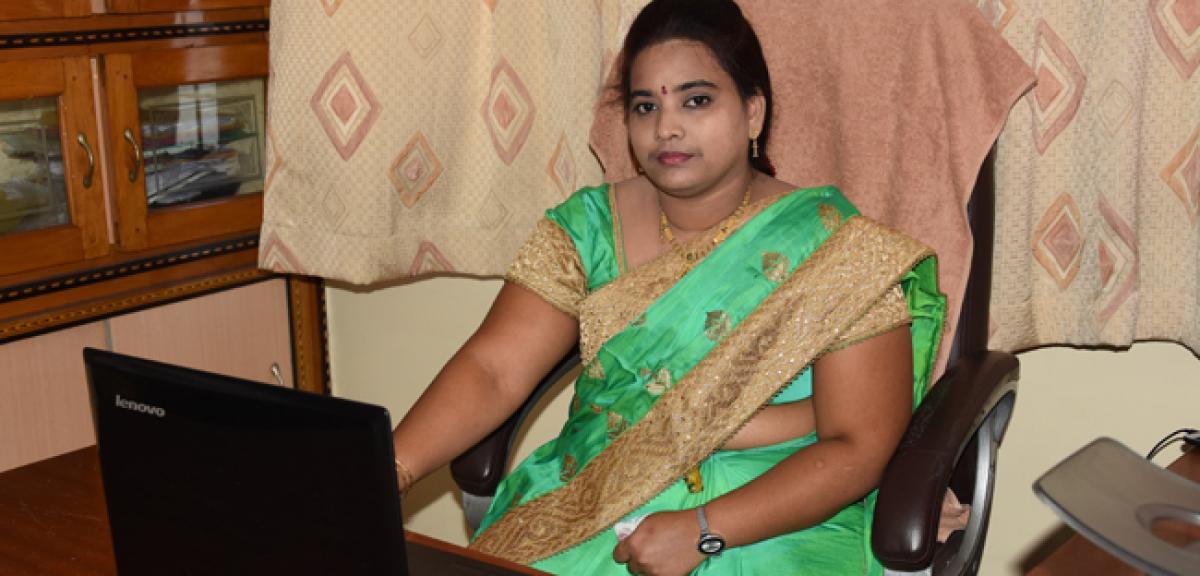 Highlights
The strenuous and heavy demanding work of shipping is naturally not a womans cup of tea it is considered But Vittanala Gayatri, inspite of having an option to work as faculty of Economics, willingly chose the shipping field Now, after being a successful entrepreneur as the Managing Director of Sri Gayatri Shipping and Logistics based in Visakhapatnam, she proved her calibre
"Two roads diverged in a wood , and I—I took the one less traveled by, And that has made all the difference" (The Road Not Taken poem by Robert Frost). Though ship is feminine in gender, shipping as a career remained an area beyond the reach of women. It is a known fact that shipping industry and the world of shipping is always a man's world and no woman has ever chosen it.
The strenuous and heavy demanding work of shipping is naturally not a woman's cup of tea – it is considered. But Vittanala Gayatri, inspite of having an option to work as faculty of Economics, willingly chose the shipping field. Now, after being a successful entrepreneur as the Managing Director of Sri Gayatri Shipping and Logistics based in Visakhapatnam, she proved her calibre.
A triple post graduate with M.com, MBA (Finance), and M.A. (Eng Lit) from Andhra university, her academic excellence has also been awarded with a Gold Medal from the Institute of Chartered Ship Brokers, UK. She is also the life member of "The Chartered Institute of Transport and Logistics, Uk".
She has been an active entrepreneur in the shipping industry from the last one and half decades. Recently she has successfully completed Customs Brokers Licensing Examination as per the Customs Brokers Licensing Regulations, 2013 under Customs Act 1962 conducted by Customs Commissionerate, CBEC Board. She was also the topper in ICS qualifying examination while doing her Professional Degree in Shipping from the Institute of Chartered Shipbrokers, (UK).
She shares, "The ICS examinations are the right ladder to uplift my professionalism in shipping as the Institute of Chartered Shipbrokers, UK, is known for its reliability, efficiency, commitment and vast experience. It also gives me the confidence that my skills need not be confined to one sector in shipping industry but can expand to the other areas of shipping too".
Along with the handling of a shipping company she is also an academic professional in shipping. She is also the Director of East Coast Maritime Academy, an academy first of its kind established in the port town Visakhapatnam. She teaches and trains young professionals in shipping and logistics. The academy offers post graduate diploma, BBA, and MBA in Shipping and logistics.
Her dynamism makes her the first ever famous Lady in Shipping Industry in the North Coastal Andhra. She is an all-rounder and that comes through abundantly when one watches her handling umpteen jobs with a single hand in her office. She handles all the works when a ship is berthed. Never hesitates to work day and night when needed and with an ever-graceful smile on her face she makes her team work too. She stands as an inspiration to many girls who want to enter the field of shipping. Now it does not remain a man's kingdom.
Young women like Gayatri set a trend for the young girls to take up a career in shipping. Being a dutiful elder daughter of a middle-class family, she also helps her brother and her elder sister's daughter to train for a career in shipping.
Yes, the road she has chosen is not much trodden and traveled but she chose to take it, made her mark, and conquered the hearts of many stalwarts in shipping industry all around the country. Sri Gayatri Shipping and Logistics has a few extended branches in Kakinada, Chennai, Machilipatnam; the main office is in Visakahapatnam. Yet, she carries her success lightly and has her eyes set on bigger goals.