Celebrating with handmade rakhis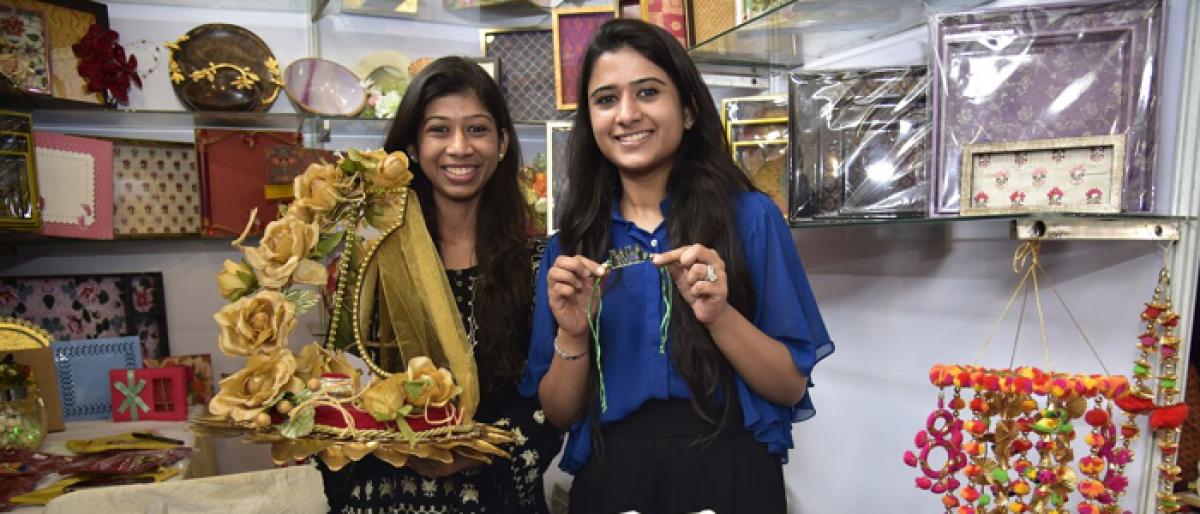 Highlights
Based in Hyderabad, Uphaarna owned by sisters Alaokika and Apeksha has taken the hand made products into the next level Choosing the right season and festival these sisters try out different concepts of handmade products that attract customers And these include pooja thalis, gifts tray, covers, key chains, gift items, festive and wedding dcor, Rakhis etc, that the sisterduo sells during exhib
Based in Hyderabad, Uphaarna owned by sisters Alaokika and Apeksha has taken the hand made products into the next level. Choosing the right season and festival these sisters try out different concepts of handmade products that attract customers. And these include pooja thalis, gifts tray, covers, key chains, gift items, festive and wedding décor, Rakhis etc., that the sister-duo sells during exhibitions.
Excerpts from an interview:
What drew you towards designing occasion-based items?
I used to work with my father, who has a furniture retail showroom. After a while, I wanted to do something on my own that is creative. So, about four months ago I started making these customised décor items that are used for weddings and kitchen utilities. I along with my sister Apeksha make these things on our own and whatever things are difficult for us to make we get them custom-made. We are into furniture and that's how I got the idea of wooden trays that are very popular. I customise prints on the tray depending on our target customers. We also focus on weddings and festivals to sell our products.
Tell us about your special rakhis!
The normal floral rakhis are common; we wanted to do something different. I thought of these trendy rakhis where every brother is described in a specific way. I thought of common things that everyone can relate to and used these elements to make our rakhis. Such ones are unusual and are fun to tie.
Apart from your wooden trays, can you suggest any other popular item in your products?
The show piece that is hanged on the door during Rakhi got sold out really quickly we just loved the response that we got from our customers.
What are your future plans?
We are looking forward to the wedding season that is coming ahead. We make invitations and gifts for weddings among other things.