Pradhan Mantri Jan Dhan Yojana and its success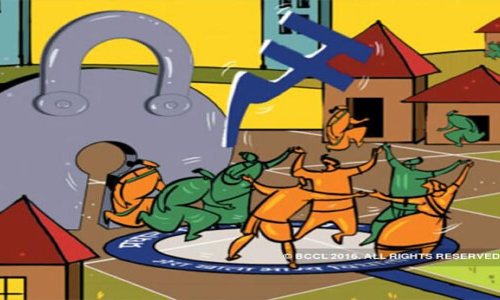 Highlights
Pradhan Mantri Jan Dhan Yojana (PMJDY), completes the third anniversary that aims the financial inclusion scheme implemented by the National Democratic Alliance (NDA) government.
Pradhan Mantri Jan Dhan Yojana (PMJDY), completes the third anniversary that aims the financial inclusion scheme implemented by the National Democratic Alliance (NDA) government.
Jan dhan yojana is the ambitious scheme of Honorable Prime minister Mr. Narendra Modi which will strengthen India through collecting revenues.
Prime Minister Narendra Modi on 28 August 2014 launched highly motivated Pradhan Mantri Jan Dhan Yojana (PMJDY) which was significant project of NDA government to open at least one bank account to every family.
Cabinet ministry of Mr. Narendra Modi opened Pradhan Mantri Jan-Dhan Yojana all over India and it is predicted that this effective scheme may prove to be beneficial for country
External Affairs Minister, Sushma Swaraj and Madhya Pradesh Chief Minister Shivraj Singh Chouhan launched the scheme in Bhopal, while the scheme was launched by Union Transport Minister Nitin Gadkari in Nagpur, Union Law Minister Ravi Shankar Prasad in Chennai, Union Minister for Chemicals and Fertilizers Anantha Kumar in Bangalore and Union Minister for Consumer Affairs, Food and Public Distribution Ram Vilas Paswan in Patna.
Major objective of Jan-Dhan Yojana
Universal access to banking facilities for all households across the country through a bank branch or a fixed point Business Correspondent (BC) within a reasonable distance.
To cover all households with atleast one Basic Bank Account with RuPay Debit card having inbuilt accident insurance cover of Rs.1 lakh.
An overdraft facility upto Rs.5000/- after satisfactory operation in the account for 6 months.
A Life Cover of Rs.30,000/- to those beneficiaries who open their accounts for the first time from 15.08.2014 to 31.01.2015.
Financial literacy programme which aims to take financial literacy upto village level.
The Mission also envisages expansion of Direct Benefit Transfer under various Government Schemes through bank accounts of the beneficiaries.
Providing micro –insurance to the people.
Un organised sector Pension schemes through the Business Correspondents.
The Jan-Dhan Yojana is aimed to provide basic banking accounts with a debit card with inbuilt accident insurance. The Government plans to open at least one crore bank accounts on the first day itself.
Other State Governments also flagged-off this scheme. Prime Minister also revealed a logo and a Mission Document on Financial Inclusion.
He also dedicated the mobile banking facility on the basic mobile phone to the nation.
Its main features include Rs 5,000 overdraft facility for Aadhar-linked accounts, RuPay Debit Card with inbuilt Rs 1 lakh accident insurance cover and minimum monthly remuneration of Rs 5,000 to business correspondents who will provide the last link between the account holders and the bank.
The banking network is all set to open bank accounts of the uncovered households in both rural and urban areas.
This effective scheme has a national mission on financial inclusion in order to cover all households in the country with banking facilities and having a bank account for each household.
The scheme has an objective to provide two accounts to 7.5 crore identified households by August 2018. PMJDY works on the principles of Sab Ka Sath Sab Ka Vikas.
Main features of PMJDY
The first phase of the mission, which started on 28 August 2014, would end in August next year. The second phase will began from 2015 till 2018 that will cover aspects such as micro insurance and pension schemes like 'Swavalamban'. Rs. 5,000 overdraft facility for Aadhar-linked accounts.
The National Payments Corporation of India has tied up with HDFC Ergo to provide the 1 Lakh initial cover while the additional 1 Lakh cover would be provided by the four state owned general insurers New India Assurance, National Insurance, United India Insurance and Oriental Insurance Company.
There is minimum monthly remuneration of Rs 5,000 to business correspondents who will provide the last link between the account holders and the bank.
PMJDY is more effective schemes as compared to other schemes launched by earlier UPA Govt. Professionals stated that previous scheme did not focus on households and urban financial inclusion.
They maintained that there was a cumbersome Know Your Customer (KYC) formality, restricting account opening. Jan-Dhan Yojana scheme will allow government to return people's money to them. The main purpose of the scheme is 'Mera Khata Bhagyavidhata', which means 'my account is divine'. Once you become an account holder, you will get Rs 1 lakh insurance immediately without filling any separate form.
And if you run the account properly for six months by withdrawing and depositing money at regular intervals, then a loan of Rs 5,000 will be made available to you, said Swaraj.
The scheme will be beneficial for the poor. Every family will have its own bank account. It will help in saving money and keeping it safe and secure.
Various political leaders appreciated this scheme. Ravi Shankar Prasad said that the scheme will be followed by economic banking, literacy and education.
There are many advantages of Jan Dhan Yojana. The account holders will be provided a zero-balance savings account with a RuPay debit card.
Account holder will get a kit containing cheque book, financial literacy and pass book. However this would vary from bank to bank and account usage. Person will also get Aadhar number immediately.
The account holder will also be provided life insurance cover of INR 30,000 (for accounts opened before January 26, 2015) and an accidental insurance cover of INR 1 lakh.
By 2018, it is likely that all account holders under the PMJDY scheme will have access to an Aadhaar-linked bank account with overdraft facility up to INR 5,000. By allowing direct money transfer into bank accounts, the scheme is likely to cut down on corruption.
The Prime Minister also said that by providing debit cards that can be swiped the scheme shall reduce the dependence on credit cards, thereby promoting savings.
Documents required for account opening:
Address proof either current or permanent. If address changes then person needs to submit fresh address proof to the bank. You can read more about the recent know your customer (KYC) norms changed by RBI.
For persons with no valid documents, the account can still be opened by providing self-attested photographs, signature/thumb print in front of bank official.
Such account is called Small Account. Read more about this here. However this small account would be valid only for one year post that person will have to provide official valid documents which include: Passport, Driving License, PAN card, Voter ID card, Aadhar card, or Ration card and two passport size photographs.
There are some drawbacks of this scheme. Experts stated that Jan Dhan Yojana is questionable viability of banking, insurance accounts, Priority versus freebies banking and it may burden on the taxpayer.
Lastly, it can be said that The Pradhan Mantri Jan Dhan Yojana is devised to assist people of India, especially the poor sections by providing a bank account, credit facility, insurance cover and debit card.
In the long run, the scheme will also permit the poorer sections to avail themselves of subsidies and overdraft facilities through their bank accounts, which are intended to eliminate money-lenders, commission agents and corruption.
According to PM Modi, this scheme will boost everyone's confidence. Jan Dhan Yojna creates record and Bank Accounts will enhance the economy. Jan Dhan Yojna will stop monetary untouchability.
Benefits of PMJDY
Opening of a bank account. The account holders get access to credit and pension facilities and also a debit card with a built-in accident insurance cover for Rs1 lakh.
The account holders can get government subsidies delivered to them in cash, directly into their accounts.
Beyond enabling account ownership and the use of financial services, the PMJDY also facilitated financial inclusion for a variety of demographics.
A paper (Who Wants To Be An Entrepreneur?, May 2016) suggests that, "Financial development facilitates economic growth by moving workers out of less productive, informal entrepreneurial activity into formal jobs in more productive firms." In other words, there are multiple benefits arising out of access to finance for the poor. If this were to happen, India could reasonably aspire to resemble the prosperous high-growth economies of the West.
Special benefits under PMJDY Scheme
Interest on deposit.
Accidental insurance cover of Rs.1.00 lac
No minimum balance required.
Life insurance cover of Rs.30,000/-
Easy Transfer of money across India
Beneficiaries of Government Schemes will get Direct Benefit Transfer in these accounts.
After satisfactory operation of the account for 6 months, an overdraft facility will be permitted
Access to Pension, insurance products.Accidental Insurance Cover, RuPay Debit Card must be used at least once in 45 days.
Overdraft facility upto Rs.5000/- is available in only one account per household, preferably lady of the household.
Basic Savings Bank Deposit Account (BSBDA)
By default, all the zero balance account opened under are Pradhan Mantri Jan-Dhan Yojana (PMJDY) are Basic Savings Bank Deposit Account (BSBDA). BSBDA has been defined by RBI vide its circular dated 10.08.2012. Its salient features are
These facilities are to be provided without any extra cost.
Other features
1. PMJDY focuses on coverage of households as against the earlier plan which focused on coverage of villages.
2. It focuses on coverage of rural as well as urban areas. Earlier plan targeted only villages above 2000 population while under PMJDY whole country is to be covered by extending banking facilities in each Sub-Service area consisting of 1000 – 1500 households such that facility is available to all within a reasonable distance, say about 5 Km.
3. Any individual above the age of 10 years can open BSBDA Account.
4. Rupay Debit Card is an indigenous domestic debit card introduced by National Payment Corporation of India (NPCI). This card is accepted at all ATMs (for cash withdrawal) and at most of the PoS machines (for making cashless payment for purchases) in the country.
5. RuPay Debit Card provides accidental insurance cover upto Rs.1.00 lac without any charge to the customer.
6. To get benefit of Accidental Insurance Cover, RuPay Debit Card must be used at least once in 45 days.
7. Overdraft facility upto Rs.5000/- will be available to one account holder of PMJDY per household after 6 months of satisfactory conduct of the account.
8. To avoid duplication Aadhaar number will also be required. If Aadhaar number is not available then Bank will do additional due diligence and also seek declaration from the beneficiary.
9. Overdraft facility upto Rs.5000/- is available in only one account per household, preferably lady of the household.
10. Reserve Bank of India (RBI) vide its Press Release dated 26.08.2014 has further clarified as under: "Those persons who do not have any of the 'officially valid documents' can open "Small Accounts" with banks.
11. A "Small Account" can be opened on the basis of a selfattested photograph and putting his/her signatures or thumb print in the presence of an officials of the bank.
12. Such accounts have limitations regarding the aggregate credits (not more than Rupees one lac in a year), aggregate withdrawals (nor more than Rupees ten thousand in a month) and balance in the accounts (not more than Rupees fifty thousand at any point of time). These accounts would be valid normally for a period of twelve months.
13. Thereafter, such accounts would be allowed to continue for a further period of twelve more months, if the account-holder provides a document showing that he/she has applied for any of the Officially Valid Document, within 12 months of opening the small account.
RuPay debit card
Rupay Debit Card is an indigenous domestic debit card introduced by National Payment Corporation of India (NPCI). This card is accepted at all ATMs (for cash withdrawal) and at most of the PoS machines (for making cashless payment for purchases) in the country.
Life insurance
Under the PMJDY scheme the account holders will be given worth Rs.30000 insurance coverage if they comply with certain specification of the scheme which includes opening an account by January 26, 2015 and having an accidental insurance coverage of over Rs. 200000.
Loan benefits
The account holder can take loan benefit of up to Rs.5000 from the bank after six months from opening the account.
Though the amount might seem insignificant for many but we have to realize the scheme is directed mostly towards people below the poverty line and who are struggling desperately to sustain their everyday living.
The loan benefit can be a scintilla of hope for those people who could utilize the loan amount and invest it in a more profitable outcome, particularly in farming or other agricultural prospect.
Mobile banking facilities
Though the technology of using smart phones to conduct our bank transactions is not novel anymore but the PMJDY scheme will allow its account holders to avail the same facilities of checking balance and transferring funds through a normal cell phone which is more affordable to the general economy.
Hence PM Jan Dhan Yojana is indeed a prosperous venture and we certainly hope the Prime Minister and the mass economy are both benefited through this new venture.
Milestones achieved under PMJDY
Banks have opened 17.74 Crore accounts under PMJDY with deposit of more than 22000 crores.
Aadhaar has been seeded in 41.82% of account opened under PMJDY.
To ensure universal banking access more than 1.26 lakhs Bank Mitras have been deployed with on- line devices capable of e-KYC based account opening and interoperable payment facility.
Mega Financial Literacy camps were organized by banks under PMJDY 'in coordination with various agencies and 89876 Financial Literacy counters, to spread awareness on PMJDY, use of RuPay cards etc. 147418 students in 2567 schools/collage were imparted training on Financial literacy from September 2014 to April 2015(Source: Banks).
More than 10 lakhs accounts have been found eligible for Overdraft facility. Out of these overdrafts facility has been availed by 164962 account holders.
847 Claims of Life cover of Rs.30000 and 389 Claims of accident insurance cover of Rs. 1 lakh have been successfully paid.
As on 22nd August, 2015, 8.17 crore beneficiaries have been enrolled under the Pradhan Mantri Suraksha Bima Yojana and 2.76 crore have been enrolled under Pradhan Mantri Jeevan Jyoti Bima Yojana. 6.83lakh account holders have been enrolled under Atal Pension Yojana.
Zero balance accounts in PMJDY have declined from 76% to 45.74% from September 2014 to 19thAugust 2015
Success
Various studies have made noteworthy points which show success of PMJDY scheme.
The government's flagship financial inclusion drive, by virtue of sheer scale, is one of the grandest policy initiatives of its kind. With an initial target of opening 75 million accounts by January 2015. The government mobilized an oft-recalcitrant state apparatus to expand access to basic savings accounts with additional benefits in the form of debit cards, insurance cover, and overdraft facilities. Working at breakneck speed, the government has opened more than 294 million accounts as of August.
As per the website of PMJDY, as of 16 August, there were 295.2 million beneficiaries or account holders, with a total bank balance in their accounts of Rs658.45 billion (a little over $10 billion). That is a little under half a per cent of the Indian gross domestic product (GDP) of around Rs150 trillion. It is similar to the mobile phone connectivity that India achieved for its citizens in the first decade of the millennium.
PMJDY accounts are increasingly being used actively: "70% of the accounts migrate out of dormancy into active use.
Activity levels in PMJDY accounts increased over time, a pattern not necessarily seen in non-PMJDY accounts.
In few low-income states socioeconomic hurdles were attenuated: women, low-income individuals, rural residents, and the less educated enjoyed greater account ownership following the PMJDY. Owning an account also appeared to weaken significant constraints like large household size, distrust of financial institutions, and distance to the nearest bank branch.
More needs to be done
There is much more remains to be done to make India truly financial inclusive. In order to create formal jobs following issue needs to be resolved:
One is the issue of non-performing assets (NPA) in the banking system. The government has passed the bankruptcy legislation and empowered the central bank to direct the banks under its supervision to invoke its provision to recover their dues. The big challenge that banks face is the share of bad assets in the overall loan portfolio, and it has shown no sign of peaking yet.
The other is the absence of dynamism in the formal business sector.
Scope for improvement
While the programme has performed admirably at removing barriers to financial access important gaps remain in ensuring active use.
Account duplication and dormancy remain key stumbling blocks.
Misunderstandings about the policy are widespread. A study noted that the government's push to route direct benefits transfers through these accounts was a possible driver for duplication, with several beneficiaries opening second accounts expressly to receive benefits.
There is a higher account inactivity rate among women, rural residents, and below- poverty-line individuals overall, the same groups were more likely to report being unaware if their account was opened under the PMJDY.
Regional variation is another arena with room for improvement. Large asymmetries exist in both account ownership and activity across Indian states.
While business correspondents contributed significantly to realizing last-mile banking, they were relatively underutilized for regular financial services—a consequence of low and irregular commissions per transaction.
Conclusion
There is much to learn from successes, as there is to learn from failures. The PMJDY is a success story. It is a rare case of a popular policy that delivers political and long-term economic benefits. Hence, the government applied itself to the task. It needs to repeat the formula for economically pragmatic, in contrast to popular, decisions.
While the programme has made significant headway towards genuine financial inclusion, it is clear that improving policy communication, widening and deepening progress in low-income states, and ironing out the kinks in the bank-agent model will be crucial if these hard-fought gains are to prove sustainable.
Expected Questions
The PMDY is a success story. Discuss how it has been successful in ensuring financial inclusion. What lessons can government take from the success of the scheme.
Syllabus
General Studies 3
Indian Economy and issues relating to planning, mobilization of resources, growth, development and employment.
General Studies 2
Government policies and interventions for development in various sectors and issues arising out of their design and implementation.
By Gudipati Rajendera Kumar