National and regional security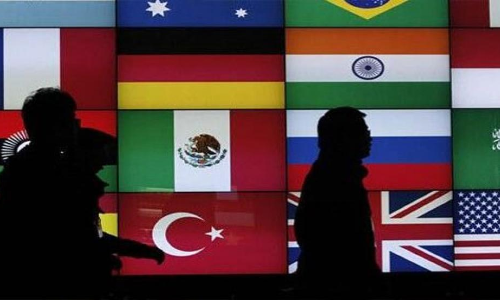 Highlights
Any form of tumult in the West Asian region invariably has an impact on India and South Asia as a whole. For strategic reasons, India seeks peace and political stability and security in the West Asian region. So far, India has been pragmatic in its policies towards the West Asian region excellent examples of which are balancing its relationships with Palestine and Israel; and Saudi Arabia and
Any form of tumult in the West Asian region invariably has an impact on India and South Asia as a whole.
For strategic reasons, India seeks peace and political stability and security in the West Asian region.
So far, India has been pragmatic in its policies towards the West Asian region excellent examples of which are balancing its relationships with Palestine and Israel; and Saudi Arabia and Iran, among others.
However, there is more that needs to be done, and for that, there needs to be better, more polished and astute understanding of the region in our country – especially in the light of the impending US withdrawal from Afghanistan; the thawing in the US-Iran bilateral; the ongoing civil war in Syria and its implications; implementation of the Nitaqat policies in the Gulf countries; and the rising fundamentalism, especially in the franchisee-ing nature of terror networks, among others.
GCC looks east
What is significant about the new strategic partnership is the fact that it is defined not just by India's "Look West" policy, based on its energy and financial needs, but that it is equally defined by the GCC's "Look East" policy, soliciting greater Indian engagement with West Asia. Several factors have contributed to this fundamental shift in West Asian strategic thinking.
First, structural change in the global energy market with West Asian oil and gas increasingly heading to South and East Asian markets rather than to the Trans-Atlantic markets.
Second, partly as a consequence of this change in flows and partly owing to the fiscal stress faced by the trans-Atlantic economies, West Asia is looking to India and other Asian powers to step in and offer security guarantees to the region.
Many GCC states have welcomed defence cooperation agreements with India.
Third, in the wake of the Arab Spring and the mess in Egypt and Iraq, the Gulf States find India and China to be more reliable interlocutors than many western states.
Fourth, under pressure from radical and extremist political forces within West Asia, most states in the region have come to value the Indian principle of seeking and securing regional stability as an over-riding principle of regional security.
This strategic engagement is the product of a mutual "look-at-each-other" policy. If China's rise offered the backdrop for South-East Asia's "look at India" policy, the West's failures and weaknesses, and a weakening of the strategic trust between the West and West Asia may have contributed to the GCC's "look at India" policy. Modi's visit to Central Asian countries also adds to the success of the Look West policy
Connect central Asia policy
India has now started think ways to exploit the energy rich region of Central Asia which would give boost to its foreign policy on energy.
Irrespective of the difficulties like the presence of great powers in the region, limited trade and limited size of markets, Central Asia has gained valuable place in the foreign policy of India for more than a decade.
The 'Connect Central Asia Policy' is a concrete testimony of this growing interest, which is based on proactive political economic and people to people connectivity with the region both individually and collectively.
CCAP obviously add to its energy policy to tap the natural resources in the region.
The 'Connect Central Asia' policy (CCAP) was first unveiled by UPA government as a Track II initiative in June 2012 in Bishkek, Kyrgyzstan to fast-track India's relations with the Central Asian Republics (CAR) – Kyrgyzstan, Tajikistan, Turkmenistan, Uzbekistan and Kazakhstan.
It aimed at increasing India's engagement with the region both bilaterally and multilaterally, which has been limited in the last two decades.
This also offers chances for Central Asian countries to meet their desire to diversify hydropower and energy export routes, corresponding with India's quest for diversifying energy imports.
CCAP highlights the broader aspects of India-Central Asia cooperation on several subjects such as exchanges of high level visits to strengthen political relations both bilaterally and multilaterally, to gain strategic and security cooperation via military training, joint research, counterterrorism coordination and close consultation on Afghanistan.
The policy is also looking at the region as a long term partner in energy and natural resources.
Apart from this, setting up of civil hospitals and clinics in the medical field to ensure modern health care system in CARs, contributing to higher education system like setting up a Central Asian University in Bishkek to impart world class education in areas like IT, Management, Philosophy and languages, to work on Central Asian e-networking with its hub in India, to encourage construction sector, promote land connectivity through reactivating INSTC (International North-South Transport Corridor) route are some of its soft power initiatives in the region.
In addition, through this policy India wants to expand viable banking infrastructure and policy environment which is absent in the region, a major impediment to trade and investment.
Finally, to improve air connectivity to promote tourism and to enhance people to people connectivity through mutual exchanges of youth delegations, students, scholars, academics and future leaders of India to sustain our deep engagement are also India's policy concerns.
Such a comprehensive approach would be beneficial for India to strengthen its engagement in the energy sector of the region.
Prime Minister's Narendra Modi's visit to the 5 states had a three-fold focus: energy, exports, and as a counterpoint to China's inroads in the region.
India is trying to develop connectivity with Central Asia which is a favourable energy option for India. Chabahar port of Iran in the Gulf of Oman and Bandar Abbas port near the Strait of Hormuz are likely to become as potential route for transporting into Afghanistan and through its territory to Central Asia which is part of INSTC route
The policy outlines the role of India to promote INSTC trade route as it is involved in ongoing discussion with Iran to complete under-construction portion of this route which will result in shorter transit time for trade with Central Asia
Exchanges of high level visits by leaderships from both sides as described in the policy can help in strengthening the cooperation in multiple areas.
In addition, joint research programs and exchanges of ideas of scholars on energy, trade and geopolitical issues probably contribute to the research on India-Central Asia's joint ventures in the energy sectors which would provide them a space for decision making regarding energy and security strategy.
This policy further emphasizes on people to people connectivity and humanitarian concerns such as opening hospitals and education systems through which they can know about each other needs and win the governments favour.
Thus, it is expected that India would increase its cooperation in the region both bilaterally and multilaterally through these soft power initiatives which would prove to be effective tools of its engagement in the region's energy sector.
No doubt, realization of this policy can spur the development of Indian engagement in the region.
Indian government and business has already started to make contacts with their Central Asian counterparts for enhancing mutual cooperation through this policy framework.
Its main focus on cooperation on developing transportation infrastructure linking India-Central Asia region to facilitate the increase of trade turnover and import of strategic natural resources still remains a needed component which is essential for the growth of Indian economy.
It is thus expected that this policy would help to revitalize South and Central Asia trade links which can further give boost to energy imports of India from the region.
Finally, it looks impossible to bring energy directly from Central Asia on the face of the current geopolitical realities in South Asia, but CCAP is going to be an effective tool for India in order to make strong footholds in the region, and slowly push its energy agenda effectively.
Challenges
In fact, importance of Central Asia is a challenge in itself and there are several draw backs in speeding up the relationships and governmental interactions of India with the region under the present circumstances.
In the present settings of South and Central Asia it seems to be very difficult to bring energy directly and easily from the region.
Here are some of vibrant challenges to India and to establish connectivity with Central Asia to satisfy its energy needs in particular.
First, lack of direct route connectivity
India has been lacking direct land route links since its partition.
This forms the fundamental challenge in establishing easy and sustainable connection.
This poses a great difficulty for India's trade with Central Asia as it has to seek other options to connect with Central Asia.
Land route connection plays a key role in developing trade and transport of energy materials.
Second, India's relations with neighbouring countries and weak border
This is the main geopolitical challenge and associated problem with the above stated point.
India hostile neighbours like Pakistan and China. Chinaencirclement of India via Nepal, Bangladesh, Sri Lanka and Pakistan poses problems for its security. These types of relationships with neighbouring countries and weak borders made India an isolated land which has to struggle for making presence across the region.
Third, Islamic extremism
This issue has been focal point of India's concern on its national security. The terrorist activities such as Taliban insurgency on domestic soil of Afghanistan and Pakistan has been threatening.
Due to the proximity of CARs to the Afghan border, Central Asian countries are also experiencing terrorist activities and drug trafficking which has become a big security concern for India too.
Since there is always threat of disruption to India's energy initiatives across the region it has become vital for India to ensure strategic and border security along with energy security.
Finally, geopolitical competition between great powers in the energy sector
There is an intense competition in the region between great powers of the world such as the US, Russia and emerging power China, which are economically as well as politically involved in the region, in the energy sector.
China is one of the major energy competitors for India in the Central Asian energy story. Russia wanted to maintain it soviet legacy over the region. Both China and Russia are members of SCO (Shanghai Cooperation Organization) and aiming at reducing the US influence in the region.
On the other hand, the US is trying to exploit energy resources of the region and make this a strategic base to control Islamic terrorism. Hence India has to push its interests through the interplay of these powers and across their individual interests.
Moreover, Pakistan, Iran and Turkey are trying to pursue their interests in the region and Pakistan continues not only to block India geographically but also politically.
Prospects
Central Asian countries have shown their keen interest in allowing India to play a bigger role in the region. Russia has been a dominant force in the region and China has also made inroads into the region in recent years.
But the five capitals want to diversify their foreign relations and believe that India's presence will help them achieve their aim.
Mr Modi seems to have leveraged Central Asia's quest for diversification to India's advantage.
Stability in Central Asian region
It is important as it have a significant impact on the internal security of Russia, India and other neighbouring states.
There is a need to bring together the two regions South and Central Asia in cooperative environments which will be great contribution regional stability and lasting peace building programmes and will help the removing of drug smuggling and attacking terrorist groups in the region.
For this India needs to boost sub-region groups between South and Central Asia as it has did in Southeast Asia context on the lines of following Look East policy.Tajikistan, Turkestan andUzbekistan share borders with Afghanistan and fear that any instability in the neighbourhood will affect them.
India can bolster her Afghan policy through CAR's. Central Asian countries are also "nervous" about the growing influence of Islamic State militant group in the region. The PM has convinced the leaders of the five nations that India stands united in their fight against the jihadist group.
India needs to change its approach to Central Asia and show greater pro-activity. We must shed piecemeal approach to Central Asia in favour of a holistic and long term approach.
This will require dealing with Central Asia not only at the bilateral level but also at a collective level. India could consider setting up an India-Central Asia Forum (on the lines of India-Africa Forum) to deal with the region in a holistic fashion, to engage with them periodically with regularity and to identify projects which are of common interests.
Monitoring an implementation mechanism should also be set up. It would be desirable to set up a Central Asia fund (say $ 2 billion) to seed the various projects.
The economic development of Central Asia, especially in Kazakhstan, Turkmenistan and Uzbekistan, has sparked a construction boom and development of sectors like IT, pharmaceuticals and tourism.
India has expertise in these sectors and deeper cooperation will give a fresh impetus to trade relations with these countries. India's trade ties with Central Asia have been performing well below their true potential.
Poor connectivity has also contributed to the below-par trade between India and Central Asia.
India has to work out a multipronged strategy to address the energy issue and overcome the crisis it is currently undergoing.
Having realized the practical difficulties in transporting energy from Central Asia under the present geopolitical realities, India should adopt pragmatic strategies and should continue its political dialogues with CARs and other transit countries. Turkmenistan and Kazakhstan recently inaugurated a railway line connecting the two countries with Iran.
India has invested in Iran's Chabahar port and that will allow Indian products to reach Iran and then to Central Asia through the rail link.
A strategy of cooperation rather competition/clash would best suit its interests.
India needs to pursue its 'Connect Central Asia Policy' energetically, irrespective of its unimpressive gains so far, to achieve plausible breakthroughs in regional, economic, trade and energy cooperation with new states.
The policy can play a role of anchor in increasing India's hard and large period planned attention in view of its further relations with Central Asia.
By Gudipati Rajendra Kumar