VNRVJIET accredited with highest NAAC grade A++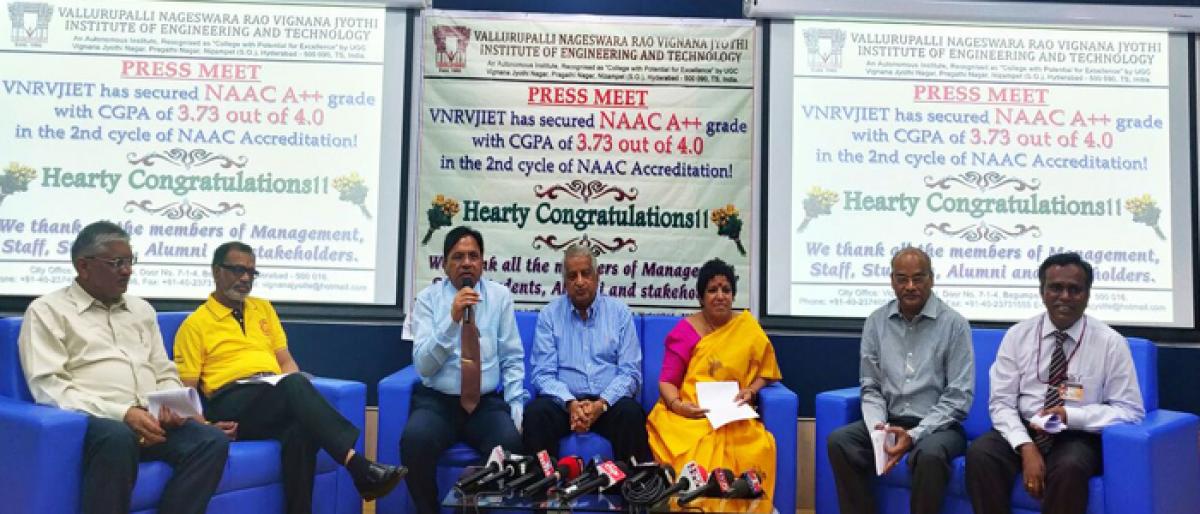 Highlights
Citybased Vallurupalli Nageswara Rao Vignana Jyothi Institute of Engineering and Technology VNRVJIET has secured the A grade with a CGPA of 373 out of 40in its 2nd cycle of NAAC accreditation the Revised Accreditation Framework This score is unprecedented for any public or private engineering college in the country
​Hyderabad: City-based Vallurupalli Nageswara Rao Vignana Jyothi Institute of Engineering and Technology (VNRVJIET) has secured the A++ grade with a CGPA of 3.73 out of 4.0in its 2nd cycle of NAAC accreditation the Revised Accreditation Framework. This score is unprecedented for any public or private engineering college in the country!
The Institute's Principal, C D Naidu, said that VNRVJIET is the only Institute in the states of Telangana and Andhra Pradesh to achieve the highest grade A++, and added that the Institute is the first to receive such a high cumulative grade-point average (CGPA) in the country in this cycle! Director for Advancement, B ChennaKesava Rao said that this is one among the several milestones that VNRVJIET has achieved in the last few years and added that there are more to come in the near future.
ChennaKesava Rao also stated that a record-high number of 956 students of the 2018 graduating batch have got placed in 112 organisations and that this number is sure to rise after the recent accreditation! Another director Prof. Sandhya Kode said that the Institute has been implementing innovative teaching-learning methods, and that more research is being done in active teaching methodologies at the Institute. The Institute's Deputy Dean-Administration & Finance, B Narendra Kumar, said that this accreditation is valid for 5 years.
D N Rao, President-Vignana Jyothi, expressed his utmost satisfaction saying that this recognition to a Telangana-based Institute is not perchance but is due to the excellent work culture that the members of Vignana Jyothi — including the Administration, Management, faculty, staff, students, alumni, and stakeholders — have imbibed and nurtured over decades which is observedin numerous incremental advances since the inception of the Institute in 1995.
He added that this recognition is also a particular appreciation for the research and consultancy at the Institute including patents held by its faculty members and the excellent infrastructure at the Institute. B Sarath Gopal, General Secretary-Vignana Jyothi, appreciated the efforts of all faculty, staff, and members of Administration for this remarkable achievement. V S S Kumar, CEO-Vignana Jyothi, stated that VNRVJIET is one among only three colleges nationwide,in the current cycles of inspection,to receive an A++ grade and that the CGPA is the best among all the cycles whose results have been announced on Thursday. Joint Secretary-Vignana Jyothi, Er J S Rao, Deans, and Heads of Departments are among the attendees.