It's time for Hinglish and regional languages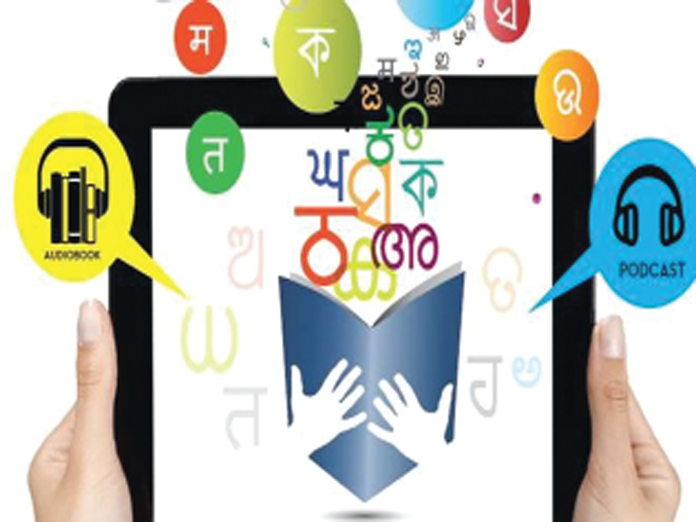 Highlights
n 2008 Movie Dasavatharam there was a scene where the character of Balram Naidu Padma Bhushan Kamal Haasan says to the FBI officer that I usually think in the local language The local vernacular language helps to reach out to more people than the English
In 2008 Movie Dasavatharam there was a scene where the character of Balram Naidu (Padma Bhushan Kamal Haasan) says to the FBI officer that "I usually think in the local language". The local vernacular language helps to reach out to more people than the English.
Unavailability of the local language is a great barrier for the penetration of Internet and initiatives of Digital India despite we have cheap tariff plans offered by telecom operators.
Smartphone penetration is considered to play a significant role in the Digital India initiative although the internet is growing at the same time something is missing. Ajay Prakash Sawhney, Minister of Electronics and IT said that online access is not available even though it is affordable.
Although English is well spoken in India that is not the choice for many. Most of them use the English language in professional space only. So we can say they need or use English only for 9-10 hours a day rest of the time they prefer to use their own regional language.
The vernacular language is the most important part of the development of the country which involves each and every part of the country. We can understand the importance of it by the words of Dr APJ Abdul Kalam, once he said, science education should be taught in a local language in order to bring the creativity and enabling them to grasp the subject easily.
He even advised teachers to teach them science in their own mother tongue and bring out their creativity. He advised them to make children as employment generators and not employment seekers.
One of the most diverse countries in the world is India. Because of the amalgamation of various culture, thoughts, and beliefs. India is more like Europe market and it is not the homogenous one.
There are more than 20 official languages in India apart from the national language i.e. Hindi. This makes the global brands, which want to enter into in the land of market opportunity to establish themselves need to form local content with the consumers.
There are many companies which are more successful in foreign markets are struggling hard in India to mark their success. If we are able to deliver quality digital content on science, technology, startups etc., in various different local languages that will be the real knowledge and boom to information in the country lead to solving the skill gap problems. Also, local languages will play a significant role in developing MOOCs (Massive Online Open Courses), AD Revenues, OTT (Over-the-top) Businesses etc.
Let see the importance of regional language in education. There are only 50-100 million English speaking Indians. To reach more than 500 million people you have to use their vernacular language. But unfortunately, 98 per cent of the digital content is available only in English. It is a large market space which is untapped yet.
There are many people out there who have not got proper education due to many reasons but wanted to learn. Since most of the courses are in English as they are not able to learn. There are good number of people who can teach various topics in the local language but they are not as structured like the popular online courses like Coursera, Edx etc. Such courses may be helpful for the particular moment, but not in the long-term.
There are many YouTube channels for preparing the Civil Service exam and the most popular one is UnAcadmey as they are popular because they are providing videos in English, Hindi and other local languages. It helps the people to understand better and learn more and innovate more.
To cite an example of the movie Padman we can see protagonist is from a small town hails from Coimbatore, innovated the low-cost machine to manufacture sanitary pad.
It is helpful for many women's in various countries especially those who are in poverty and not able to afford it. He doesn't know English. Like this, there are many people out there who have great ideas and needs little knowledge which helps them to innovate new things. Otherwise, the language should not be a barrier to learning. Though less number of people offer content in regional language, in future it will increase.
Over the past few years, the digital environment has come across many changes. English language is no longer considered or will be described as the language of the web.
According to the study done by Google in partnership with KPMG in 2017 on the title "Indian Languages: Defining India's Internet" has revealed that users of the vernacular language have the more upper hand than the English language users.
Languages like Kannada, Tamil, Telugu, Marathi, Bengali, and Malayalam have gained high traction in the digital media space. Their study discloses that around 70 percent of the Indians consider regional content is more reliable than English.
Now, most of the brands in India are focusing on regional language based mobile ads in order to communicate with customers in their native language and making an attempt to touch their hearts to create more stickiness for their product or service.
The best example is Indian language content apps like Share Chat, Daily hunt, NewsDog etc., are becoming an attractive platform for advertising their brands to reach non-English speakers. These Indian language content apps have seen massive double-digit growth.
Among those Daily hunt has seen a growth of 80 per cent in user base in the third quarter of 2018 and others have a seen a growth of 30 per cent in the quarter. A report also suggested that in order to engage tier-2 and tier-3 audiences digital ad needs to be in the Indian language.
As we can see the Big players in the OTT segment such as Netflix, Amazon Prime, Hulu etc., are struggling hard to mark their success in India. This is because of the very less availability of local region content on their platform. That's Netflix has premiered 3 web series in Hindi and planned to do more regional content in next year and Amazon Prime has started announcing the originals in regional space.
In this space companies like Hotstar has taken more advantage. Hotstar has the highest user base in the country. This is because they tied up with regional channels for the content. Though they have less original content still they top the user base and revenue because of the regional content.
They witnessed 10.3 million viewers during IPL match and almost 50 per cent of that viewership in regional language commentary as well. As we can Start Sports has started giving commentary in regional languages as well.
The success stories of many Chinese companies in their land and the reason for the foreign companies finding difficult to enter and gain a significant portion of the market in the country is because they created the entire ecosystem in the local language i.e. Chinese.
You can see most of the Chinese tech companies will operate in the local language starting from the giant Alibaba, WeChat etc., to whom so ever you name. But to follow the same model it becomes difficult for the country like India. But these barriers can be overcome with help emerging technology like Artificial Intelligence etc.,
Niti Ayog has started to develop a personal assistant like Amazon Alexa which supports 18 Indian Languages. This is developed with the collaboration of IIT under the director Pushpak Bhattacharyya to develop a natural language processor (NLP) for commercial use. Indian Digital Story is still in nascent stage. There is a great opportunity for them to make a bigger mark.
As we have discussed above the important challenge for the content provider (Education, OTT, Ad etc) is to provide the tailor-made for the user of the language. Right now more than 80 percent of the content is a mere translation of the English version.
These are just the beginning years but there is no doubt that digital space will evolve into a powerful segment with more of regional, which is capable of driving the economy forward.
Finally, language is just a medium for communication. The opposite person has to understand what you wanted to convey. If it doesn't solve the purpose there is no use of it. Language should not be a barrier for development or innovation and the change has started to happen.
By M Chandra Shekar & Kumaran R