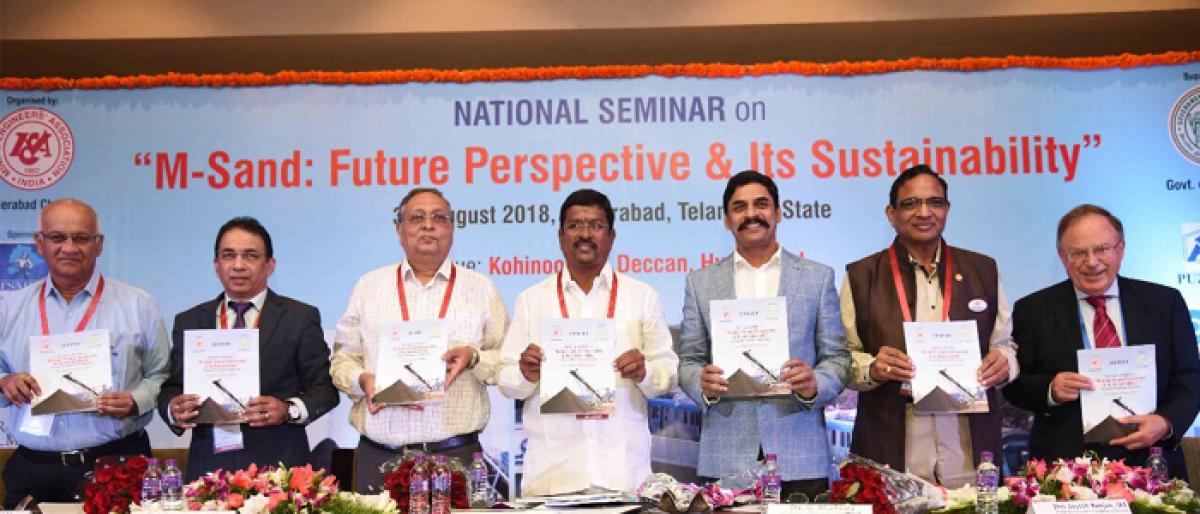 Highlights
The Telangana State Mineral Development Corporation TSMDC, which currently handles entire river sand mining operations in the State, is now gearing to make a grand foray into manufactured sand msand space by setting up two units with a combined capacity of 20 million tonnes per annum
​Hyderabad: The Telangana State Mineral Development Corporation (TSMDC), which currently handles entire river sand mining operations in the State, is now gearing to make a grand foray into manufactured sand (m-sand) space by setting up two units with a combined capacity of 20 million tonnes per annum.
"River sand mining creates ecological imbalance. This apart, sources of river sand are fast depleting. So, to reduce dependence on river sand, there is a need to shift towards manufactured sand. TSMDC will set up two manufacturing units near Hyderabad to encourage use of m-sand in the State," Dr G Malsur, Vice Chairman and Managing Director, TSMDC, told The Hans India on the side-lines of one-day national seminar on 'M-Sand: Future Perspective & its Sustainability' organised by Mining Engineers Association of India (MEAI) here on Thursday. M-sand is produced by crushing granite, basalt, or a few other rocks.
Dr Malsur said the preparation of mine planning and resource estimation were currently underway. "We are planning each plant with a capacity of 10 million tonnes per annum. However, final installed capacity will depend on the availability of resources," he said, adding that investment details would be known only after the finalisation of DPR (detailed project report). Both the units will come up at Bandaravirala on the Hyderabad outskirts, where the corporation has 66 acres of land. These plants will also produce other aggregates, apart from m-sand.
He however maintained that this new capacity wouldn't be enough. "We need more and more new m-sand producing units to reduce usage of river sand," he said. Asked why TSMDC is taking to producing of m-sand when there are so many private units here, he said TSMDC plants would be environment-friendly. "Local people are making a lot of noise wherever such units are coming up. It's due to dust and sound these units generate. Through our plants, we want to showcase how m-sand and aggregates can be produced without generating dust and noise," he explained.
M-sand is produced by crushing granite, basalt, or a few other rocks, which could result in new business problems if not addressed carefully.
Dr Malsur also said that plans were afoot to establish three mega sand stockyards around Hyderabad for storing river sand. "We have 50 lakh cubic metres of river sand available at our stock yards near rivers. But we are not able to transport it due to rains. As consequence, some people are trying to create artificial scarcity to jack up prices. To regulate prices of sand during monsoon, we are creating three mega sand depots around Hyderabad, where 5-6 lakh cubic metres of sand will be stored," he said.
Earlier, Seri Subash Reddy, Chairman, TSMDC, who inaugurated the MEAI seminar on m-sand, said that efforts would be made to increase usage of m-sand in Telangana. "We have already issued an order mandating use of 50 per cent m-sand in every project or work. We will take it to 75 per cent if sufficient m-sand is available in the market," Reddy said. Large number of delegates from India and abroad attended the one-day seminar. M-sand producers and equipment makers also took part in it.