After Balakot, India's focus on China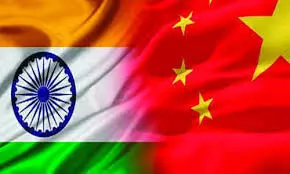 Highlights
The press release sounded quite innocuous Moreover, in the heat of Pulwama and Balakot, it did not get the due attention of the nation But, India made...
The press release sounded quite innocuous. Moreover, in the heat of Pulwama and Balakot, it did not get the due attention of the nation. But, India made another significant move on Wednesday in the process of strengthening its defence against the hostile neighbours. This time it is in the north-eastern borders.
In the aftermath of Pakistan's intrusion into the Indian air space, the Indian Army has decided to shift the headquarters of Mountain Strike Corps from Ranchi to Panagarh in West Bengal to keep a close watch on China. This move was long pending and is essential because of the tight embrace of China and Pakistan and their all-weather friendship.
The XVII Mountain Strike Corps also known as the Brahmastra Corps is a China-specific Strike Corps considering its location having a close proximity with China. The creation of the Corps was cleared by the Cabinet Committee on Security in 2013 and was to have close to 90,000 troops. But, the work to raise the Mountain Strike Corps slowed due to fund constraints.
However, the headquarters of the Mountain Strike Corps is being shifted from Ranchi to its original place – Panagarh in West Bengal to keep a watch on Pakistan's ally: China and strengthen the North-Eastern borders in the present day scenario.
Reports suggested that on Wednesday, the Eastern Army Commander General Officer Commanding-in-Chief (GOC-in-C) Lieutenant General MM Naravane visited and met the General Officer Commanding (Brahmastra Corps) Lt Gen P. N. Rao. He checked the operational preparedness and took stock of the situation at Panagarh.
"Eastern Command Army commander visited Panagarh Military Station on Wednesday. He was received by Lieutenant General P N Rao, GOC, Brahmastra Corps. The Corps which was raised at Ranchi will shortly be shifting to Panagarh. The Army Commander reviewed the security situation and operational preparedness of the formation. He emphasised the need for remaining ready at all times to meet the emerging security challenges. The GOC-in-C also interacted with the troops and appreciated their continued efforts in developing the military station," said a statement from the Eastern Command.
China has too much at stake in Pakistan which it would regret one day sooner. It has poured in billions of dollars and is pumping in much more into its CPEC (China Pakistan Economic Corridor), hoping to check India's further rise in the region. On the one hand, it is facing the resistance of the Baloch region whose people are deprived of the fruits of development as Pakistan's rulers and its army and ISI are cornering all the benefits being partners "in progress" while not only the Gilgit-Baltistan region and Balochistan area, but also the entire Pakistan is deprived of its benefits.
Though China has initially promised its friend a fair share in the profits, it is now concentrating on creating special economic zones in which only the Chinese reside and work. Pakistan's role is reduced to security providing apparatus.
There are teething problems with the project for China including graft on part of Pakistan and it is wary of the project's progress and its returns as such. Two years ago, China had to stop funding of certain major projects in the CPEC due to corruption charges. Last year, bouncing government cheques have led to work stoppages on road projects related to the 62 billion-dollar CPEC, the flagship scheme of China's Belt and Road Initiative.
Pakistani media reported that cheques worth 5 billion dollars had bounced hence the stoppage of work. It was then that China decided to stop funding of at least three major highway projects in Pakistan and which are part of the CPEC.
China's problems are multiple on this count as the corridor is not only an developmental vision of it, but it is also meant to check any uprising of Uighirs against whom it has unleashed immense repression. It is not only trying to obliterate Islam itself from its soil and is also resorting to indoctrination of Uighirs into its own brand of communism by confining millions of them to camps.
Hence, it always sought to protect Pakistan's interests and also the interests of its terror heads like Masood Azhar and Hafiz Sayeed lest characters like these turn their attention to the Uighir problem of China. This has led to China needling India at no cost by allowing those terror modules to work against our interests.
Wary of these designs India planned the country's Mountain Strike Corps with several infantry and armoured battalions, artillery and aviation wing. The unit at Panagarh, has a team of Special Forces skilled in para-dropping and lifting. They can be deployed in a war-like situation in the dark without the enemy getting to know of it.
Significantly, the Panagarh Air Force Station houses the second squadron of the C-130J Super Hercules after the Hindon Air Base. It would take less than 60 minutes to reach the Chinese border or the LAC when airborne from the Panagarh AFS, defence reports suggest. The C-130J can land on unpaved surfaces, short airstrips, advanced landing grounds (ALG) in Arunachal Pradesh like Tuting, Mechuka, Ziro, Aalo, Pasighat, Walong, Tawang and Vijaynagar closer to the Line of Actual Control (LAC) with troops and materials).
There could be reservations about raising this special Mountain Corps without strengthening our Navy which is key to contain China in the Indian Ocean as this is key to contain China in future. India can always defend its Himalayan range using its naval strength as China could simply be chocked of its African sea lines which are vital to its economy.
Strategic vision demands, no doubt, an asymmetric capability of our forces instead of infantry heavy armed forces. Indications are that we are planning to do so. Let us hope we are on the right course looking into all aspects. After all, modern war fare is all about technology. We may also, soon, like China, go for trimming our infantry one day.
Subscribed Failed...
Subscribed Successfully...