Asian champ Gopi, Sudha to run in Mumbai Marathon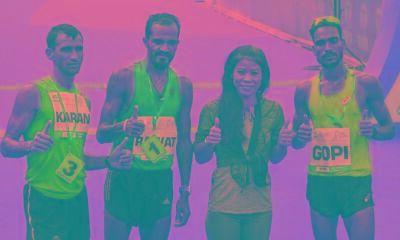 Highlights
Last years top Indian finishers, T Gopi and Sudha Singh, and holder of the course record among home country men, Nitendra Singh Rawat, are all set to steal the show in the Tata Mumbai Marathon on January 20
Mumbai:Last year's top Indian finishers, T Gopi and Sudha Singh, and holder of the course record among home country men, Nitendra Singh Rawat, are all set to steal the show in the Tata Mumbai Marathon on January 20.
Asian champion Gopi and Rawat will face tough challenge in the men's race from Karan Singh, the best Indian finisher in 2014 and 2015, race organisers, Procam International, announced on Friday.
The 2017 Asian Champion (2:15:31) T Gopi's best performance came at the 2016 Rio Olympics, where he clocked 2:15:25, the fastest by an Indian on foreign soil.
Rawat, who clocked 2:15:18 in the South Asian Games in 2016 and the national record holder in the half marathon is expected to be a strong challenger along with the recent Vasai Virar Marathon winner Karan, who clocked 2:22:17.
The women's contingent will be led by 2018 Asian Games steeplechase silver medalist Sudha Singh and two-time top Indian finisher, Jyoti Gawte.
Sudha has geared up for the 42.1 km race by bagging the second place amongst the Indian women at the Tata Steel Kolkata 25K in 2018 clocking 1:25:11.
Monika Raut, who bagged the second place in National Delhi Marathon 2016 and 6th place amongst Indian women at the Tata Steel 25K in 2017 with timings 2:55:39 and 1:36:08, will also be a strong contender in the women's field.
In the half marathon category, the men's group will be led by Kalidas Hirave and Man Singh.
In the women's half marathon category, Manju Yadav and Saigeeta Naik are among the primary contenders for a podium finish.
The top three Indian finishers stand to win Rs 5,00,000, Rs 4,00,000 and Rs 3,00,000 respectively in the full marathon and Rs 1,50,000, Rs 1,00,000 and Rs 75,000 in the half marathon. There is also a course record jackpot of Rs 2 lakh for the Indian runners.