14.53 lakh fishlings released into Dindi project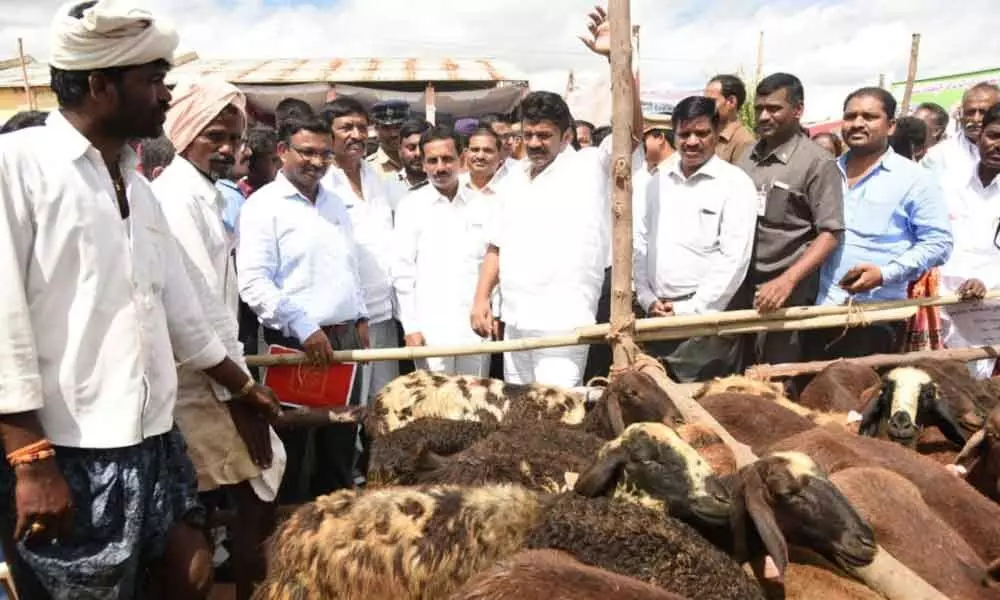 Highlights
Animal Husbandry Minister Talasani Srinivas Yadav makes light of Congress post its defeat in Huzurnagar bypolls, calls it a party that restricts...
Dindi (Nalgonda): Minister for Animal Husbandry and Cinematography Talasani Srinivas Yadav stated that TRS government main aim was to develop villages economically and help them become self-sufficient.

On Friday, he released 14.53 lakh fishlings into Dindi project located on Hyderabad-Srisailam highway on the outskirts of Gundlapally (Dindi) mandal headquarters of Deverakonda constituency in the district. He also participated in distribution of cattle to the beneficiaries at market yard located in Gundlapally.
Addressing the gathering at a programme held on the occasion, he said the State government has been providing cattle at a subsidy of 85 per cent to farmers to help them earn their bread and butter during the drought conditions.
Responding to the plea of Local MLA Ravindra Kumar, he directed the officials concerned to make plans to establish mini milk chilling centre and market to sell fish and sheep within six months. He also assured of the revival of Fisheries department centre located near Dindi project.
He described various programmes implemented for the development of fisheries, Yadav community and other rural-based professions.
"The government's 30-day action plan programme helped in addressing the prevailing issues in villages and people of rural areas are expressing pleasure over the government programme," he said.
He described Congress as the party of restricting development and condemned the Congress leaders baseless comments on joint cheque power to Sarpanch and Vice-Sarpanch intended for development of villages.
"Congress leaders, in depression, have lost control over their minds and making baseless comments on people-friendly government," he said, adding that the Congress party had never paid attention to address fluoride issue in Nalgonda district and the party leaders have no right to question the government over the Palamuru-Ranga Reddy Lift Irrigation Project.
Stating that Huzurnagar result was a slap in the face of opposition party leaders, Talasani informed that same result will be repeated in forthcoming municipal elections in the State.
Director of State Animal Husbandry department Laxma Reddy, in-charge District Collector Chandrashekar, district fisheries official Charitha, JD Srinivas Rao, RDO Lingya Naik, Tahsildar Balaraju, MPP Sunitha, ZPTC Devender Rao, fishermen and cattle beneficiaries attended the programme.
Subscribed Failed...
Subscribed Successfully...