Bandi lists out top 10 jokes by KCR to people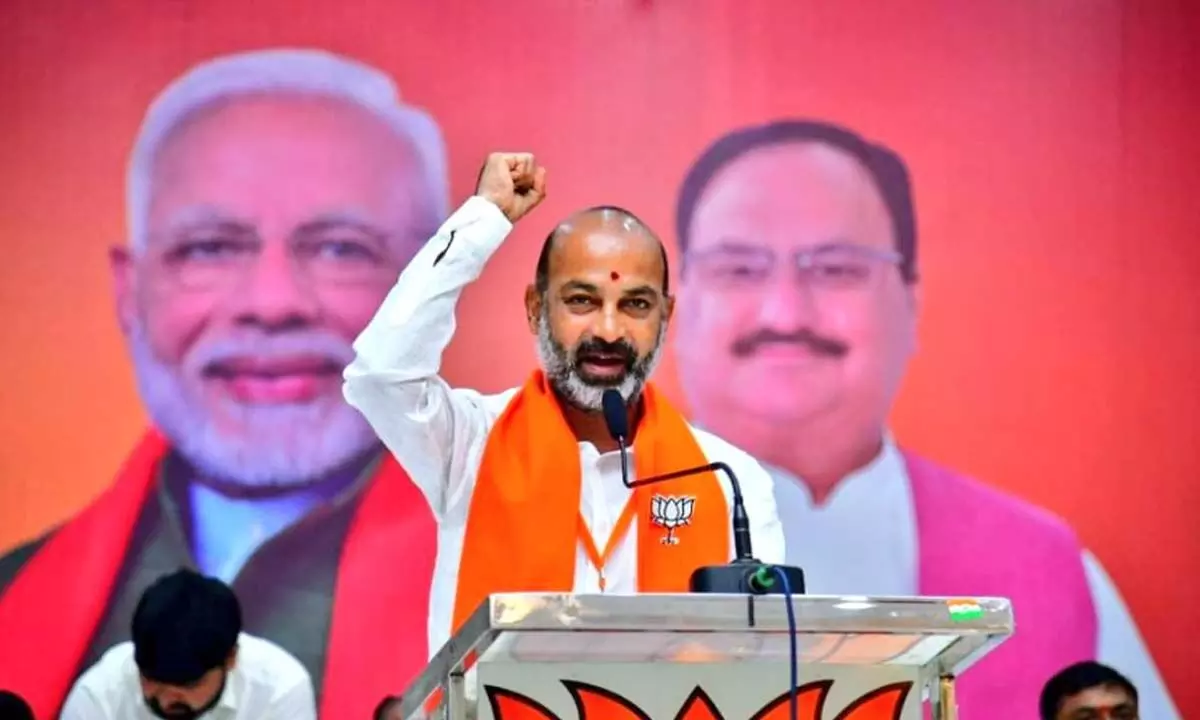 Highlights
Takes to Twitter and lists out 10 jokes of KCR government to people on occasion of 10th Telangana Formation Day
Hyderabad: Telangana BJP president and Karimnagar MP Bandi Sanjay Kumar on Sunday stated that Chief Minister K Chandrashekar Rao has utterly failed on ten promises and it has become the top ten jokes for people on 10th Telangana formation Day.

Listing out one by one Bandi said Transforming Karimnagar as London, Warangal as Washington, Hyderabad as Dallas & Old City as Istanbul, making Dalit a CM, providing 3 acres of land to Dalits, Loan wavier for farmers, Crop insurance, Re-opening of Nizam Sugar factory, Unemployment allowance, 2BHK housing for poor, Badrachalam temple development, Corruption Free Telangana.
Bandi Sanjay Kumar demanded Chief Minister K Chandrashekar Rao place facts on the development and achievements of the government on various fronts for the past nine years during the ongoing decennial celebrations of the Telangana State formation. In a letter to CM KCR on Saturday, the Karimnagar MP raised 21 issues and sought a response from the BRS chief.

Sanjay Kumar said that he was failing to understand what CM KCR had achieved in the past nine years warranting celebrations. He said not a single section of people in Telangana are happy and asked whether the celebrations are organised to celebrate letting down people of the state. The BJP state chief asked whether the celebrations were meant for hoodwinking Dalits, BCs, STs, women, students, employees and the unemployed in the state?
Or, the BRS chief is basking in celebrations for not disbursing salaries to the employees on the first day of the month, and denying farmers subsidies in the name of Rythu Bandhu. Among the other issues, he highlighted the issues related to the newly constructed projects, new buildings constructed with thousands of crores, hiding the Government Orders from the public eyes, keeping the rain inundated Kaleswaram project under a police guard, leaving the farmers in a lurch with Dharani portal and 30 per cent commissions in the disbursal of Dalit Bandhu financial assistance.
Sanjay Kumar alleged that CM KCR has not walked his talk by saying one thing and doing something different in the last nine years. He said that CM KCR organising 21-day celebrations marking the occasion of the state formations should reveal the facts before the people.