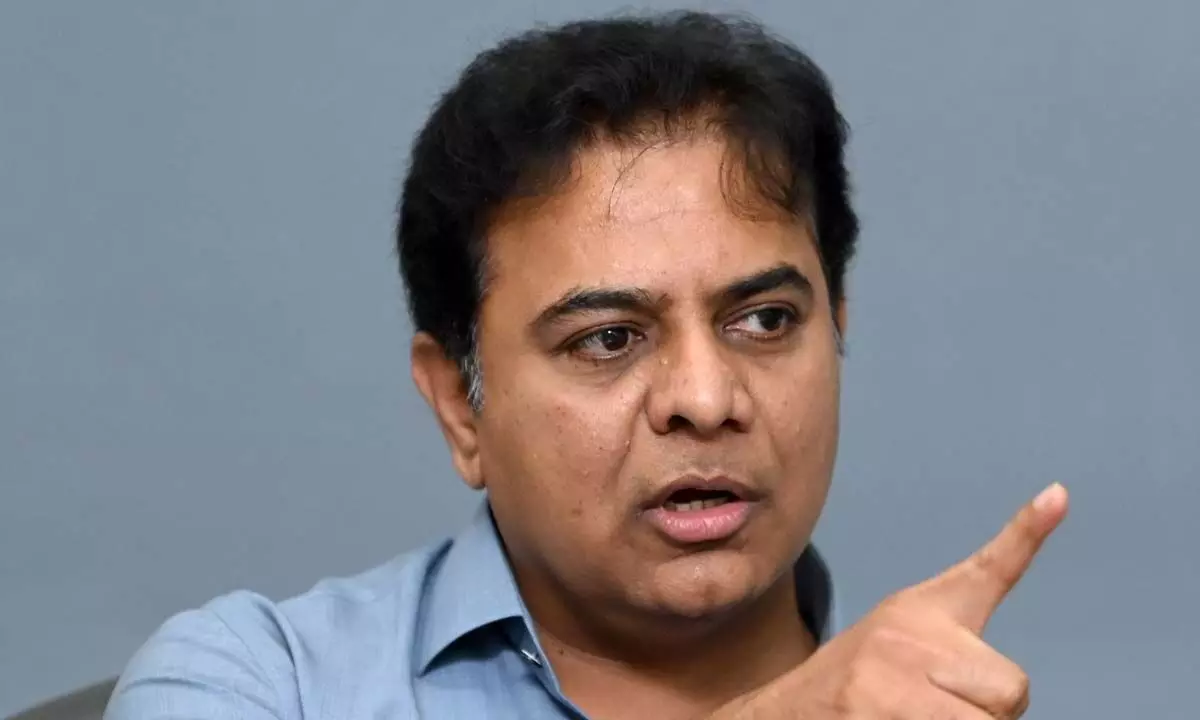 Highlights
Pink party does not believe in joining hands for sake of dethroning a leader: KTR
Hyderabad: Any government should focus on inclusive growth along with innovation, infrastructure as Telangana had done during the last nine years. "The BRS does not believe in joining hands for the sake of dethroning a leader or party from power. People will not welcome such a move," Minister and BRS working president K T Rama Rao said here on Thursday.
KTR made these observations on the eve of decennial celebrations of Telangana at an informal chat with the media. Replying to a question on the efforts of various political parties at the national level to stitch an alliance to defeat BJP in the 2024 general elections, he said people across the country want a government which adopts the success mantra which should be 'Holistic, Integrated, Inclusive and Balanced development of all regions and sectors.
He invited Prime Minister Narendra Modi, BJP national president J P Nadda and AICC chief Mallikarjun Kharge to visit Telangana and challenged them to show if there was any other state in the country with a better development model.
In a short period of nine years, KTR said Telangana government which worked on the people-first concept and the dynamism of Chief Minister K Chandrashekar Rao had fulfilled the promises of 'Neellu, Nidhulu and Niyamakalu,' which it had made during agitation period. He said that the world's largest lift irrigation projects Kaleshwaram was completed within three years and Telangana became the first state in the country to provide potable drinking water to every household under Mission Bhagiratha. Telangana state was also ahead of other states in the per capita income and provided more than one lakh jobs in the government sector.
Another 80,000 posts were being filled soon. Not just that, the measures taken by the government had helped in extending benefits of government schemes to all sections of people.

In terms of health indicators, the minister said Telangana stood third. Giving high priority to education, the government had set up more than 1,000 Gurukuls to provide education to the poorer sections in all communities and today students were excelling in IIT and IIM institutions.
Taking pot shots at the Congress party, KTR said they should study the paddy procurement pattern of Telangana and compare it with Chhattisgarh. Telangana purchases every grain that is produced as against a limit of 12 quintals per acre imposed by Chhattisgarh. According to KTR, BRS is an invincible political force. BJP and Congress remain 'pygmies' in Telangana. BRS would be back in power for a third consecutive term and KCR will be the CM, he said putting at rest speculations about his elevation.
Asked what more challenges were there for the BRS government, he said issues like transportation facility, drains development and improvement of stormwater drainage system in Hyderabad, basic civic infrastructure in villages and towns need to be addressed.