Digital boost to vernacular fiction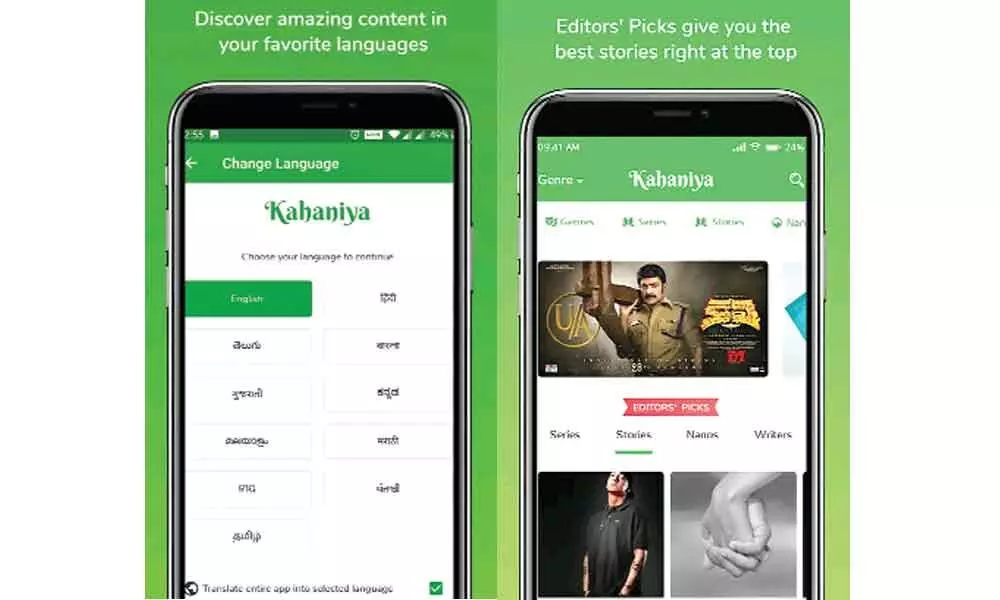 Highlights
With the aim of reinvigorating regional language fiction, a city-based startup named 'Kahaniya,' a website-cum-app, is providing a platform for the vernacular readers and writers
♦ Stories in vernacular languages to cater to readers and writers
♦ Around 3,000 writers, 10 lakh readers and more than 10,000 downloads so far
♦ Flexible micropayment enables readers to read chapter by chapter; they need not pay total money upfront
Hyderabad: The virtue of hearing stories in the lap of grandma is a thing of past now. The present generations need to learn moral values, social responsibility, culture and tradition etc. through stories through books or films. Keeping the growing inclination towards digital platform, a new initiative has come from a startup to rejuvenate the age-old tradition.

With the aim of reinvigorating regional language fiction, a city-based startup named 'Kahaniya,' a website-cum-app, is providing a platform for the vernacular readers and writers.
The startup was found in 2019 by Pallav Bajjuri and Vatsav Conregdy. With a focus to build a platform dedicated primarily to regional languages. The startup also aims for the growth of regional language users on the Internet.And also for the people who have lack of time or patience to spend much time on the web. It is a platform that connects both the readers and the writers.
Speaking to The Hans India, PallavBajjuri, co-founder of 'Kahaniya' said, "Kahaniya is a platform where people can read and write the stories they love and users can also get rewards by reading and writing stories. Writers also earn for the stories, they publish."
Pallav said, "We always found it difficult to find good Telugu literature or stories online. That was when we realised that there were a number of people who wrote a lot in regional languages but confined themselves to blogs. Kahaniya has stories, poems and short fiction work of different regional language authors."
The start-up has around 3,000 writers, 10 lakh readers and saw more than 10,000 downloads of the app till date. It developed a micropayment system wherein authors can independently define the price of their stories. However, the price must be within the range defined by the startup which is anywhere between 1 and 5 Kahaniya coins. Each coin costs Rs 1, for users in India and $0.1, for those overseas. One can purchase a chapter for Rs 1 and later when you do not feel like reading it further, one can withdraw.
An author can publish an entire book by using the 'series' feature and charge readers a different price for each chapter of the book. According to Pallav, series has been introduced to allow writers to continue a story while receiving feedback from the readers.
LANGUAGES SUPPORTED

• Telugu
• Tamil
• Malayalam
• Kannada
• Hindi
• Bengali
• Marathi
• Guajarati
• Odiya
• Punjabi