Excise Minister inaugurates skill development centre in Yadagirigutta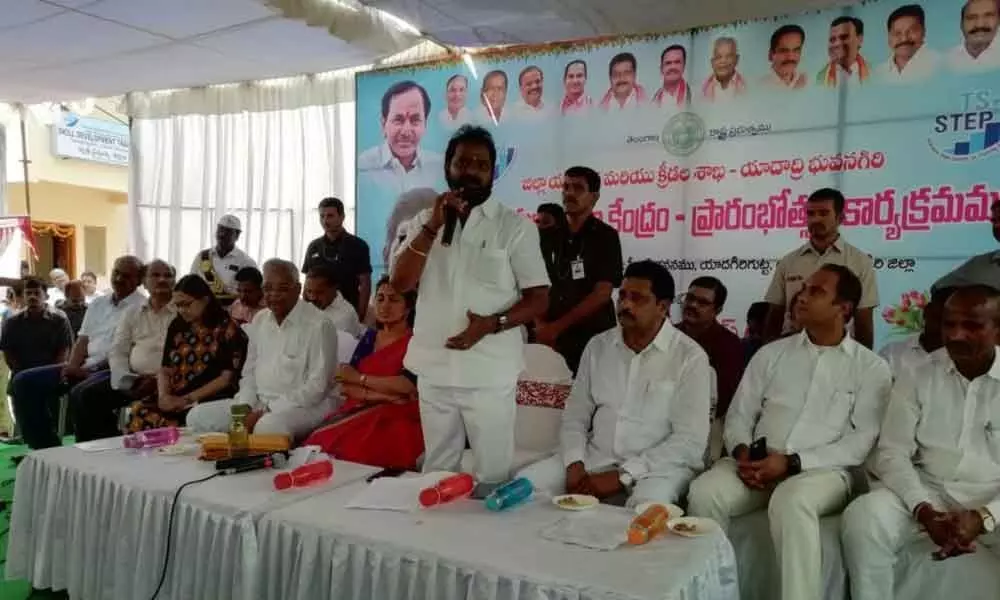 Highlights
Informs 90 acres area near Basvapur reservoir would be developed as a tourist spot in the coming up days
Yadagirigutta: Minister for Sports, Tourism and Excise Srinivas Goud stated that Chief Minister K Chandrashekar Rao was striving to bring back the lost glory of caste-based professions in the State. On Tuesday, along with Zilla Parishad chairman Alimineti Sanddep Reddy and Government Whip Gongidi Sunitha, he inaugurated a skill development centre in Yadagirigutta town.

Speaking on the occasion, the Minister said the skill development centres would help many get jobs and added that the centre was going to provide training in 22 categories, and certificate holders would get a plenty of opportunities. He advised everyone to utilise the services provided at the centre.
He asserted that villages of the region who were neglected in united Andhra Pradesh rule have been witnessing considerable development in separate Telangana State under Telangana Rashtra Samithi rule for the past six years.
"The Chief Minister had paid special attention to the development of Yadadri temple on par with Tirumala temple. And as part of that, 90 acres was acquired near Basvapur reservoir to develop it as a tourist spot in future," he informed. He added that along with officials of tourism department, he would meet the Chief Minister to decide works to be taken by the tourism department for the Yadadri development.
Stating that toddy has many medicinal values, he informed that 70 years dream of selling toddy of Goud community was realised by the Chief Minister. "Huzurnagar result was a slap in the face of opposition parties who made baseless allegations against the Chief Minister and the State government," he said, adding that TRS MLAs and Ministers were working systematically under the guidance of the Chief Minister to render valuable services to the people of respective constituencies.
As part of his tour, the Minister visited Yadadri temple and had the darshan of the Lord at Balalayam and took the blessings of the priests after performing special puja in the temple. Later, he visited temples in Kolanpaka.
District Collector Anita Ramachandran, Rajya Sabha member Baduguala Lingaiah Yadav, officials, party local leaders and people accompanied the Minister during his visit.