Nalgonda: Fishlings released into Duginelly pond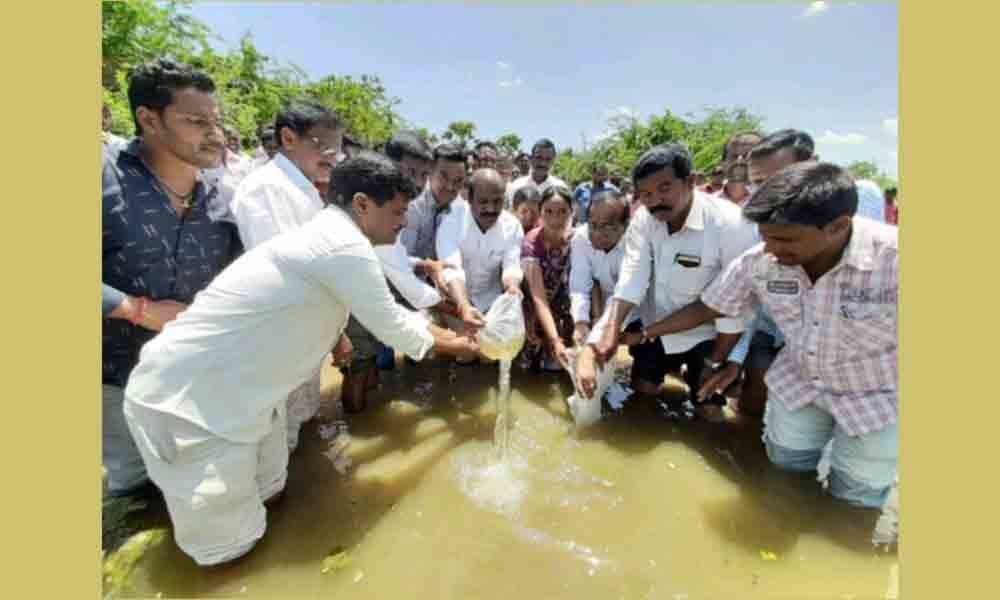 Highlights
Nakrekal MLA Chirumarthi Lingaiah advises the fishermen to utilise various government schemes introduced in their interest
Kattangur (Nalgonda): Nakrekal MLA Chirumarthi Lingaiah released fishlings in the village pond of Dugnelli village of Kattangur mandal in the district on Tuesday.

Speaking on the occasion, the legislator stated that Chief Minister K Chandrashekar Rao had introduced several welfare schemes for the benefit of fishermen community in the State. He advised the fishermen to utilise the government schemes and grow financially independent.
"The government is not only supplying fishlings, but also providing subsidised nets, ice boxes to preserve the catch and vans to transport and sell the fish," he added. Local people's representatives, fishermen and TSR local leaders participated in the programme.
Meanwhile, in an another programme, the MLA released Pillaipally canal water to Eedula Cheruvu of Vellanki vilage of Ramannapet mandal in Yadadri –Bhongir district through feeder channel.