Hyderabad: Farmer unions protest against Union Budget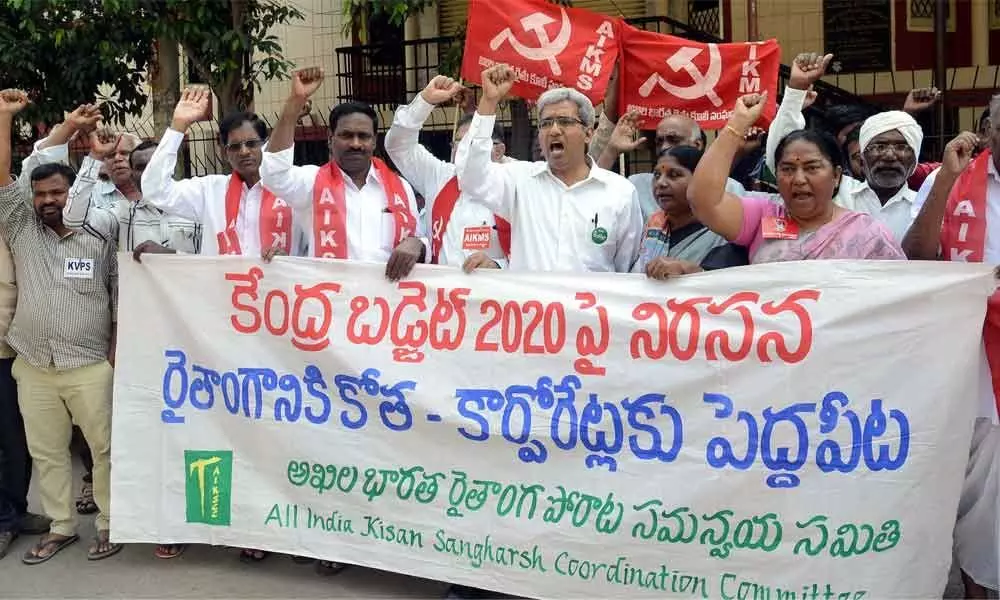 Highlights
Budget speech copies burnt by activists; reseated cuts in outlays for sector
Hyderabad: The All India Kisan Sangharsh Coordination Committee (AIKSCC) organised a protest near Sundarayya Park, here on Thursday against the Union Budget, which they criticised that it deceived the farmers and imposed significant cuts in support to agriculture and rural economy.

Members of AIKSCC state committee burnt copies of the budget speech and the leaders highlighted how the Budget has shortchanged the farmers and failed to declare any measures that will improve the incomes and purchasing power of the farmers and rural households.
The leaders said, "Yesterday, the BJP leaders announced that after their communally divisive agenda failed in Delhi elections, they will do a nationwide campaign on Vikas – the development that happened under the Modi government. However, the reality is that for farmers and rural population, there has only been 'negative development' in the last 5 years. Their real incomes have fallen and debts have risen, and this is due to the continuing policy neglect of agriculture by the government. At the same time, the government continues to talk about Doubling of Farmers' Income by 2022 – do they think the farmers are fools?"
AIKSCC also pointed out that the lack of consultations with farmers' bodies is also reflected in the lack of any concrete proposals for farmers. "The government of India has failed to discuss the budgetary requirements for agriculture and rural development with groups like ours".
More than 50 farmer union activists and several farmers from nearby districts participated. Prominent activists who took part of the protest include – Sarampally Mallareddy (AIKS, National vice President), Vissa Kiran Kumar (Rythu Swarajya Vedika), Vemulapalli Venkataramayya (AIKMS), Kanneganti Ravi (Telangana Rythu JAC), Pasya Padma (Telangana Rastra Rythu Sangam), Achutha Ramarao(AIKMS), T Sagar (Telangana Rythu Sangam), Nagireddy (Rythu Kooli Sangam), Jangareddy (Telangana Rythu Sangam), Prasad (Vyavasaya Karmika Sangham), P Shankar (Dalit Bhahujan Front), Naveen Ramisetty (RythuSwarajya Vedika) and Jhansi (Progressive Organization of Women).