Hyderabad: SIO seeks support of MLAs over NPR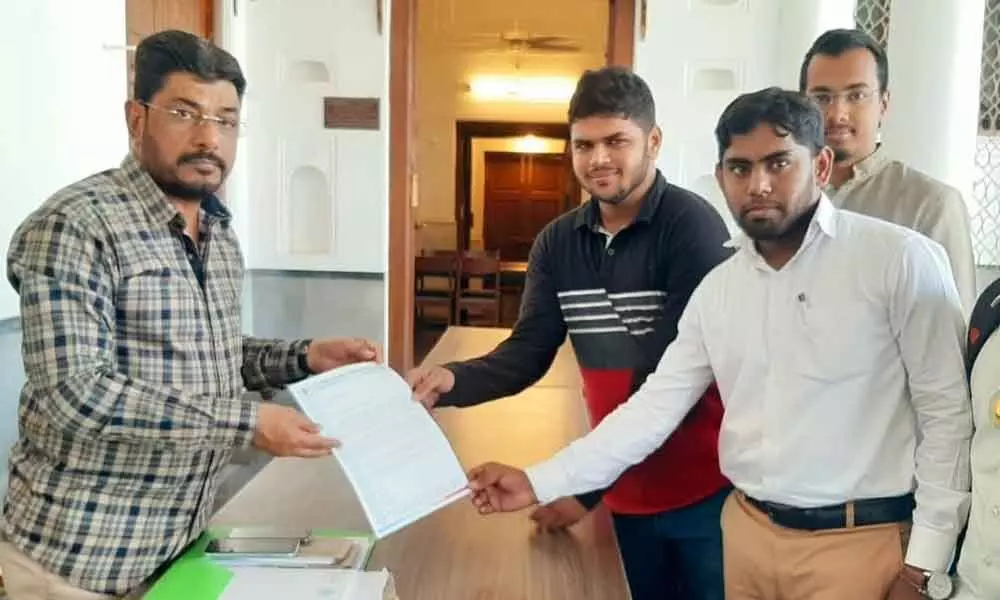 Highlights
Dr Talha Faiyazuddin, state president of SIO, says they are not against the process and always stood for nation-building, but they are merely demanding that the State government stop the process of NPR till the existing proforma (with additional set of questions) is revised and raised objections are resolved
Nampally: With the intention of building pressure on the State government which has cleared the proceedings for conducting NPR (National Population Register) from April, the Students Islamic Organisation (SIO) has begun meeting MLAs. While welcoming the cabinet decision to oppose CAA (Citizenship Amendment Act) it demanded that the State government, if committed to secular values should also stop the process of NPR to which it has given green signal.

Led by the city PR secretary of SIO, a delegation on Tuesday called on MLAs Syed Jafer Hussain Meraj (Nampally), Kausar Mohiuddin (Karwan) at the MIM party office at Darussalam, TRS MLA, T Prakash Goud (Rajendranagar).
According to the organisation, similar representations were being submitted to legislators across the City and also in districts so that when the Assembly's budget session begins, the MLAs would be aware of the apprehensions of the section of society but would also speak up. "Our teams are contacting MLAs and submitting memorandum so that they can do their bit of efforts in stopping NPR process in the State," said Dr Talha Faiyazuddin, state president of SIO.
Talha informed that the SIO was not against the process and always stood for nation-building, but it was demanding that the State government stop the process of NPR till the existing proforma (with additional set of questions) is revised and raised objections are resolved. "You must be aware, similar to Assam NRC but with a greater magnitude, nationwide NRC will be disastrous to all the sections of society including poor, women, minorities adivasis, dalits, OBCs, tribal and nomads. Many are illiterates or are not equipped enough to produce the documents required to prove their citizenship. Even the educated people who lost their documents due to natural calamities, floods or shifting will be equally affected. We should not expect from an orphan or homeless or a child of single parent to submit these documents. Most importantly it is a great disgrace and contempt to terrorize the citizens to prove their citizenship. The burden of proof should be on the government and not on the citizens," the memorandum says. "However, we would like to remind you that the website of Ministry of Home Affairs clearly states that National Population Register (NPR) is the first step towards the creation of the National Register of Indian Citizens (NRIC)," it added.
NPR will create a list of doubtful citizens and then the process of NRC will be carried out against them. This will not only be against Muslims, but also will be disastrous for the entire nation because of the hatred that comes out of doubt, Faiyazuddin added.